Send killer media pitches with JustReachOut and land media placements. Try our PR outreach tools for free.
Let's start the article by defining: What is 'PR outreach'?
I think you'll agree with me when I say:
There are few things more confusing for entrepreneurs than press outreach.
I've seen this first-hand: even seasoned entrepreneurs with extensive marketing experience struggle to get press outreach right.
But it doesn't have to be that way.
You can easily persuade your target journalists and bloggers to write about your business through a simple, yet effective, pitching process.
The best part?
You can actually pitch journalists with PR tools (and they work!).
Here is a good example I use all the time. It's a message I sent to Darrell Etherington of TechCrunch:

Since I had already exchanged messages with him before, he took the time to read my email and a couple of days later, he had the poll on TechCrunch.
In this post, I'm going to demystify the entire process of  pr outreach – opening the kimono, so to speak.
I'll show you the exact steps on how to find your target journalists and their verified email addresses.
Most importantly, I'll show you how to scale press outreach for staggering results.
What is PR outreach?
As we mentioned earlier the simple definition is:
PR outreach is the process of pitching information about your product/service to journalists, bloggers and influencers with a purpose of getting press coverage and exposure for your business.
But there's a catch…
You should ideally pitch after building an initial relationship with the journalist to get an effective response to your pitch.
For example, here's my relationship-building email to Sujan Patel:
You do press outreach to get backlinks from webmasters, bag guest posting spots on industry blogs, and get journalists to mention you (or your product) in an article.
However, the way you pitch a webmaster for a backlink is very different from the way you pitch a Lifehacker editor for a story.
Here's an actual pitch to a Lifehacker editor:
Which is different from this pitch email for backlinks:
In the days before the internet, press outreach or PR outreach meant getting journalists from traditional media outlets like the television, newspaper or the radio and to write (or talk) about you (or your client).
With the internet creating its own tribe of influencers and bloggers, PR outreach has expanded to cover blogs, social networking sites like Facebook and other digital media outlets.
A guest post in Inc.com under your name is as much a part of "PR outreach" as a quote from you in a NYT article.
That's not all…
Here's a great example of how you can reach out to bloggers from the team at Hunter to promote your product a newsletter: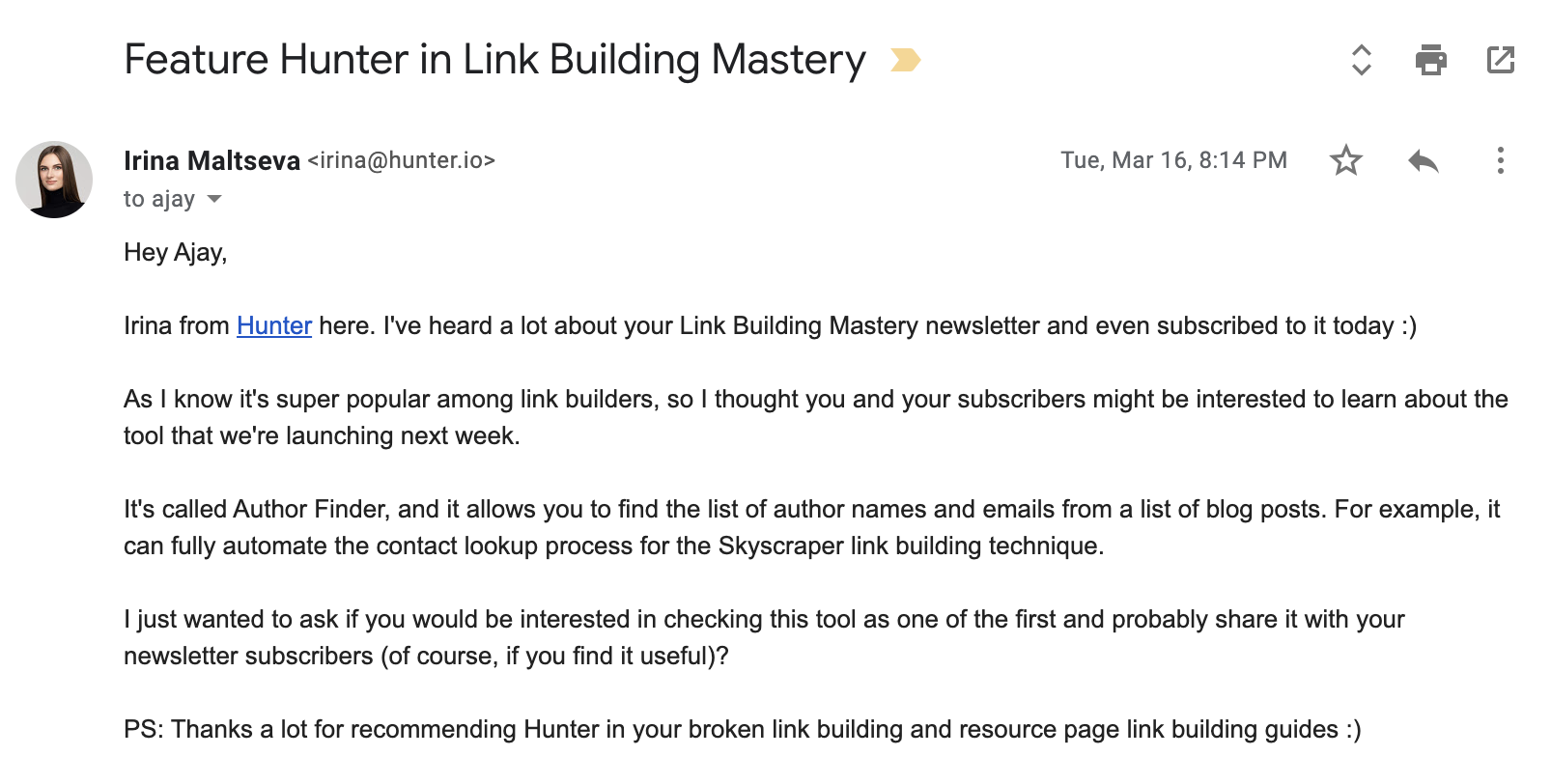 You also do PR outreach to webmasters and bloggers for SEO and link building purposes.
The benefits of press outreach are obvious: these journalists and influencers can provide invaluable reach and credibility for your company's story when they share it with their audience.
For the purposes of this post, I'll focus on journalist/blogger outreach – directed at individual journalists and bloggers to get them to write about your business.
Your goal in pitching to these people will be to get guest posting slots, get them to include you in an article, or to write about your business either directly or tangentially.
First, let's understand a few basics.
Media outreach versus media relations
Look:
While media outreach and media relations are part of an effective press relations campaign, these are not synonymous.
Media outreach is the process of pitching your news or content to journalists and bloggers.
It starts with identifying specific writers who write about your niche and who might be interested in helping you.
For example, you might pitch your new nutritional supplement business to a local radio show that covers new businesses.
While sending news releases is one long-standing practice of media outreach, it involves much more.
For instance, apart from sending a press release to the local newspaper about your nutritional supplement business, you can also generate interest around healthy diets on a social media website or sponsor a radio show on health eating.
Here's an actual press release pitch email:
Media relations, on the other hand, is the relationship-building process with journalists and bloggers.
It is a two-way communication where you not only tell them about your company, but also become a valuable source for them on subjects related to your niche.
It is about working together to build an engaging relationship where you can be the first person to help and provide value.
This way when you pitch content about your company, they will be willing to listen and write about it.
The bottom line?
An effective combination of media outreach and media relations can help you build a positive company image.

Send killer media pitches with JustReachOut and land media placements. Try our PR outreach tools for free.
How to improve your PR outreach?
Now that you know what PR outreach is and why it is important, let's figure out how to make it flawless.
Here are 5 steps to improve your press outreach:
1. Know your target audience
In this case know the journalist or blogger you plan to target. Research media outlets (publications, magazines, blogs) and individual journalists you plan to reach out to.
Read as many articles and blogs, as possible, written by those journalists about your subject. Check them out on social media.
This will enable you to be familiar with the type of content they produce and help you prepare content that will be of their interest. This is crucial.
I can't emphasize this enough:
Press outreach usually fails because the content pitched is not what that journalist writes about or is interested in.
Be absolutely certain that your story is a good fit for them before reaching out.
Engage in media monitoring.
This involves monitoring for terms related to your industry, as well as your competitors.
It will help you find journalists and bloggers that are writing on those subjects. For example, if you're a SaaS company owner, your PR outreach strategy would involve focusing on terms related to your sector.
2. Build your specific media list
Pitching the right story to the right person is more likely to result in it getting press coverage. It will also help develop your credibility with key journalists and influencers. (More about how to find journalists later.)
Follow these 5 steps to ensure you have a rock-solid media list that actually works:
Step 1: Define the Content You're Pitching
You must be clear on what type of content you want to pitch. Is it an interview with an executive, a new product announcement or a piece of original research?
A targeted outreach list cannot be build without knowing what your outreach will look like.
Step 2: Develop unique Angles
Once you know what you're offering, make a list of all the different journalists who may want to share it with their readers.
Then, create different "angles" or lead points for your content so that it becomes relevant to each of these journalists' and their audience.
This way your content will be targeted and relevant when you go to make outreach.
Step 3: Decide the Timing
Is your pitch only relevant immediately, or do you have "evergreen" stories at your company?
Will your pitch still be newsworthy four to six months from now?
These are important questions as they determine which types of media outlet you will target for specific content.
Online and daily newspapers, TV and radio have a shorter turnaround time of few hours to a day. So if your product launch is next week, it should be pitched to them.
Long lead publications like magazines, work anywhere from three to six months in advance. Here you can pitch an executive interview where the information will have a longer shelf-life.

Send killer media pitches with JustReachOut and land media placements. Try our PR outreach tools for free.
Step 4: Search by Publication and Writer
If you're using a database to build your list, start with a general search for publications that write about your niche.
Then search each publication or blog to find relevant writers who write on specific topics and keywords related to your vertical.
Next, do a contact search for your keyword or topic. This will reveal writers who write about your topic in more mass awareness publications and not just industry specific publications.
For example, a general search for travel magazines will give you results like Condé Nast Traveler.
An in-depth search in Condé Nast Traveler will give you names of multiple travel writers.
Next, when you do a contact search for "travel" it will give you names of journalists who write about travel in other publications that may not have a specific travel focus — like Better Homes and Gardens, Men's Health.
These publications, though not in the travel space, may be relevant to your target audience.
Step 5: Focus on Correct Designations
Different media outlets have different designations for journalists and writers.
This can make it difficult for you to decide who to keep on your media list.
Reporter, staff writer, editorial assistant – these are general designations of journalists who create content and are relevant for you.
Never pitch to the Editor-In-Chief. They are usually responsible for the business end of an outlet—like selecting content, not creating it.
3. Write an attention grabbing subject line
When it comes to pitching, your email has only a few seconds to stand out in the overflowing inboxes of busy journalists.
This is where a killer subject line, one that incites curiosity, can come in handy.
Here's the deal:
A subject line that is short and sweet, yet piques the curiosity and is personalized can be the determining factor whether or not your pitch is even opened, let alone read.
Since 57% of journalists receive between 50 and 500 pitches per week, it's essential to take your subject line seriously and do some A/B testing.
4. Develop your relevant story
A good pitch outlines the story in a manner that is relevant to the journalists' audience. The outline should be clear yet concise, not more than 200-300 words.
Think of potential news headlines and the key message your content is conveying to that specific audience.
Communicate the newsworthy elements of the content and call out the emotional insights from the content in a quick bullet list.
If you are offering an exclusive, be sure to time your pitch ahead of the public launch of your press release.
5. Prove your content's value
Why does this matter?
The press strives to report original, newsworthy content from credible sources.
Your pitch will not be effective if you fail to prove your content's value to the journalist and their audience.
So be sure you highlight how your content aligns with their priorities.
Your content is valuable if it exemplifies these three qualities:
It is Credible: Journalists strive to cite content whose data is credible and authoritative, so include the data source on which your content is based.
It is Newsworthy: Highlight the newsworthy elements of your content. These could be its timeliness to a trending topic or proximity to a local readership.
It is Relevant: Point out how your content resonates to the publication's audience. Show how it will either educate, entertain or inspire the readers.
Once you have your media list and a valuable story to tell, it's time to sit down and write your pitch.
Just remember:
Make your pitches short and sweet. Provide important details and all your contact information, and don't send large attachments via email.

Send killer media pitches with JustReachOut and land media placements. Try our PR outreach tools for free.
What do journalists and bloggers want in a pitch?
There are three things you must know when writing a press release:
Journalists and bloggers have more freedom than ever before when it comes to topic selection, especially at smaller media outlets.
Journalists almost always ignore press releases and formal pitches.
PR professionals outnumber journalists 5 to 1.
This has created a unique situation where journalists get dozens, even hundreds of pitches every day (according to one study, this number is 26,000 pitches per year – 71/day – at top tier publications).
Most of these pitches are in the form of press releases. And press releases routinely get ignored by journalists.
You know why? Because press releases are boring, formulaic and have zero personalization.
If you were a journalist, would a press release like this ever excite you?
You can see why only 11% of writers actually write a story based on something sent through a pitch.
If you can work out why journalists ignore most pitches, you can create a pitch they actually do read (and write about).
Fractl did a survey of over 500 journalists where it asked them what they cared about. Here's what it discovered:

Send killer media pitches with JustReachOut and land media placements. Try our PR outreach tools for free.
1. Journalists want to collaborate on stories
Journalists and bloggers – at least at publications actually worth being mentioned in – care deeply about their work.
They don't want you to send them fully-baked content.
Instead, 70% of the respondents in the survey said that they prefer collaborating on a story than getting the finished version. This collaboration between you and the journalists can be done through different types of collaboration tools , the important part to note is that you are working on a story together.
It might sound like more work, but it helps journalists put their personal spin on the story, which is crucial for readership.
Takeaway: Don't send complete stories to journalists. Instead, communicate your ideas, send a rough outline and work with them to develop it into a fully-fleshed piece.
2. Journalists want exclusive research
Look:
The media business thrives on exclusivity. Getting access to content or data your competitors don't have is a serious advantage when you're fighting for pageviews.
In fact, in the survey, 39% of journalists said that the content they want the most is "exclusive research".
This is as true for large publications as it is for smaller blogs.
For example, back in April 2014, Buzzsumo did an in-depth study of over 100M articles to figure out why content goes viral.
However, instead of publishing it on their own blog, Buzzsumo reached out to Noah Kagan to publish it on his blog, OKDork.com.
The resulting article is one of OKDork's most popular pages with backlinks from over 1,200 domains.
Despite its small size (OKDork is a single person operation), Noah Kagan's enormous social media reach helped Buzzsumo reach millions of prospective users and gain thousands of backlinks.
Takeaway: If you have any exclusive research, share it on a targeted publication with a large social reach, especially if your aim is to get backlinks and shares. Don't publish it on larger blogs where it might get buried. Certainly don't publish it on your own blog where you won't have nearly half the audience.
3. Journalists want more articles and visualizations
If you're thinking of sending journalists press releases or even fancy maps and flipbooks, stop.
It might appear otherwise seeing the popularity of Buzzfeed quizzes and BussinessInsider galleries, but the content journalists want to see the most are articles, infographics, and data visualizations.
Only 5% of respondents in the survey said that they want to see more press releases. Even fewer want to see quizzes or interactive projects.
On the other hand, there is a strong demand among content creators for visual content. They want more infographics, data visualization and mixed-media projects.
But most of all, content creators want high quality articles. This should be a cue to pitch more guest posts accompanied by more quality visuals.
Takeaway: Pitch more articles and visualizations, fewer interactive or gimmicky stuff. Avoid press releases
4. Journalists want you to create a connection with them before pitching
Whose email would you rather open – a random stranger pitching an idea, or the familiar follower who comments on all your posts, shares all your articles and emails ideas every few weeks?
The latter, obviously.
Journalists agree – in the Fractl study, 64% of respondents said that establishing a personal connection was "important". Only 8% said that it was "unimportant".
You don't have to go all out to woo journalists, but a few things – following them on social media, commenting on a few blog posts – wouldn't hurt.
You can easily turn this into a step-by-step process. For every journalist on your outreach list:
Comment on 2 of their blog posts.
Follow them on Twitter.
Share 2 of their tweets.
Email them an idea/feedback based on their recent content.
How many of these steps you actually take will depend on the importance of the journalist. You'll want multiple points of interaction for journalists at top-tier outlets.
For journalists further down the priority list, you can just leave a few comments and follow them on Twitter.
Takeaway: Don't just pitch journalists out of the blue. Instead, get on their radar by following them on social media, leaving comments and sending them emails before you send over your pitch.
5. Journalists want you to pitch over email
This is a complete no-brainer: pitch over email, not Twitter, Facebook or phone.
A whopping 81% of journalists in the Fractl survey preferred being pitched over email. Only 5% preferred being pitched over phone or contact form.
If you're a journalist, you can see why you would prefer email over, say, a contact form:
Email is already your default work communication channel. You have access to your email 24×7.
Your email address isn't usually shared online. Anyone who did manage to email you has shown some commitment to the story. This removes a lot of spammers.
Email is great from a marketer's POV as well since it makes communication easy to track. You can't track all your phone calls, but you always have a record of the number of emails you've exchanged with a journalist.
Takeaway: Forget social media, DMs and phone calls. Your pitches should be in the form of personalized emails.
6. Journalists want to see catchy subject lines
An overwhelming 85% of respondents in Fractl's survey said that they decide whether to open an email or not based on its subject line.
You can imagine why: journalists are flooded with emails. If it doesn't capture their attention in the inbox, it likely won't capture their readers attention on the blog.
The survey also found that a majority of journalists prefer a simple Content Title, Type headline (42%) such as "The Selfie Phenomenon [Parallax]".
Another 29% preferred personalized titles such as "You Have a Beer Chime, We Have a Cowbell – RE: Exclusive Study".
Only 10% said that they wanted their name in the subject line, so maybe personalization – at least in the subject – isn't as important as you think.
Takeaway: Keep your email subjects short and catchy. Either personalize your pitch or use a straightforward, non-gimmicky subject.

Send killer media pitches with JustReachOut and land media placements. Try our PR outreach tools for free.
7. Journalists want to see short pitches
The PR pitch is not the place to write your next magnum opus.
Journalists want to see pitches that are short and to the point.
In Fractl's survey, 45% of respondents said that they want to see pitches under 100 words. Another 43% said that they prefer pitches with short explanations under 200 words.
It's also important to keep your formatting readable. This means no lengthy paragraphs and poor spacing.
Less of this:
And more of this:
Takeaway: Keep your pitches short. Journalists don't have time to read a 500 word pitch. Try to limit yourself to under 100 words is possible.
What is a perfect pitch?
You have some news (say, some interesting data on your industry) worthy of piquing the curiosity of the journalist you are pitching to and you 'ask' them if they would be interested in writing an article about it or mentioning it in their regular stories.
Now, as you know, journalists want to be pitched over email.
But there's a catch…
Journalists receive dozens of email pitches in a day.
They only look at those that are relevant, newsworthy, brief, structured and timely.
To ensure that your email pitch gets opened, keep in mind these key components of a perfect email pitch:
The body of the email is short but personalized,
The subject line is also short and simple, yet has the ability to intrigue the reporter to open the email,
It addresses the reporter by name,
It is addressed to the relevant journalist or influencer who writes about your niche,
The pitch section of the email gets to the point quickly,It clearly explains why writing about your company/product/service would be mutually beneficial,
It provides an emotional hook for the reporter to want more information thereby encouraging follow ups,
It doesn't use buzzwords.
You can read my Media Pitch Definite Guide post to get more details on the right way to pitch press so that they respond.
PR outreach email templates
Here's the deal:
General guidelines on how to write pitches are nice; actual templates are even better.
Below are a few templates to help you out in different situations.
1. The spelling mistake email
Remember that rule – "give before you ask"?
This email does exactly that.
Pointing out spelling mistakes is a good way to break the ice. It gives you an excuse to email the prospect and offer some suggestions and ideas.
Don't be afraid of coming across as a grammar nazi; most journalists appreciate when someone points out their mistakes.
Here's the template in question:
Make note of these points:
Mention a detail from the article. It makes you look like a legitimate reader.
Don't mention more than 2-3 spelling mistakes. Remember: you are here to help the journalist, not to critique their writing.
Give a reason to continue the conversation. This is a great close – it gives you the opening to continue the conversation. This way, you have an open channel of communication.
2. The "upcoming news" email
Journalists love a scoop, especially if they can get it before others.
This template uses the journalist's recent work as an ice-breaker and connects it to something you're doing at your business.
Here's what's good about it:
Refer to a recent article. References the journalist's recent article so they at least know that you've read their work.
Tell them about your recent work: Mention a recent accomplishment or a story about you – works great as social proof. Then promise upcoming news and hint that it might be exclusive. Close with a casual note.
3. The "helpful article" email
Your target journalist just wrote an in-depth article on a topic.
There's a good chance the journalist is probably interested in learning a bit more about that topic.
This email focuses on sharing relevant content with the journalist as a way to kickstart the conversation.
Take a look:
Here's what I like about it:
Open with a common reference. This isn't necessary but if you can name drop some common contact, you'll almost always avoid the trash can.
Link to the article. It's always a good idea to link to the actual content you're referencing. Journalists write a lot and might not always remember what article you're talking about.
Share useful content. Share content that's genuinely useful and interesting. You're not trying to get backlinks here; you're just breaking the ice.

Send killer media pitches with JustReachOut and land media placements. Try our PR outreach tools for free.
4. The "followed your advice" email
If you've tried something a blogger wrote about and got good results from it, let them know. Writers love nothing more than knowing that their writing has had an actual impact on people.
However, it does have very limited use cases. You can only send this people whose advice you've actually followed (lie and they'll know). Limit this to influencers and top bloggers you want to develop long-term relationships with.
A few pointers:
Mention specific time-frame: You don't have to say that you've been a reader for 3 years, but a specific time-frame sounds much more genuine than "I've been a long-time reader".
Share exact results: Tell the writer exactly what effect following the advice had on your life. If you can offer documented proof, the writer will love you even more.
Plug your post: While you can use this email as an ice-breaker, it doesn't hurt to share posts related to the writer's original content. Even better if you have proof/stats in your post showing the results from the writer's advice.
5. The infographic outreach email
I'm using "infographic" very loosely here – you can very well use this email to share articles, eBooks or even news stories.
Here's the email:
It's pretty straightforward in its structure. A few things to keep in mind:
Mention actual article, not URL: Spammers usually just mass-email prospects by scraping the URL. By mentioning the actual article name, you'll reduce your chances of coming across as spam.
Mention something specific about the article: Again, this doesn't have to be very in-depth; you're just trying to indicate that you actually read the article. This must be more than generic praise ("love the article").
Ask before sharing the infographic: Don't share the infographic link right in the first email. Instead, ask for permission. Again, this will help you stand out from spammers who mass email just to get backlinks.
6. The exclusive data email
Remember the Fractl survey results which showed that journalists really look forward to exclusive data?
This email is a great example of how to use this data:
Highlights:
Give a reason for the email: You want to tell journalists that you know their beat and that you've read their past work. While this example is perhaps too wordy, you get the general idea.
Give some background on your research: This doesn't have to be a complete whitepaper on your research methodology. Just a couple of sentences about what your research discovered is good enough.
Armed with these templates, you are ready to tackle pretty much any PR outreach problem.
How to end your email pitches
Just remember…
An interesting sign off to your email will leave a favorable impression on your recipient. It can also increase your chances of a response.
How to find journalists to pitch
You now know what journalists want in a pitch. You also know the basics of how to write the perfect pitch email with an impressive sign off.
But the fundamental question remains:
How do you actually find journalists to pitch?
Before you can do that, however, you need to figure out your target "beats".
Figuring out who to pitch
If you've watched any media-focused movies, you probably know that journalists usually have "beats".
A beat is essentially specialized reporting. A journalist working a particular beat (such as local municipal politics) usually has extensive experience and contacts in that specialty.
The breadth of the beat usually depends on the size of the media company. A large newspaper like NYT might have separate reporters for local baseball, minor league baseball, and major league baseball.
Smaller outlets, on the other hand, might have just one journalist covering sports as a whole.
Bottom line?
When you start your journalist research, it's important to understand what beat your story belongs to and its broader scope.
For instance, if you're running a chatbot startup such as Intercom, you might find that there are very few journalists actually writing about chatbots.
There are, however, plenty of journalists writing about customer service startups (what chatbots are usually used for) and AI.
Try to target different beats based on your business':
Target market: What market does your business cater to (small businesses, eCommerce store owners, etc.)? You can target publications that write about these markets.
Platform: Does your business target any specific platform (say, Android, iOS, etc.)? There are plenty of platform-specific publications that would love to hear your pitch.
Business size: Some publications write exclusively about bootstrapped startups, while others focus on large funded companies.
Technology: Are you using any specific technology in your product – AI, deep learning, augmented reality, etc.? If yes, you can target journalists writing about this.
Problem: What problem does your business solve? A chatbot startup, for instance, solves customer service problems. Journalists that write about marketing and customer service might be interested in your product.
Competitors: Publications that have written about your competitors are perfect targets for a pitch.
Do this and you'll greatly expand your list of prospects.
Your next step is to make a list of target journalists.
Finding the right journalists
There are three approaches to finding journalists.
Approach #1: Manually make a list of journalists
This is the slow, old-school way to find journalists and bloggers.
You search for relevant publications in your industry, then dig through their sites until you find journalists who cover your beat.
To do this, you'll want to first identify your beats (see above).
Then start searching for publications in that beat.
Use queries like these:
"[niche] blog"
"[niche] news"
For better results, try more complex queries:
[niche] + intitle:blog/url – intitle:forum -site:youtube.com
For example, if you're targeting journalists that write about mobile marketing startups, you might use a query like "mobile marketing news".
The first two unique results for this query both look very promising.
Once you find a few results, pop them into a spreadsheet.
Your next step is to figure out the names of journalists who write about your subject (mobile marketing) on these sites.
This can be harder than it appears since many publications accept guest contributions who don't have any editorial control. You ideally want to find authors who write news stories (not features) and have multiple articles.
In our example, you can see that the first result – MarketingLand – has several articles on mobile news from Greg Sterling.
Looking at Greg's bio on one of the articles, we can see that he is a contributing editor to MarketingLand. Given the frequency of his contributions and coverage area, he would be a good candidate to pitch.
Plug each journalist's name into your spreadsheet.
Do this manually for all the sites you found during your research.
It's a slow process, but it is completely free and filters out a lot of incorrect leads.
Approach #2: Using a PR outreach tool
Thankfully, there are plenty of tools on the market that will automate the research process for you.
For example, if you're using JustReachOut, you can simply plug in your target beat into the search box.
Looking up "customer service", for instance, shows this:
All three journalists have something to do with technology and startups, so that's a good place to start.
Instead of creating a separate spreadsheet, just hit the star icon to add each journalist to your favorites list.
Do this for all your target beats and you should have a big list of prospects.
Approach #3: Use your competitors' links
This tactic works great if you have well-established competitors who've received a lot of press.
Your goal should be to find journalists and bloggers who have linked to/mentioned your competitor, then approach them with your pitch.
You can do this two ways:
By digging through your competitor's backlinks and finding relevant publications
By searching on Google
For the first tactic, you'll need a backlink research tool such as Ahrefs.
Simply plug your competitor's URL into Ahrefs then click on "Backlinks" to see all the sites linking to your competitor.
You can search within these results to find only websites with specific keywords (such as "news" or "blog").
For instance, these are some of the backlinks for Unbounce.com.
You'll have to dig through the results to find relevant sites. The process can be tedious but you will find a lot of high quality prospects.
If you don't have Ahrefs, you can also use Google search queries to find publications that have mentioned your competitors.
Try this query:
[competitor name] -site:[competitor's domain name] +intitle:news/blog
Doing this for Unbounce.com shows me these results:
The second and the third results look very promising. These are media properties that have already written about your competitor. There is a good chance they'll respond to your pitches as well.
Once you find some target publications, go through the process outlined above to find relevant journalists.
Plug everything into a spreadsheet. In the next step, you'll learn how to find their email addresses.
How to find email addresses
A lot has already been written about finding anyone's email address online.
I've written about this in the past on CriminallyProlific. That's a good place to start.
If you want to avoid the whole email research altogether, you can use a tool like JustReachOut.
Go to your favorites list (see approach #2 above) and click on "Send Email Pitch".
On the next screen, click on "Show author emails" to see the journalist's email:
If you'd rather do this manually, try using a tool like Voila Norbert to make things easier.
For example, plugging in this journalist's name from YourStory into Voila Norbert shows me this email address:
This is the same email address that JustReachOut showed, so it's likely valid.
Plug the email address into your spreadsheet.
You're now ready to start creating your PR pitches.
Over to You
You've learned what journalists want to see in a pitch, how to figure out your media list, and how to craft incredible pitch emails.
This is pretty much a crash course in Do-It-Yourself PR.
How can you actually use this?
Take these next steps:
Find publications and journalists covering your beat(s).
Find said journalists' email addresses
Craft a template based on the guidelines above
Start sending emails

Send killer media pitches with JustReachOut and land media placements. Try our PR outreach tools for free.