Do you want more relevant journalist requests?
Responding to media requests is an easy way to acquire huge media coverage for your brand. 
In this post, I'll tell you where and how to find the most relevant media requests. I'll also talk about how to respond to media opportunities to get the best press.
How To Find More Journalist Requests?
Here are some online PR tools that I think work great for finding journalist requests. 
Use these services and you'll no longer need to create exclusive content every time you want a media mention.
1. JustReachOut
What is it?
JustReachOut is more than just a journalist request sourcing tool. It combines the efficiency of a robust PR software with the expertise of outreach strategists to help you get the media exposure you need to grow your business. 
How does our 'journalist requests' feature work? 
JRO has a press opportunities search tool, which is the easiest and most powerful tool for our customers.
All you need to do is type your topic and the tool will find media queries that are closely related to your topic of interest. Next to each opportunity is a button that allows you to 'respond' immediately to that query.
The software monitors daily press opportunities posted on most of the top journalist request platforms such as ProfNet, SourceBottle, ResponseSource, Reddit, and Quora to identify the relevant ones for your business.
Neat, isn't it?
How can you stand out?
With JRO, you can do your own PR – no need for an expensive media relations team, or PR analytics partners.
Pricing
Plans start at just $159/month
Why is it useful? 
JRO has tons of other new features that can supplement your current PR strategies:
A broken link finder: to identify broken link opportunities where you can get a mention.
A guest post feature: to identify guest post opportunities in an instant and optimize your submissions.
Labels: to filter and sort your campaign outreach.
Academy and training: to help train you to be the best PR professional you can be!
What are the disadvantages?
If you want to send mass pitch emails to a media database, this is not the tool for you.
2. SpotaGuest
What is it?
SpotaGuest is a free site where you can connect with podcasters, youtubers and bloggers looking for guests. 
How does it work?
Once you sign-up, SpotaGuest sends a weekly email (every Wednesday) with a list of 20 new podcast hosts, Youtubers or Bloggers looking for guests. If you see a Podcast, YouTube show or a blog you'd love to be a guest on, you simply contact the host directly through the site. 
How can you stand out?
To catch the eye of reporters and other media members, you must add a profile, photo, location, and details about your speciality, experience and expertise. Next, you need to post that you're a guest looking for Podcasts to appear on.
Pricing
Free (You need to send a request to join)
Why is it useful?
A resource that enables you to connect with thousands of podcasters and youtubers is very valuable in gaining media exposure. Top tier publications also have podcasts and video stories. 
What are the disadvantages?
There's a basic search database on the site. There are different categories – topic, specialities, members. In each of these categories, you can do a search with your keyword to find a relevant podcast. However, it still takes a lot of time to find a good match. 
[take title="Dmitry's take"] If it is podcasts you are after, then JustReachOut has a brand new Podcast Outreach Tool. Once you select a category, the JRO tool shows you all the podcasts on iTunes for that category along with the email address of the host and best email pitch to use for outreach. You don't see outdated or old podcasts. We show only podcasts which are actively seeking guests for their shows and the specific queries they have posted within the last few weeks with requirements to submit to be on their podcast. [/take]
3. RadioGuestList
What is it?
RadioGuestList provides email leads for experts to get interviews and publicity on podcasts, talk shows and radio shows. 
How does it work?
Once you sign-up for the free service, you receive a 'Guest Request' email every Monday and Wednesday. If you like any show, you can email the hosts and producers of that radio or podcast talk shows directly and pitch your expertise to appear on their shows. 
If you buy any of the premium services, you get to see more Guest Requests than  free email subscribers. These emails are also more targeted.
How can you stand out?
Don't wait to get your 'guest request' email. Search the online database (they have custom search) and find your target journalist requests. Then just start pitching!
Pricing
Free service
Premium service has three options:

For $8.99/month you get all Guest Requests daily
For $6.97/month you can get genre-targeted lists (select 7 topics)
For $5.97/month you get all the week's Guest Requests in one email
Why is it useful?
You get targeted opportunities to share your insight and gain publicity through radio and TV talk shows or podcast interviews. It works well for PR professionals who want to help their clients gain publicity.
What are the disadvantages?
In the free service, the Guest Request interview offers are not sorted by genres or topics. You also need to click each source request to see show host contact info – which can be a time consuming process.
4. SourceBottle
What is it?
SourceBottle is a useful tool for business owners and PR professionals to get publicity insights and requests from journalists and bloggers. 
How does it work?
As an expert source, you need to sign-up and select your expertise topics. SourceBottle then sends a 'DrinkUp!' email alert, twice a day, every weekday, with all the recent media requests from journalists on your topics of interest. 
When you find a relevant callout, click on the link to view full details and respond online.
How can you stand out?
Send a specific response that answers the call out or query in detail. Also, respond to requests as soon as you receive it – even if the deadline allows you more time – gives you a higher chance of getting mentioned. 
Pricing
Free
Paid plans start at $5.95 per month to $95 per month.
For $95 plan, which is the agency access, you can Request for giveaways, goody bag fillers and products to review; find Case Studies to provide expert opinion to include in media pitches; and even create your Expert Profile that is automagically matched to media looking for your 'keyword' expertise. 
Why is it useful?
You or your pr team can customize your 'DrinkUp!' emails with categories and geographies that align with your strategic interests. 
You can also search for media opportunities by industry.
What are the disadvantages?
The search is not very efficient. For instance, when looking for media opportunities under Travel and Leisure, the first query was about – Do you use medicinal cannabis?
When you search for journalists requests, the geographies are restricted to Australia, New Zealand, UK, Ireland, United States, and Canada.
[take title="Dmitry's take"] Instead of looking for media opportunities to tell a newsworthy story, one sneaky tactic is to see if another journalist is linking to an expired link, on a website, on a topic which relates to you. Then get them to update that link to your blog post. Here's how you can use JustReachOut to implement this tactic:
[/take]
5. Profnet
What is it?
ProfNet is a subscription service that connects members of the media with expert sources. 
How does it work?
You subscribe to ProfNet and set up your preferences to receive leads from the media. That's all!
ProfNet then sends you an email with queries from journalists and others looking for expert comments, as well as requests for speakers for conferences and tradeshows.
But you don't have to wait for the journalist to request a query. You can search the Profnet database for appropriate media queries and pitch on-trend story ideas directly to the media. You can even send your experts' perspectives on a topic or ongoing news story.
How can you stand out?
Make yourself search-worthy by creating "expert profiles" with your area of expertise, viewpoints on issues, availability to comment and tagging your profile with relevant keywords. 
Pricing
For access to a single industry: $1,650 annually 
For access to all industries: $3,700 annually 
Why is it useful?
When you, as an industry expert, become a quotable source for journalists, you earn a lot of free and high-profile PR. Moreover, you also develop relationships with reporters who would be willing to tell your story to your audience.
What are the disadvantages?
There is a trial subscription, but after that the pricing is very steep.
6. PitchRate
What is it?
PitchRate is a free PR tool that allows you to pitch to journalists and become a go-to resource for your expertise.
How does it work?
You register as an expert and get regular emails with requests. When you find a request that is relevant for your expertise, you tailor a pitch to fit the journalist's needs. 
How can you stand out?
Make sure your PitchRate profile can grab media attention. Make your bio interesting and creative, and add links to your website and photo in your profile. Try to improve your pitch ratings by sending a pitch that clearly and concisely answers a journalist's request.
Pricing
Why is it useful?
As an expert, you can upload bylined articles for journalists and media outlets to access. It enables reporters to know your level of expertise.
You also get a rating for your pitches on a scale of 1 to 5 stars from PitchRate. Journalists can use this rating to find the best sources for their story. 
What are the disadvantages?
The ratings are not given by humans. They are based on how well the keywords in the pitch match the tags set by the journalist – can lead to inaccuracy.
7. KITI (previously Media Kitty)
What is it?
KITI is a paid service for communication and collaboration between experts in the lifestyle, entertainment, architecture, design and tourism industry with journalists who write in this space. (It is similar to homes4media – a social network connecting journalists and PR professionals across the homes, interiors and gifts space.)
How does it work?
After you subscribe, you get access to a directory of industry journalists that cover tourism and lifestyle topics. You can pitch to them directly. You also get email queries from journalists looking for sources. 
How can you stand out?
Since this is a niche community, you need to provide detailed and fresh perspectives to all queries.
Pricing
Paid plans start at $10 per month
Why is it useful?
The collaborative nature of the service provides better relationship building opportunities.
What are the disadvantages?
The database is dedicated only to tourism, design and lifestyle journalists.

Note: If you're an expert in the travel niche – a good tool to explore is travmedia. Travmedia is a global network connecting media and PR professionals who work only in the travel industry.
8. PressQuest (launched by journalism.co.uk)
What is it?
PressQuest is a media request service that helps journalists find experts and case studies for their stories.
How does it work?
You create an account and choose which categories you want to subscribe to – these categories must relate closely to your expertise. 
PressQuest then matches your categories with any information request put by reporters and notifies you about these journalist alerts.
How can you stand out?
Try to construct your response so that it fits easily within an article without too much editing. This move can easily get you extra brownie points with journalists. 
Pricing
Each subscription to a category cost £150 (approx. $187) for a year's access after the free trial.
Why is it useful?
You can separate alerts for all the different categories that you select – whether it is human rights or law or investigative journalism. Makes it easier to find relevant queries. 
What are the disadvantages?
It can get expensive if you want to subscribe to many categories.
9. JournoRequests
What is it?
JournoRequests scans for media coverage opportunities on Twitter and sends you relevant queries and journalist alerts. In June 2017, JournoRequests was acquired by ResponseSource. 
How does it work?
The tool manually filters through every tweet using the #journorequests hashtag, checks it's not spam, and sends it to you as an email alert. 
How can you stand out?
Apart from sending a quick response to relevant requests on the #journorequests hashtag, send a quick note to the reporter on their personal twitter handle.
Pricing
Free
Why is it useful?
The tool scans and sends relevant queries to your inbox within 3 minutes of any reporter tweeting it under the hashtag #journorequests.
They have just started a live stream of requests on Twitter using #JournoRequest. 
What are the disadvantages?
You don't have access to journalist's contact details like email or phone contact information, that would allow you to 'off Twitter'. If you want to do that you need to buy a subscription to Response Source.
10. ResponseSource 
What is it?
ResponseSource Journalist Enquiry Service delivers detailed enquiries from a large community of established journalists. It is the UK's leading media request service.
How does it work?
Once your PR team subscribes, they can use the search features to see which reporter is covering your topic at any time. You also get media opportunities sent to your inbox frequently. 
How can you stand out?
Use the tool to get alerts for relevant upcoming features and reminders when deadlines are approaching.
Pricing
Customized plans available on request.
Why is it useful?
They review every media request for quality and send only genuine media opportunities from verified content creators. 
The tool has delivery filters to refine your enquiry feed by request, media and sender type. 
The detailed profiles also lets you know what topics each journalist is interested in and how they like to be contacted.
[take title="Dmitry's take"] Nothing defeats a media pitch than sending your story to the wrong journalist. You should target journalists who write regularly about your industry. This enables you to create content that is relevant to that journalist and his readers, making it easier for you to get coverage. When you use JustReachOut to search for a keyword, it shows a list of journalists who have written recently on this topic along with their latest articles. You can use this feature to find relevant journalists who would be most interested in your content. JRO also provides you with the current and up-to-date email address of every journalist, so that your email pitch reaches the right person, every time! [/take]
What are the disadvantages?
The database is limited to UK journalists.
11. PressHunt 
What is it?
PressHunt is an online database of over 550k journalists and reporters, and over 200k podcasters. It has contact info like email, phone number, or social media details, and coverage focus of all these media professionals.
One specific product of PressHunt is PR Requests. This is a database of thousands of journalist requests from all over the world which is updated every hour. (You can access this with your basic package.)
How does it work?
Once you buy a package, you can start searching the database to find relevant journalist requests, creating media lists, and responding to queries.
You also get a daily digest newsletter of the newest PR requests.
How can you stand out?
Get a package that allows you to create a media list and set up PR alerts. You can then respond faster to a larger number of media queries.
Pricing
Plans start from $69/month (basic package) and go up to $499/month (sequences package).
Why is it useful?
PressHunt has journalists on every continent except Antarctica.
You can create lists of your favorite media people and export their contacts to CSV. You can even search through journalist interests, industry focuses, their parent media outlet, social media accounts and other data points.
What are the disadvantages?
The basic package doesn't come with access to journalist emails. It only provides their social media links. You also cannot create media lists or export them in basic. You'll need to get a higher pricing plan than the basic package to be able to use this tool effectively.
Why Not Just Use HARO? 
HARO or Help A Reporter Out is a popular sourcing tool that enables journalists to connect with relevant expert sources. It not only helps journalists' meet demanding deadlines, but also permits brands to tell their stories.
Why is HARO so popular?
As a journalist request seeker, all you need to do is sign up and the tool sends you an email – thrice a day – with a list of queries from reporters. 
If you find a relevant query that relates to your expertise, industry or experience, you can send your response to that journalist.
It is that simple!
While the basic service is for free, you can also buy an advanced plan that gives you a head start on journalist requests. With the paid plan, you get an alert as soon as the HARO editorial team approves a media opportunity, giving you more time to craft that perfect response.
The one major downside in HARO is it's inadequate search feature. To find relevant service requests, you need to sift through tons of media opportunities.
So, if time is of essence, give the other tools or JustReachOut a shot. They are all equally up to the task of finding the perfect journalist requests for you.
[take title="Dmitry's take"] Media relations is all about the right timing. If you don't reach out to a journalist at the exact moment he needs a quote with your expertise, you have lost your opportunity. When you quickly need a targeted list of journalists, use JustReachOut. In a matter of seconds, the tool can search for all reporters who have written about your specific topic along with their contact details. The tool sends daily, weekly, or bi weekly notifications of new press opportunities based on your searches. You can then send an email pitch to a journalist directly through JustReachOut. [/take]
How To Get A Journalist To Respond To You?
There is an art to answering a query and getting a response.
For example, see this media query from HARO: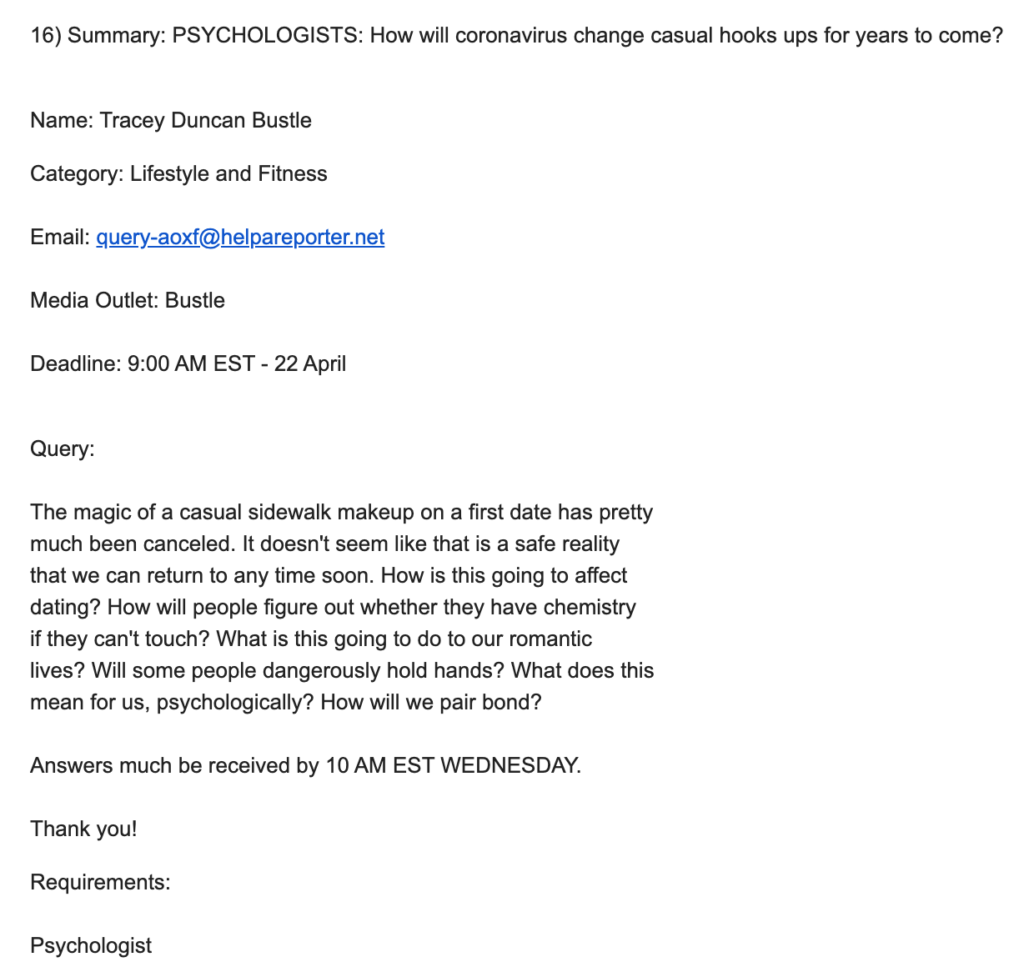 Here's another example of a query from SpotAGuest: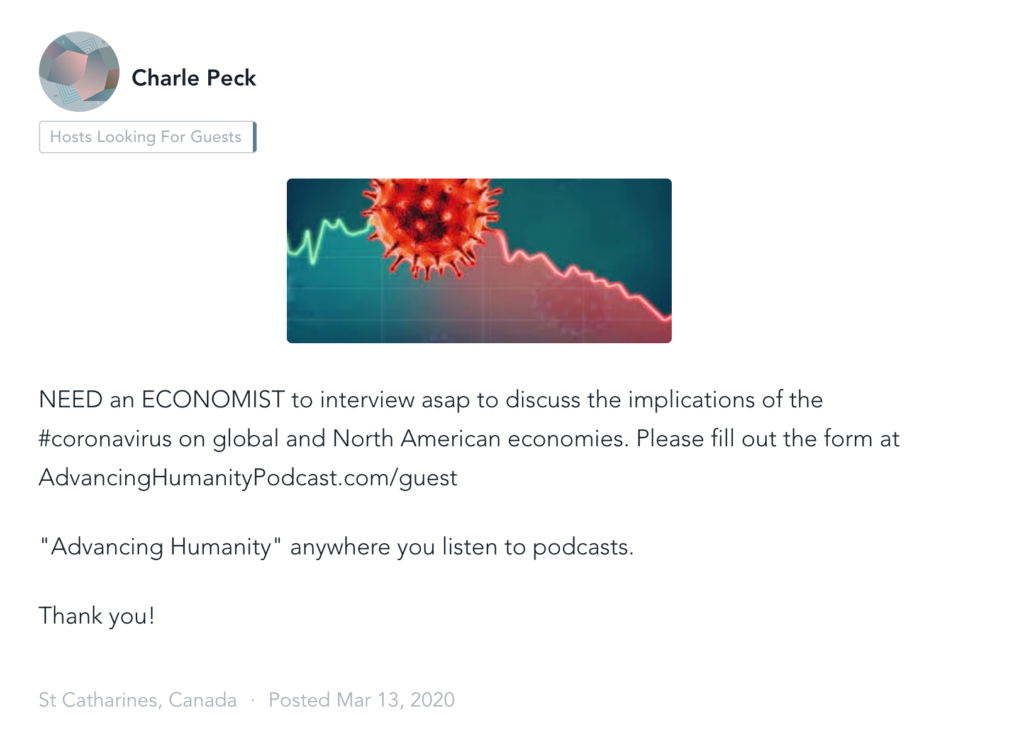 You would be one of many "experts" who would send a response to these queries.
Now:
How would you ensure that the journalist uses your quote over others'? 
The easiest way to ensure that a journalist will include your response in the final story is by demonstrating that your quote will enhance the emotional appeal of the article and illustrate an essential point. 
Here are three essential steps you need to follow:
1. Get the real email address of the journalist 
Journalists keep changing jobs and that means new email addresses. Now, if your pitch lands in the wrong email address or is sent to the anonymous media outlet address – there's very little chance it'll get read.
If you use JUstReachOut, you'll get an up to date email address of all relevant journalists in your media list. If you come across a non- working email, report it to us and we'll find you their up-to-date one within 24 hours!
2. Personalize your pitch
Do your groundwork to find information on your target journalist. 
In your pitch, you should be able to demonstrate that you regularly read and are familiar with the media outlet and that particular reporters' interests. Mention individual articles and pull quotes from within to show you have read articles written by the journalist.
Another tactic to make your pitches more attractive is to align them to developing trends in your industry. The best way to spot these trends is to see what top journalists in your industry are writing about.
JRO provides you with pre written templates you can tweak to effectively pitch them:
3. Give a fresh perspective to your answers
Journalists are always in need of fresh perspectives or a new take on an old idea. If your quote or comment is able to provide a new angle, it will be highly appreciated and definitely used by the journalist.
Need an out of the box approach to answer a press opportunity?
One of our customers – Agata from Groove HQ – used a unique method to get featured in the press. Check out the video:
If you need a pitch template, here's a great example from JustReachOut customer Nishank Khanna of ClarifyCapital.
He used this email pitch to get media exposure the same day:
Why Would a Journalist Need an Expert Source?
Journalists need to quote experts in their news stories or articles.
A quote from a subject-matter expert adds credibility to any story. It provides relevant information and a human element to news stories.
Journalists use different methods to source quotes. 
The Traditional Approach
In the course of their career, journalists meet and build relationships with business leaders, industry experts and other relevant people (also called sources) in the niche or beat they cover. When they need a quote on a particular subject, the reporter calls or emails their source.
Another approach that journalists use is to quote from press releases. An effective press release includes quotes from senior management. 
They may also use information from public records by making public records requests or foia requests. (The Freedom of Information Act (FOIA) is a federal law that gives the public, including journalists, the right to make records request for federal agency records.) 
The Modern Approach
Sourcing expert quotes through online services like HARO is an easy and effective approach for journalists. 
All they have to do is submit a source request or query seeking contributions, quotes or interviews (within a set deadline).
Why Should You Respond To Media Requests?
A timely response to a journalist request is an easy and cost effective way to gain press coverage.
Need more reasons?
Let me give you four.
Here are four reasons why you must seek and respond to media opportunities:
1. Build Relationships
When you respond to a media request, you help a journalist find what they need. 
Even if your quote is not used for a particular story, this is the start of your media relations. The reporter now knows that you are an expert in the field they regularly write about, and they will approach you for future stories.
2. Access New Media 
It is not feasible to find the best media opportunities through a manual media list. 
There may be great opportunities in publications, podcasts or youtube channels that you may not have heard about. You may also have avoided pitching to top tier media outlets, thinking they are too big to take you seriously.
Using journalist requests tools, you can easily find and respond to media queries from media outlets that were never on your list, as well as top publications like Forbes and NewYorkTimes.
3. Guarantees Newsworthiness 
A reporter seeking a quote from an expert source is already working on a newsworthy article. 
You don't have to spend time trying to find an on-trend angle to your brand story. If the query is relevant to your business or expertise, you can just pitch your opinion for any ongoing news story.
4. Not Time Consuming
Responding to relevant media queries takes very little time. A response is never more than a few sentences long. As an expert, you are already well versed with issues and ongoing developments or changes in your field. So, giving a quote or an interview would be easy. 
However, the payout in terms of the media coverage would be massive.
Over To You 
Every tool showcased here can be useful to connect with journalists, build relationships, demonstrate your expertise and gain meaningful press.
What other journalist request tools do you use?
Let me know in the comments.