There are hundreds of journalists, bloggers, podcasters looking for an expert to feature or reference in their articles every single day. They put out the specific requirements and questions they have in queries in newsletters, Twitter and other PR software platforms. 
These "journalist requests" are timely and usually journalists need a good response to their query from an expert within days of submitting it. There is an art to answering a query and getting a response.
In this article we'll share tips on how to answer these queries as well as the exact template you should use to get a 80% open rate on your responses. 
I recently sat down with Dan Shure to share all the top tips on how to answer journalist requests and get featured, you can watch the presentation below. (Feel free to forward to about 7min where I start screen sharing and showing how I do this live.)
Here is the template from the presentation you should modify and use when responding to journalists requests: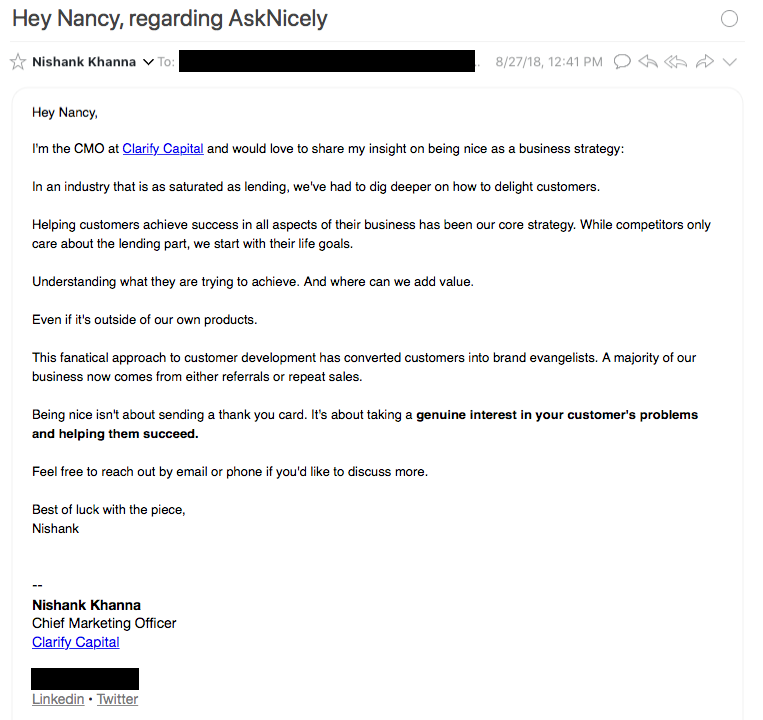 As a bonus we interviewed two of our customers to show exactly how they respond to these journalists requests.
Natalya Bucuy from HelpSquad.com has gotten featured in four publications in the first month of becoming a JustReachOut customer!
Here are the links and mentions she scored:
Here is the email pitch she used:
Subject: "How do you use your blog for your business?" inquiry
Hi, Gresham.
Happy Monday! 
I came across your inquiry "How do you use your blog for business?" on JustReachOut.
We're a small IT business – HelpSquad – located in Pennsylvania. We develop and staff agent-supported live chat customer service tools. Our client base ranges across different industries and locales. 
Below is our answer to your inquiry. 
B2B Blogging
Writing a blog for a business can prove to be a tricky endeavor. After all, it's a time consuming process that requires a lot of thought, research, and, well, writing.

In our experience, however, we discovered that blogging creates special connections with audiences that no other marketing tactic brings. Personal connections are everything in today's business world. Customers want to feel special, they want to know the company cares about them and knows them well. It's hard for companies to deliver that message of care and personalization when most interactions a business has with customers take place online. That is especially true for our business, since we develop live chat software and provide customer service agents to businesses in various industries. We conduct all of our business online.
Blogging allows us to provide value to our customers, supporting them with articles focused on small business topics. Beyond that, we try to craft our posts in a way that could also attract additional traffic to our site and potentially bring in new customers. We do that by, again, exploring topics that concern other business owners. Our articles offer tips and solutions to common issues business owners might face. For example, one of recent articles, "College Admissions 2020: The Challenges of COVID-19 Pandemic" speaks to higher education professionals who are dealing with the current crisis.

I hope this information helps your article. Please let me know if you need any questions. I will be happy to provide anything else you may need. I'm also attaching a headshot of our founder and CEO, Michael Kansky. 
Thank you so much!
I caught up with Natalya for 5 minutes to chat about her approach and process:
I also spoke with another customer of ours Agata from GrooveHQ.com who has been streamlining her process when it comes to answering queries from journalists by using JustReachOut. The key takeaways you'll hear in the interview below are:
1.) Find their real email address
2.) Research their background and profile to personalize the pitch
3.) Don't just plainly answer their question, use a fresh perspective