According to some predictions, the number of podcast listeners in the US will hit 164 million in 2024. Can you imagine sharing your stories with such a broad audience, building your personal brand and promoting your products and services?
Well, you don't have to start your own podcast to do all that. Guest appearances are a great way to boost your visibility and reach your target audience and they are one of the best PR tools of today. But how to be a guest on a podcast?
You will know after reading this article. Get ready to make your action plan to be booked as a guest on any podcast you want.
How to be a guest on a podcast — four steps
Even if this is your first time being a podcast guest, here's a beginner-friendly guide that everyone can follow.
1. Find relevant podcast hosts
Guest podcasting is a numbers game. You may need to send your pitch to multiple hosts before you get your first guest podcast interview.
You can browse Spotify or Apple podcasts and look for categories of podcasts that interest you and where you can share relevant stories. However, there is a much more effective way. There is a platform that can help you speed up the whole process, from finding hosts to reaching out to them.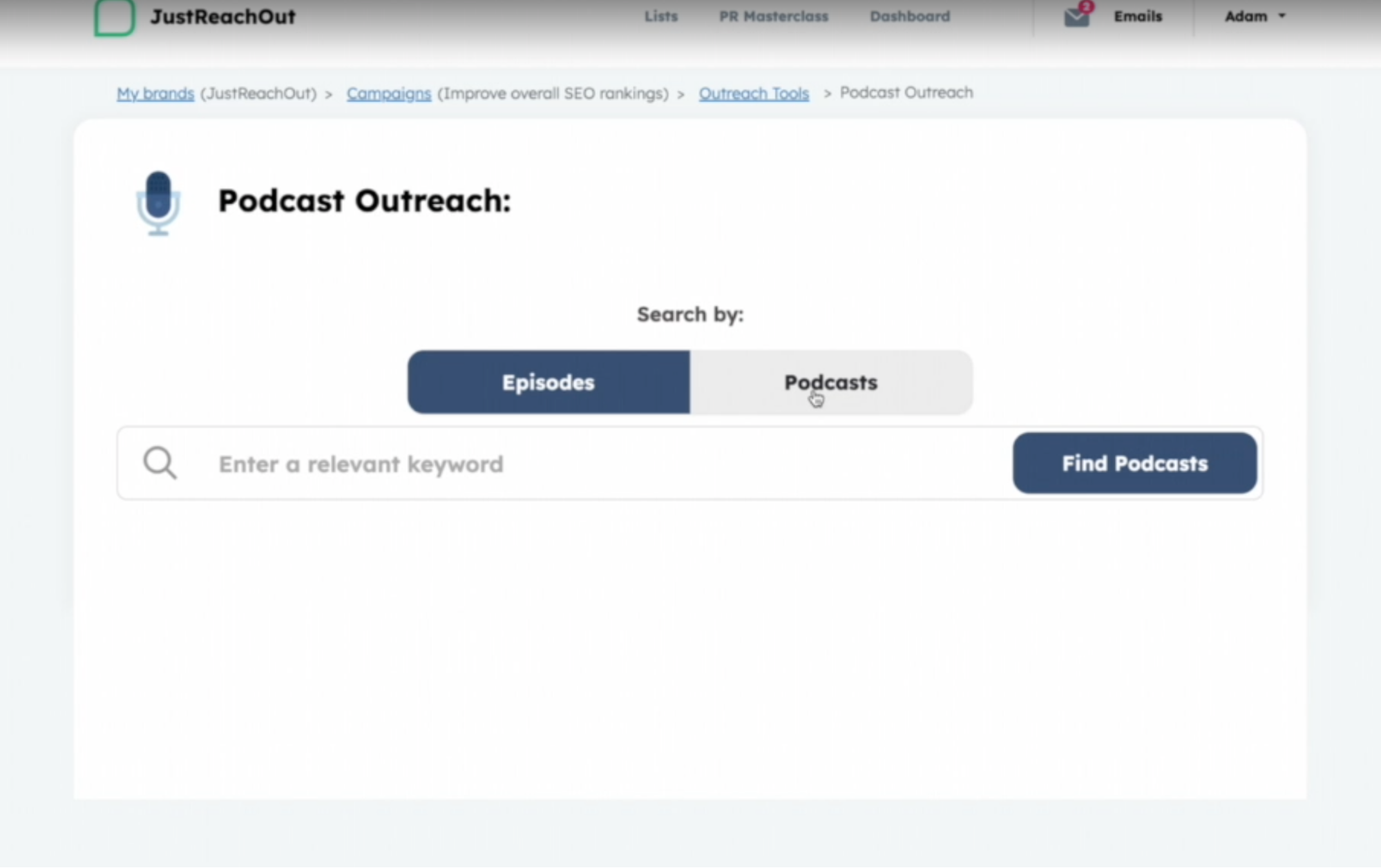 Here's how to find hosts using the JustReachOut podcast outreach tool:
Go to our website and go to the Podcast Outreach section

Choose whether you want to search by podcast name or episode title

Enter relevant keywords related to your topic

Click on Find podcasts and you'll get a list of all relevant podcasts

You can filter them by different criteria: date of publishing, language, region, episode length, and so on

Then, create a list of podcasters that seem interesting and that you may want to reach out to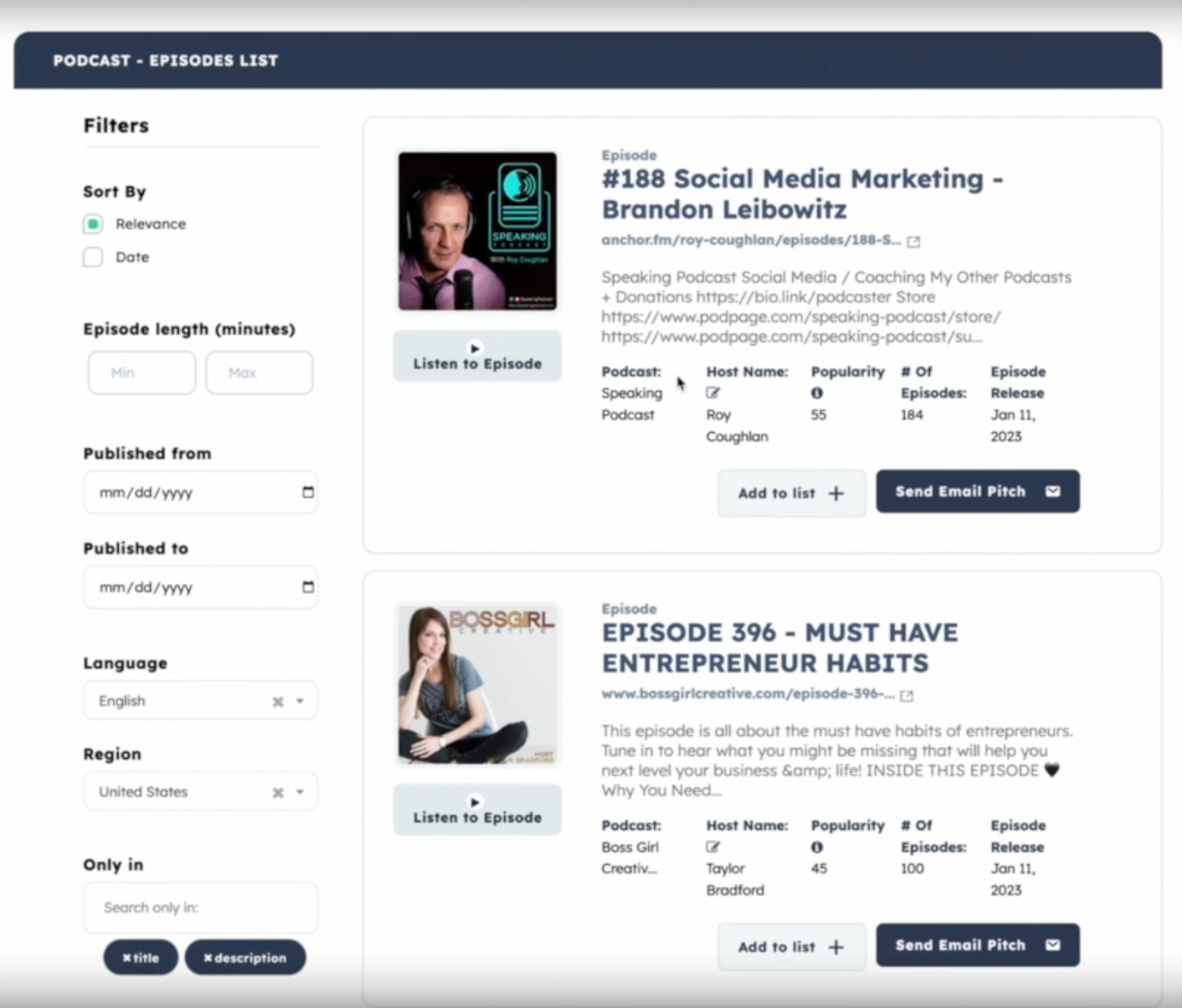 2. Find the contact information
Now that you have found a host that interests you, here are a couple of ways to find their contact information:
You can visit the podcast website or social media accounts of the host (especially LinkedIn or Twitter) and try to find their email in the contact section

You can try to find their contact details in public databases and directories, but the problem is that they're often not up-to-date so you may not find accurate info

You could use email guessing tools to try to guess their email or find email addresses associated with their domain
However, suppose you want to find contact details of multiple podcasters. In that case, it'd be much more efficient to use a tool like JustReachOut where you can find hosts email addresses or reach out to them directly, sending a pitch through our platform, with only a few clicks.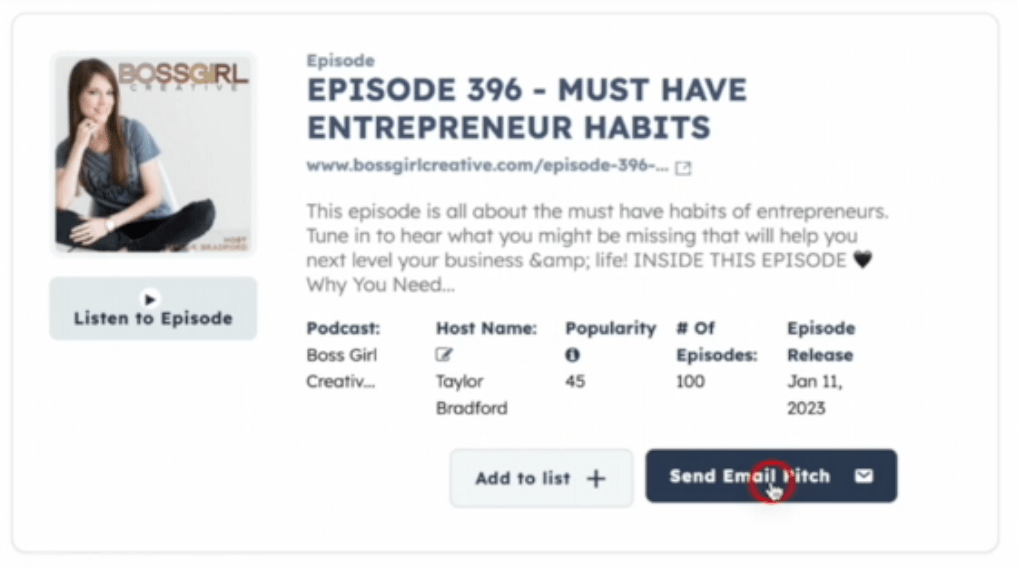 3. Craft a podcast pitch
Every pitch should be personalized and that's why the first step is to research podcast host and their target audience. You can also learn more about previous podcast guests to see what kind of people get invited to a particular podcast whether there's some pattern among them, and then highlight your similarities with them.
Here are the elements that make a perfect podcast pitch:
Start by explaining why you like their podcast and mention a few episodes that stand out in particular. Try to find a common ground with a podcast host by mentioning some interests, goals or visions you have.

Explain how your experience relates to their podcast and show how you can contribute to their audience by sharing your knowledge and stories or helping them solve a particular problem. The goal is to convince the host that you're the right choice for their podcast.

Mention a few topics or ideas that will spark their curiosity and give them some food for thought.

Finally, include some kind of social proof: other podcasts you've been featured on, recommendations, interview, links to your website or social media, and so on.
The good news is that you don't have to write every email from scratch. JustReachOut offers a library of podcast pitch templates to choose from. Of course, they're highly customizable and you can add details that make you stand out from other potential guests. Our AI for PR can help you generate highly personalized emails in a matter of seconds.
P.S. Don't forget the importance of a compelling subject line, as they can make a difference whether your email gets opened or not. Almost 40% of marketers believe that the key to email success is crafting effective subject lines, which also works for outreach.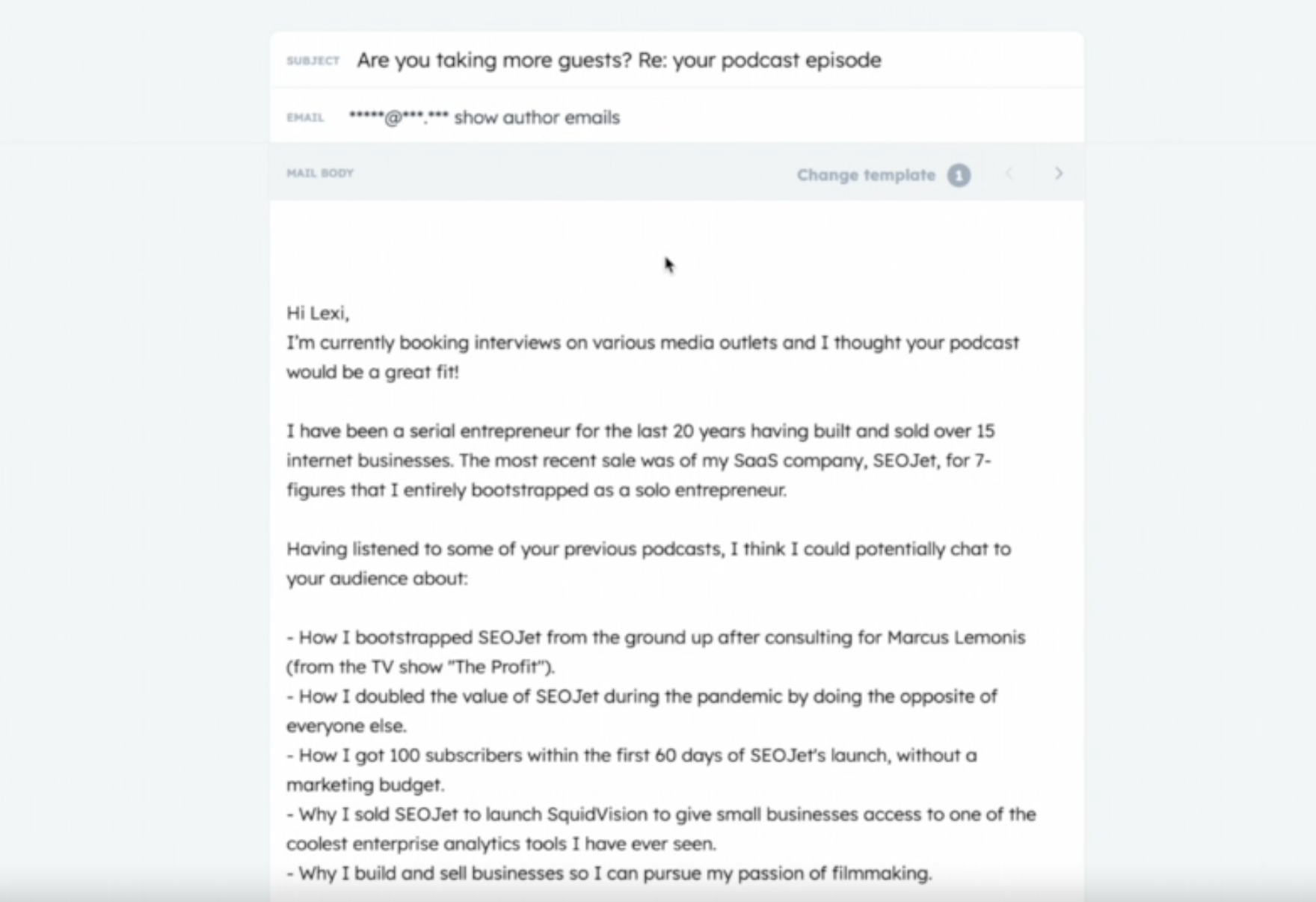 4. Send follow-up
Don't get discouraged if you don't get a reply right away. Remember that podcast hosts inboxes get spammed with dozens of requests every day. It's perfectly fine to send them a follow-up email asking whether they've had a chance to read your message. That way, you could improve your response rate, but you also don't have anything to lose either way.
So, when should you send a follow-up email? It depends on many factors, but one study revealed that for most people preferred email follow-up period is anywhere from two to four days after sending the original email.
If you've sent emails to multiple podcasters, it can be hard to keep up with responses and follow-ups but don't worry because we've got you covered.
JustReachOut allows you to schedule follow-up in case they don't answer your first email. That way, you don't have to worry about anything.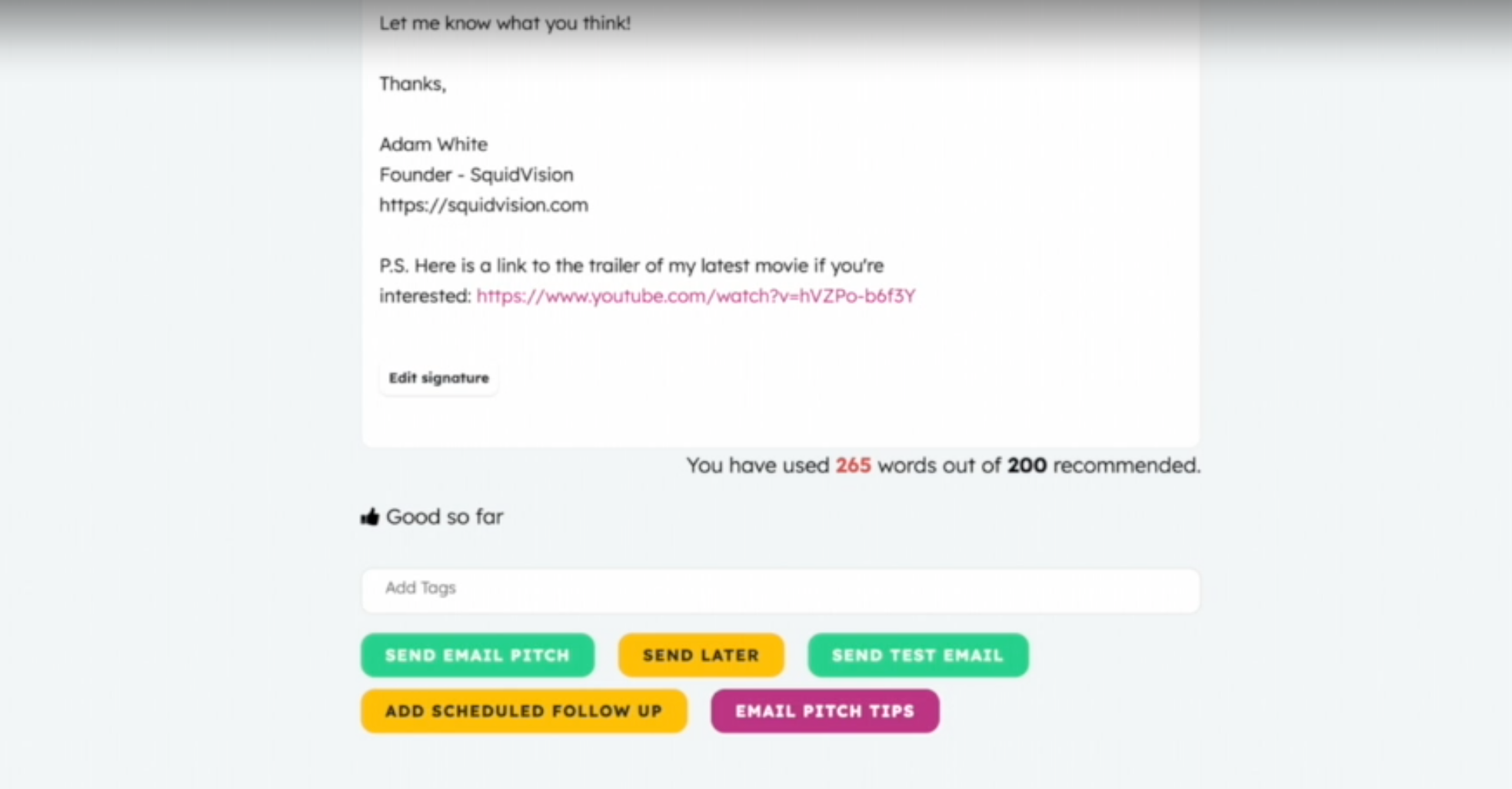 What to include in a podcast guest bio
If you were applying for a job, you would send your CV and cover letter to your potential employer. Well, in the podcasting world that's what guest bio stands for. You should convince the host why you're the right fit for the show and answer all the things they want to know without them even having to ask you.
However, your bio should be brief because they're getting dozens of requests daily and don't have time to read all that. Some podcasts have predefined forms and structures that you have to follow, but if there are none, here are the things you should include in your podcast guest bio:
1. Basic information
Background: Explain what makes you stand out in this field and why you're interested in it. Make it brief, there's no need to tell your whole life story.

Expertise: Prove your expertise by listing your biggest accomplishments, relevant experience, education and projects you've worked on. You could also mention a unique skill set that makes you stand out from others in your field.

Social proof: Podcast hosts usually value the opinion of other podcasters so if you've already been a guest on some other podcast or a show, send a link to those podcast episodes. If this is your first guest appearance, don't worry. You can send recommendations from your colleagues, clients, or mention the number of followers that you have on social media or any other media coverage.

Interests and passions: This section will help the host to learn more about your personality, behind all those job titles and accomplishments. It should relate to the podcast topic and explain your big why, purpose and mission. You could mention that you're driven by inspiring, teaching and motivating others.
2. Interest in the podcast/host
Before writing, do your research about the host and their previous guests. Try to find something in common with the host – you might be sharing the same values, supporting the same cause or having a similar vision.
Start by identifying the common ground and then mention how you appreciate their work. It's important to be genuine but more is needed to say that you've been listening to their podcast for a while, because that sounds very generic and everyone says so.
If you want to stand out, mention a particular episode and explain why it really resonated with you – that way you're increasing your chances to capture their interest.
3. How you will contribute
Instead of making your whole bio just about yourself, try stepping into podcast host shoes and explaining what's in it for them and their audience and what's the benefit of having you as a podcast guest.
Explain what value you can give to their podcast listeners, whether it's helping them solve a particular problem or sharing motivational and inspirational stories that they can relate to.
It can be a good idea to mention a few topics you'd like to speak about because that way you're making it easier for the host to choose you.
Or, if you already have a certain following and social media presence, you can offer to promote their podcast to your own audience or give them a backlink from your website in exchange for hosting you on a podcast episode (if you're into SEO, check our backlink generator to learn more).
4. CTA
Finally, we want to make it effortless for a podcast host to decide to work with you and take the next steps. Your CTA should express your eager desire to appear on their podcast any time soon. But here are some other things you can add:
Invite them to schedule a quick call where you can discuss ideas

Invite them to check out your website or blog

Invite them to connect on social media

Send them an interview where you talked about a similar topic

Ask them for feedback (if you're not getting any guest interviews, constructive criticism could help you improve your future pitches)
Looking for more ways to boost your visibility? Check out our guest post pitch email template and get featured on websites and blogs or learn how to write an effective press release for your new service or product.
Conclusion
By following our tips, you'll increase your chances of being booked as a guest on your favorite podcast. But don't forget that the competition in the podcasting world is tough and you may need to reach out to more than one podcaster until you get a positive response.
Hopefully, there's a system where you can do everything in one place: from finding the right podcasters and their contact details to reaching out to them with the help of our time-tested templates. We created JustReachOut as a tool that can save you valuable time and also increase your success rate.
Book a demo and enter the world of guest podcasting!
FAQs
How do guests get invited to a podcast?
There are two ways: if you have a strong online presence and show your expertise in a particular topic, the podcast host may invite you to be their guest. The second way is more common and it's about doing the outreach and showing to a host why you might be a great podcast guest for their show. Another useful approach might be networking, building relationships with people in your industry and boosting your visibility.
Should you pay to be a guest on a podcast?
There are other ways to become a podcast guest (podcast pitch, networking, content marketing), but if you need something else, you might consider paying for your first guest appearance because it'll serve you as a social proof for other shows.
How much do you get paid to be a guest on a podcast?
Typically, podcasters don't pay their guests to be part of the show. You might get paid only if you're famous or have expertise that's rare. However, you can get compensated in other ways: the podcast will boost your visibility, it may increase your social media following (which then leads to more potential clients and new exciting opportunities) or you could get gifts from podcast sponsors.
Can you have guests on a podcast?
Yes, many podcasters regularly have guests on their shows because some target audiences prefer listening to an interview or a conversation between two people.