Need some nifty PR hacks to boost your media coverage?
I've got you covered.
Getting regular press mentions may seem impossible, but it isn't. 
Once you start using these 8 hacks you'll get an instant edge over your competitors. 
Let's get started.
1. Reverse Engineer Competitor Press
The best way to give yourself an edge over the competition is to learn from them.
Instead of spending hours strategizing new ways to get press, let your competitors do it for you. Go over:
what they're talking about – check out their press release pages.
which media outlets they're targeting – target the same newspapers, industry journals, and blogs that your competition is getting featured in.
This gives you a good blueprint of what works in your industry. If it has worked for them, why won't it work for you?
You can now masterfully construct your media pitches and content to align with what journalists who write about your niche seem interested in. Take what your competitors are doing, put your own spin on it and make it better!
For instance, you are a private jet charter company and you notice your competitor Stratos Jet Charters get huge press coverage with its Why Was Your Flight Delayed? campaign. 
Your job is simple. All you need to do is work on a similar study which analyzes emotional content and use the results to prompt interest from local media. 
Stratos Jet Charters' study analyzed data from over 3.9 million flights and shared the airports and routes that experience the most delays and the reason for the delays. Local news stations in cities that appeared in the study gave the report extensive coverage.
Here's another example. 
You notice that your competitors are ditching traditional media outlets in favor of podcast outreach to gain press mentions. This could be down to a number of different reasons – but none of them matter at this point. What matters is that they're successful in using these podcasts to drum up media interest. 
Since it's working for them, it could be a viable option for your brand too – especially if you're finding it difficult to get coverage from regular media outlets. 
Use this hack to give journalists what they want, without starting from scratch.
[take title="Dmitry's take"] Here is how I use JustReachOut.io – the software we built for entrepreneurs to pitch press and get featured without PR firms. I simply search for a journalist covering a specific competitor and reach out to them directly:
[/take]
2. Mention Journalists On Quora
You may be thinking – "Quora? Isn't that a platform for asking random questions?"
Well, yes.
But it's also so much more.
Mentioning journalists in Quora answers is a powerful relationship-building hack.
By mentioning a journalist in a Quora answer, you're promoting them on a platform you don't own. This shows the journalist that you're not doing this for your personal gain – you're genuinely vouching for them.
It's a great way to get noticed by a journalist and get them to trust you. 
Building trust with journalists can go a long way in helping you get press mentions.
Here's how to use Quora:
Step 1
Find a journalist you want to reach out to using JustReachOut.
Step 2
Go through their work and identify the niches they're writing about.
Step 3
Go through Quora and find questions in these niches that have next to no answers.
Step 4
Craft an answer where you can quote the journalist's work and reference them as an expert in the field.
Step 5
Shoot them an email informing them of this mention. Remember, journalists aren't going through Quora looking for mentions – you'll need to notify them.
How do I know this tactic works?
Because I have used it successfully.
I used Quora to build a relationship with Rebecca Grant – a former journalist at VentureBeat.
Here's the Quora answer I mentioned her in: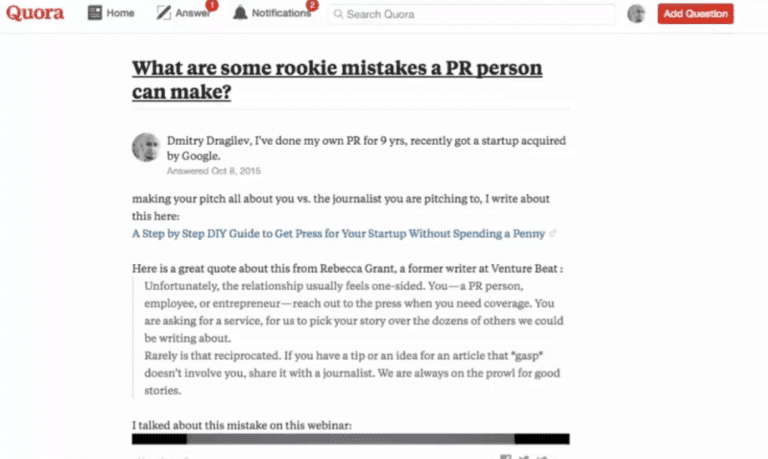 And here's the email I sent her, along with her response: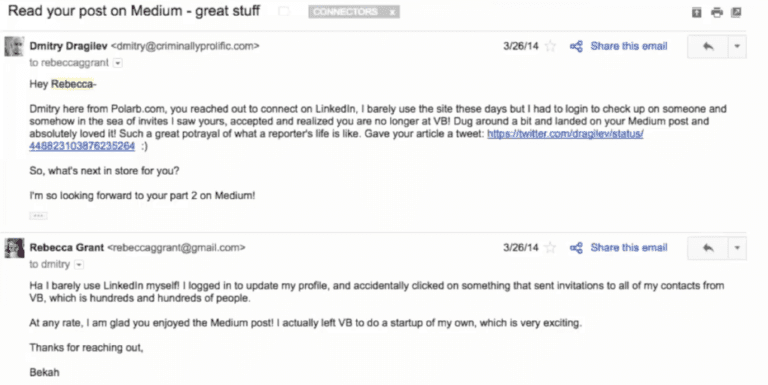 It's an easy hack to get noticed by journalists and initiate a conversation.
3. Become A Source For Articles With HARO
Tired of chasing after journalists for press mentions?
Want a hack to get them to come to you instead?
Simple – sign up for HARO.
HARO (Help A Reporter Out) is an online service that connects journalists with sources. It sends out two daily emails with a list of journalists looking for quotes and sources for their articles. Here's what it looks like:

If you fit the journalist's requirements, you can always shoot them an email with your quote and get a press mention for your troubles.
Here's an example of a HARO query that could get you a mention on FastCompany: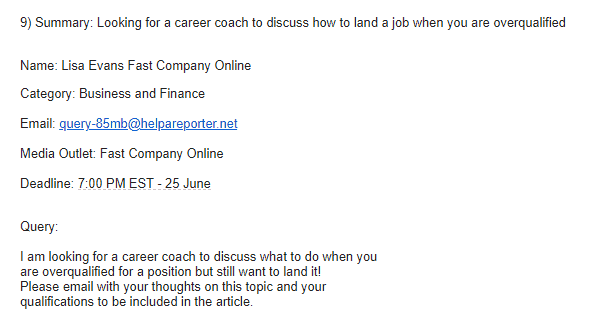 It's that simple!
[take title="Dmitry's take"] Again, here is how I use JustReachOut.io – to speed up this process, all I do is just search for a keyword and it shows me all the most current queries/asks for it, it also sends me notifications of new ones straight to my email as they come up:
[/take]
To make this process easier, use a tool like JustReachOut to filter your HARO emails. The tool's search feature will dig through your HARO emails for relevant keywords. 
Need more information on how this hack works? Here's a detailed post on how to use HARO.
Ben Walker from Transcription Outsourcing kills it with acquiring links through responding to HARO daily, here is how he puts it "I was able garner 11 links in August alone this year! That's wild! At least to me. I use an insanely simple email template and follow it up with a legit well thought out response that is unique every time."
4. Newsjacking
Journalists thrive on current events. 
They want their stories to be about what's going on at this moment. Getting your story to align with breaking news is an easy hack that can boost your chances of a press mention. 
While you can't personally give them breaking news every time, you can use a current event to plug your own story. 
In other words, you can use newsjacking.
This is the process of using a PR tool to connect your story to a viral event and piggybacking on its coverage to get yourself a press mention. 
In order to do this, you must first answer a few questions:
Can you or your company solve this current issue?
Are you an expert in the field being discussed?
Do you have any data that's relevant to the current events?
The goal is to try and find a connection to align your story with what's viral at the moment.
For example, here's an article on how I took a startup from 0 to 40M+ page views before it got acquired by Google.
Long story short – I had to come up with a way to get more users on an opinion sharing app. The problem was, we had 0 users when we finally got approved on the App Store.
So what did I do?
Used newsjacking to sell it.
Every breaking news story would have one of our polls attached to it – where users could voice their opinion on the subject. I managed to get some journalists to add our polls to their news stories and the rest was history!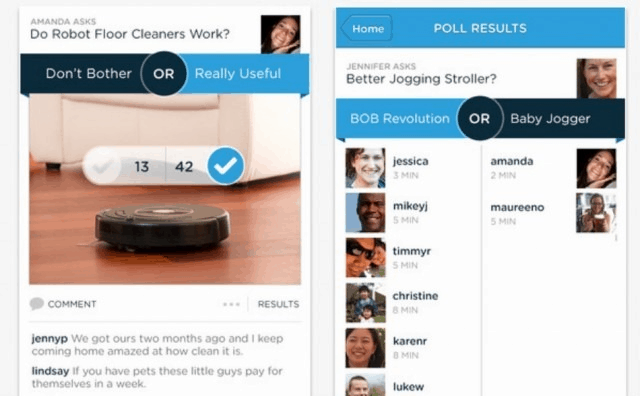 It's the perfect example of using current news events to plug your information.
While newsjacking is great, there are a few things to keep in mind:
1. Be on the lookout
Always be aware of what's viral at the moment. The only way you can use newsjacking is if you're up-to-date with current news events.
2. Act fast
You can't afford to wait too long on your story when using newsjacking. An event that's viral today could become irrelevant in a week's time. You need to act fast and capitalize on a story while it's still relevant.
3. Choose your stories carefully
There are tons of news stories that take the world by storm. Not all are suited to newsjacking. Do not use stories about conflict or celebrity deaths to plug your story. It's a PR nightmare and could do irreparable damage to your brand image.
5. Use Data From 12M Pitches For Your PR Pitch
Crafting a killer PR pitch is easy in 2019.
Why?
Because you have tons of data to help you.
For example, here's a great article by Brian Dean of Backlinko. They analyzed 12 million outreach emails and came up with a few stunning findings:
Emails with longer subject lines have a 24.6% higher response rate.
Email the same journalist multiple times for 2x more responses.
A personalized subject line will boost your response rate by 30.5%
Emails about guest posts, roundups, and sponsorships tend to get the best response rates.
This data is like insider info into what works and what doesn't when it comes to crafting that killer pitch. No trial and error involved. You know exactly what to write in your pitch, when to send it, how to personalize it, and other relevant information that can make it simpler to get noticed and mentioned by the press.
This is a no brainer hack – Use data from studies like this to craft your PR pitches and you can rest assured that your pitch will be well received. 
Using data to get press coverage works best if you are a SaaS startup. Check out my detailed post on SaaS PR tactics to learn how to build the best SaaS PR strategy.
6. Harness The Power Of Guest Posting
Guest posting is not dead.
Well, if you're using it solely for link building, then yes; it is dead.
It's spammy, outdated and you have better options at your disposal.
However, if you're trying to build your reputation and gain influence, guest posting is still a great PR tactic. You might even get some backlinks as an added bonus!
By guest posting, you're piggybacking onto a site's domain authority (DA) and audience to promote your work. This way, you're not wasting years building your own audience or DA – you're just renting theirs.
Here's an example of a guest post I wrote for the Moz blog a while back:

It generated over 140 comments from a hyper-targeted audience.
Think about it – that's over 140 interactions from a relevant audience – all from one blog post.
Here are a few reasons why you must use guest posting as a PR hack in 2019:
Getting published on a top publication is a great way to build your reputation and authority.
It's easy to link to your target asset in your article and author CTA.
You can use the site's DA to help your article rank on Google for targeted keywords. 
[take title="Dmitry's take"] Again, this is how I do this daily, I dedicate 15 minutes to this a day on JustReachOut.io:
[/take]
7. Leverage Podcast Interviews
I know what you're thinking –
"Podcasts? I'm tired of them – they're everywhere these days!"
And that's exactly why you should use them as part of your PR strategy.
While the podcast field is oversaturated at this point, it's still an effective medium to reach a wide target audience. Think about how easy it is to tune in to a podcast these days – streaming it on your phone, in your car, watching it on Youtube – the possibilities are endless! 
Getting on some well-known podcasts as a guest speaker can be a great way to establish yourself as an expert in the field. It's an effective way to get noticed by a targeted audience and build your name in the industry. 
Once you've done this long enough, your name will become synonymous with the field you're part of. The next time someone has a query about your industry or needs a leader to reference, they can always turn to you.
You can't put a price on that kind of influence.
8. Broken Link Building
[take title="Dmitry's take"] One VERY sneaky tactic to get a press or a blog mention is to see if another journalist or blogger is linking to an expired/broken blog post link or a website on a topic which relates to you and get them to update that link to your blog post. Here is how I use JustReachOut.io – to make that happen:
[/take]
The final hack to boost your PR mentions is through broken link building. 
Broken link building is essentially a three-step process:
You go through sites searching for broken links in their articles.
Once you find one, you notify them of this.
If applicable, pitch your own article/site as a replacement for that broken link.
If you're wondering if this is really worth the effort, just think of all the pages you've added to you website over last few years and remember there are 1.8 billion pages out there.
This is a powerful tactic as the broken link serves as an immediate reason for contact. You don't have to reference something they've written earlier or a conversation you've had with them. You can directly approach a journalist to inform them of a broken link you've found.
They'll be very grateful as nobody likes broken links ruining their DA. This is also the perfect time to pitch your own article/site as a replacement link. Remember, this only works if your article/site is a relevant replacement for the broken link. 
Don't expect a journalist to replace a broken link about nanotechnology with your blog post on marketing.
While this is fairly straightforward, it can be difficult at times. Manually trawling through sites searching for broken links is not a pretty process. It's tough, tiring and requires tons of effort. Luckily, the JRO tool has a broken link finder that's in beta. 
Here's how you use the broken link finder:
Input a keyword you want to find broken links for.
The tools will crawl the top 100 Google results for this keyword.
It'll go through each ranking page to identify broken links.
It records the broken links, source URL, target URL, type of error, etc.
The tool generates a handy report with all this information to help you capitalize on these broken links.
Over To You
There you have it.
Those are my top 8 PR hacks to get you the press mentions you deserve.
Remember, getting good PR isn't rocket science. 
All you need is a little craftiness and personalization. Once you start prioritizing the journalist and their needs, you can't go wrong!
What PR hacks do you use? Let me know in the comments below.