If you're an entrepreneur…
I think you'll agree with me when I say:
There are few things more confusing, even petrifying, for you than pitching to a journalist.
A
You are afraid of not getting a response to your pitch or being simply blocked by the journalist.
This is crazy:
As an entrepreneur you have built a great product, survived many failures and disappointments on your way, managed global teams, and even raised millions of dollars from investors.
But…
When it comes to writing a simple email to a journalist?
You hem and haw.
You procrastinate.
You decide to shell out big bucks to hire experts!
Here's a 'real-life' example of an email pitch that got ignored by reporters:
But this doesn't have to the pitch you make…
Writing an effective media pitch that gets a journalist to respond is not difficult or complex.
Once you have read through this post, I can guarantee you'll be pitching to the press like a pro and getting the response you want!
You will get the entire media relations toolkit required to make an awesome media pitch that will impress any journalist at a top publication or blog.
The best part?
You'll be able to send these effective media pitches without putting in tons of time or effort.
Look:
Conventional press relations (PR) is solely focused on the pitching process. However, press relations or public relations is a process through which you connect with journalists, online bloggers, and other influencers in a way that prompts them to talk about your company in a positive light.
If you just shoot off a press release to the media, it will be completely ineffective.
Take a look at this 'real-life' example of a press release pitch. This is what your pitch should definitely not look like: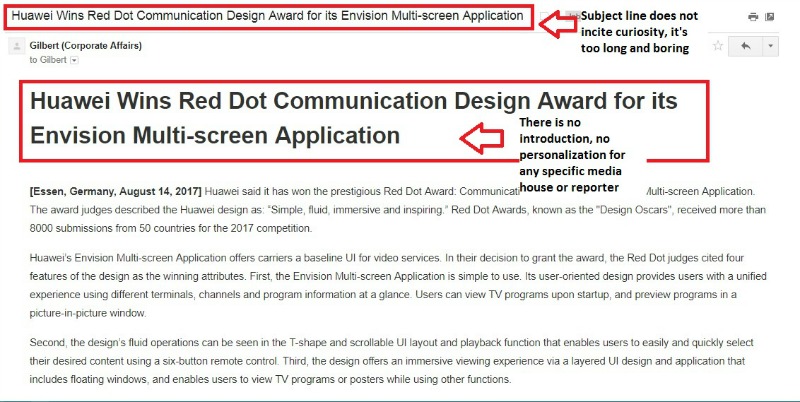 To get meaningful response rates in a media pitch, you need to shift your focus from just sharing your company's information to creating relevant content for the journalist.
You need to create content that the journalist will find worthwhile to write about.
Something like this:
That's not all…
You also need to target the right journalists and build a relationship with them before you make the 'pitch'.
Why does this matter?
This ensures you are not ignored or blocked along with the thousands of spammers that email pitch journalists on an hourly basis.
How can you actually use this?
In this media pitch definitive guide, I'll will show you how to create valuable content, find your target journalists and start a conversation with them.
I'll also show you how to craft your perfect media pitch.
Ready? Lets roll!
Send a media pitch to a journalist today w/ JustReachOut!
In a hurry? Jump to the section that excites you most:
Why a Media Pitch?
Why pitch media? Who cares?
As you already know: mention in a top media outlet – blog, news site, mainstream newspaper or TV channel – makes a huge impression on your prospects and customers.
It also enhances the trustworthiness and reputation of your brand.
It gets better:
You can also get backlinks from major publications.
A backlink from a large publication will improve your site ranking and authority, which in turn will bring more qualified leads and customers.
I recently wrote a case study on Moz and another one on SEMRush about how I was able to get Pipedrive to outrank Wikipedia for the word "sales management" through a guest blogging strategy.
What is a Media Pitch?
You might be wondering:
"What is a Media Pitch, exactly?"
In its simplistic form, a media pitch is your 'ask'.
You have some news (say, some interesting data on your industry) worthy of piquing the curiosity of the journalist you are pitching to and you 'ask' them if they would be interested in writing an article about it or mentioning it in their regular stories.
But there's a catch…
Journalist and Forbes contributor Mikal E. Belicove, who shifts through two dozen pitches a day, says most of them are fatally flawed. "…pitches that serve no real purpose, or news announcements that have no basis in fact, or bulletins that make preposterous claims," says Belicove in 13 Do's And Don'ts When Pitching To The Media.
Bottom line?
Journalists receive dozens of pitches in a day and therefore only look at those that are relevant, newsworthy, brief, structured and timely.
Send a media pitch to a journalist today w/ JustReachOut!
Identifying the Right Content
Now:
To make a valuable media pitch, you first need to know what type of content will be of interest to your target publications and/or journalists you plan to pitch.
There are three ways you can identify this:
1) See what topics are popular on your target news site
First identify what your target publication is writing about or what they consider as 'newsworthy'.
Begin by segregating your target publication list into two tiers:
Top-tier: These are popular sites people would immediately recognize. Think NYT, Forbes, HuffingtonPost, etc. If you're targeting a particular industry, these would be big industry brands (like TechCrunch for startups).
Mid-tier: These are authoritative sites in their own niche, but may not have the same name recognition. Think NYPost and Diply (for general news/entertainment).
Studying these publications gives you an idea of what publishers want and help you frame your content accordingly.
To see what your target publications are writing about do a simple site search of the publication's URL.
This will give you the top sections and popular stories from that news source.
Let's use the Huffington Post as an example:
As you can see, 'Videos,' 'Taste,' and 'Parenting' sections are popular on HuffPost.
That's not to say your story must apply to these sections.
A site search is the foremost place to begin researching a given media outlet and its website.
You also need to be familiar with the reporters and writers who cover specific sections (but more about that in a bit).
2) Identify Popular Content
I can't emphasize this enough:
Understand what sort of articles are being read and shared by the majority of readers on your target publications.
This is an invaluable insight that you can use when creating and pitching content!
A tool like BuzzSumo can show you the most shared content on any domain within a specified time frame.
To use it, enter your target publication's name in the search box and select your time frame in the left pane.
Here you can see some of the stories HuffPost readers shared most within the last year:
You can also enter keywords along with the domain name to limit your search to specific topics.
For example, searching for "techcrunch.com big data" shows the best-performing articles on TechCrunch on big data.
This search result clearly shows that most top performing articles are actually opinion pieces.
If you were planning to get covered on TechCrunch for this topic, a thought piece could be of interest to this publication.
Generally speaking, journalists like the following types of content:
Visual assets and stories
Exclusive studies and surveys
Data-backed stories and analysis
You could take the search a step further to see whether a particular topic or specific story repeats itself (indicative of its popularity); continues to intrigue consumers over an extended period of time; or is among the news source's most popular pieces of content.
3) Figure out content ideas people are already linking to
A highly effective way to get backlinks is to discover content ideas by identifying what people are already linking to.
You can use Ahrefs' content explorer tool to do this. This works just like Buzzsumo, except it also takes into account the total number of links.
You can use it to see find the most linked-to content for a specific keyword.
For example, when you search for "content marketing" and sort the results by the number of referring domains, you get this:
Notice that two of the most linked-to content pieces are essentially lists of statistics.
This isn't exactly "exciting" or "innovative" as far as content formats go, yet they attract a lot of links.
Identifying the Right Publications and Journalists
Now:
The next step in the process is to make a list of prospects – journalists, writers and media sources.
This list can be as extensive or as limited as your resources permit.
Your prospect list will depend on the kind of content you're trying to promote.
If the content is of interest to a broad audience, it might fit well on any of the large news/entertainment blogs (think Buzzfeed, HuffPost, etc.).
For more specialized content (say, a study on content marketing trends), you'll want to target industry-specific publications and influencers.
A quick tip: When looking for targets, it's always a good idea to focus on engagement than traffic.
It's better to get a feature on a site with 1,000 readers who share your content than a site with 1M readers that has no engagement.
Here are few strategies to find high quality prospects:
1) Find sites that are linking to similar content
Find similar content and see who all have linked to it. This is an easy way to discover targets.
For example, if you plan to do a study on "content marketing trends", you can Google this keyword, see the top results, and plug them into your favorite SEO tool.
Add relevant modifiers like "study", "research", "data", etc. to this keyword to narrow down your results.
In the above case, searching for "content marketing trends study" shows this CMI research from 2016. Plugging this into Ahrefs and looking at the referring domains shows us more than 385 targets:
These could be your potential targets for reaching out.
Don't worry, you don't have to target them all, just the ones with substantial domain authority (DA).
2) Use Nuzzel
Nuzzel is a great tool for finding curated content on popular topics. Use it to discover influencers, top stories and trending publications.
For example, this is Nuzzel's curated feed for "wearable technology":
3) Use JustReachOut
JustReachOut is really relevant to find high quality prospects as it gives you a list of journalists who have written about your specific topic, not just publishers.
To use JustReachOut, just search for your target keyword (say, "bitcoin") and you'll see a list of journalists and bloggers along with their contact details. You can send them an email pitch directly through JustReachOut.
4) Other tactics
There are hundreds of ways to bell this cat. Apart from the above, you can also try these tactics:
Send a media pitch to a journalist today w/ JustReachOut!
Narrow Down your Target List
So you have identified the right publications and journalists.
But there's a catch:
Not everyone who has shared similar stories in your niche makes for a good target.
Follow these three tips to narrow down your target list and improve your pitch response:
1) Find top writers on each website
Every publications has it's 'celebrity' writers who have huge followings and generate extraordinary traffic.
On NYT, for instance, Paul Krugman's columns are usually shared much more than those of other columnists.
When you're sending a pitch to a publication, try to target these superstar writers first. Think of them as "influencers within influencers".
Due to their large readership, your story will get more shares than if you were to target any random writer.
But here's the kicker:
It is not always easy to spot these top writers.
You can use Buzzsumo to search a site and find its top performing articles (and their writers). But it doesn't work very well.
It is more helpful if you spend some time browsing the site like an actual user to spot authors who get shared more than others.
2) Target mini-influencers
Mini-influencers are basically up and coming bloggers, writers and social media personalities who have a small but dedicated following (think someone with under 10k followers on Instagram).
They don't have the reach of a Justin Bieber, but because their audience is heavily engaged, they often have an outsized impact on shares and engagement.
Again, there is no easy way or quick tool to find these mini-influencers.
You will have to manually search for them. Try to find people who frequently share top performing content (that often gets picked up by bigger outlets).
If you're targeting a specific industry, these mini-influencers are often people with proven expertise in a particular sub-field (say "link building" in SEO). This will make it easier to find them.
3) Offer exclusives to top publications
If you have a big story, you can increase your chances of getting published on major publications by offering them an exclusive.
This means that for a limited period of time, the story would be exclusive just to that media outlet.
Want to know the best part?
Top publishers are always looking for exclusive content and scoops, so this strategy works very well to get featured.
Once a top publisher picks up your story, you can use it as "social proof" and piggyback it to get published on smaller outlets.
Get to Know Your Journalist
I can't emphasize this enough:
Don't send your pitch before you learn more about your target journalists.
This is your next step after you've targeted a few top reporters and writers in your target publications.
Let's take a look at the NY Times parenting section and find a recurring author. Using Ctrl+F, find multiple stories from the same person.
In this example we find Perri Klass, M.D. has written several recent articles in the NY Times parenting section. A quick Google search of the name gives you the doctor's author page.
Further search gets you to her personal website where you get to learn that Dr Klass has:
Three children;
Likes knitting;
Is a pediatrician;
Writes about food and travel in addition to parenting;
Lives in NYC; and
Likes reading to children.
Next, check if she has a Twitter profile.
Use AllMyTweets for a comprehensive view of any person's stream. Alternatively, do a site search of a person's unique Twitter URL along with the current year.
Going through her Twitter feed for several moments will let you know stories she finds interesting and topics she's passionate about.
You can use all this information to strike up an initial conversation with the columnist. This needs to be done before you send the more formal pitch mail.
Starting your Conversation with the Journalist
Here's the deal:
To get the best results from your media pitch you need to start a conversation with journalists before you pitch to them.
You need a "personalized conversational starter" to get build your rapport and get the relationship going.
These conversational starters can be built by:
Following the journalist on Twitter
Sharing their posts
Commenting on their published stories
Offering objective insights regarding their stories in the comments
Want to know the best part?
These steps will ensure that your first email will not look like coming from a total stranger. You will have something "personal" to talk about in that first email.
Even if the journalist doesn't immediately recognize your name, you can refer to your existing 'relationship' in the email.
A quick tip: Your first contact should be in accordance to your established rapport with the journalist. If you've had a conversation online, the tone can be warmer.
However, if you've followed them, commented on their articles, and shared their posts without any acknowledgement, be more formal.
Send a media pitch to a journalist today w/ JustReachOut!
Here are four strategies on how to start that initial conversation and build a relationship with your journalist:
1) Become a source for an article
There are tons of journalists and bloggers who are regularly writing articles in your niche and they need a quote from an expert.
You are an expert in your niche. So use this to your advantage.
Use HARO to find a relevant request and respond to that question.
If you provide value to the journalist they will remember you as an expert in this field.
This is the easiest way to start a conversation with a writer.
2) Comment on Quora or Reddit
This is a goldmine for meeting journalists in your niche and starting conversations.
Go to Quora or Reddit and type in a term like "SEO" to find questions that people are asking about in your niche.
Answer those questions and engage with other like-minded people who are also answering these similar questions.
You can then ask a journalist to answer a particular question because they are more of an expert than you.
The best part?
This works brilliantly as a conversation starter, plus you're giving them an opportunity to give back to the community.
You can then thank them for the answer and get the ball rolling.
3) Provide data or insights
Send an email to the journalist with some research data or insight you have about a topic they write about. Ask for their feedback.
Take a look at this email:
Based on this email, the journalist used the data to write this article:
4) Interview the experts
This is dead simple. Include them in a roundup of "experts" and ask their opinion on a hot recent news.
By giving journalists the expert tag, you give them a chance to brand themselves plus appeal to their vanity.
That's not all…
You not only have a conversation starter, your roundup post can be shared by the journalists you have quoted or used as material for bigger, more in-depth stories on that topic.
Composing your Media Pitch
While every email will vary, your media pitch needs to:
Demonstrate that you regularly read and are familiar with the media outlet.
Show you have read articles written by the journalist (Mention individual articles and pull quotes from within.)
Prove you have an understanding of the media source's readership as well as what topics and stories are most valuable and shared (Refer to your use of BuzzSumo, etc.)
Clearly align your provided statistics, insight, or information with the reporter's current beat, interests, and most popular articles (Make it easy for them to see the reason you're contacting them and why they should be happy about it.)
Provide them with all the details they need to make an immediate decision about the information and you as a reputable source (Provide your email, phone number, links to referred information as well as any applicable references to your expertise.)
A quick tip: Email endings are just as important as the first sentence.
It gets better:
An interesting sign off to your email will not only leave a favorable impression on your recipient but also increase your chances of a response.
Read these 80 powerful email endings to make people remember you.
Although you must initiate a conversation and build a rapport before pitching to a writer, if you do plan to send a cold email, take a look at these 26 cold email templates.
You can also try these 40 cold email tips that guarantee a response.
Example Media Pitch
While a successful media pitch can be written in many ways, here's an example of what works well:
Hi Dr Klass,
Being an avid reader of the Times' parenting section, I've 'knitted through' (haha) several of your articles of late. As per my Twitter share and comment, I was especially affected by your story on speaking to kids about online pornography.
The Other Talk Parents Avoid: Pornography
I know providing parenting information, especially regarding young children, is close to your heart and position as a pediatrician. I thought you may be interested in the following statistics about Cybersecurity and parenting younger children as my company has been collecting data on such over the last five years…
Post Pitch Tactics
Once you have sent your media pitch, wait for a reply or schedule a follow-up several days later.
Most reporters and professionals are busy people with a lot of their plate.
If the journalist uses your information and its source, great news. Thank them for using your content and keep the conversation rolling.
On the other hand, he may not be interested in that particular content or information at that moment.
In that case, keep communication channels open and continue to build your rapport for future opportunities.
If you don't get any replies to your media pitches, assess where the process went wrong. Did you:
Select the right media outlet and person of interest
Provide value regarding a timely and popular topic
Make it easy for the recipient to get to relayed information (copy and paste versus providing attachments or making recipients click to a URL.)
Over to You
Look:
Pitching to the media is not as complicated, daunting, or intimidating as you may think.
In fact, it can be as easy as sharing information you know will be appreciated by a colleague.
Know what your target publication, their writers and readers deem as important news then go ahead and create valuable content for them.
Next, initiate a personalized conversation with your prospect journalist and go ahead and make your pitch!
Follow these steps and see your response rates soar!
Send a media pitch to a journalist today w/ JustReachOut!