If you're an entrepreneur…
I think you'll agree with me when I say:
There are few things more confusing, even petrifying, for you than pitching to a journalist.
You are afraid of not getting a response to your pitch or being simply blocked by the journalist.
This is crazy:
As an entrepreneur you have built a great product, survived many failures and disappointments on your way, managed global teams, and even raised millions of dollars from investors.
But…
When it comes to writing a simple email to a journalist?
You hem and haw.
You procrastinate.
You decide to shell out big bucks to hire experts!
Here's a 'real-life' example of an email pitch that got ignored by reporters:
But this doesn't have to the pitch you make…
Writing an effective media pitch that gets a journalist to respond is not difficult or complex.
Once you have read through this post, I can guarantee you'll be pitching to the press like a pro and getting the responses you want.
The best part? You'll be able to send these effective media pitches without putting in tons of time or effort.
Look:
If you just shoot off a press release to the media, it will be completely ineffective.
Take a look at this 'real-life' example of a press release pitch. This is what your pitch should definitely not look like: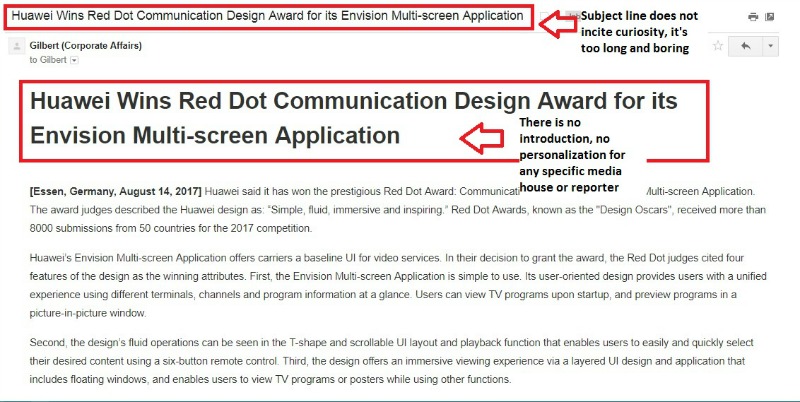 To get meaningful response rates in a media pitch, you need to shift your focus from just sharing your company's information to creating relevant content for the journalist.
You need to create content that the journalist will find valuable and engaging, content which will start a converstion over an email exchange with you.
Something like this:
That's not all…
You also need to target the right journalists and build a relationship with them before you make the 'pitch'.
Why does this matter?
This ensures you are not ignored or blocked along with the thousands of spammers that email pitch journalists on an hourly basis.
How can you actually do this?
In this guide I'll will show real media pitch examples and templates to help you create a valuable pitch, find your target journalists and start a conversation with them.
I'll also show you how to craft your perfect media pitch.
Ready? Lets roll!