Introducing Game-Changing AI for PR Outreach
Today we made a game-changing update to JustReachOut. We have built AI into our platform to make establishing relationships with journalists faster and easier than it has ever been.
If you've ever done PR outreach you know how long it takes to find a journalist, read some of their written work, and then craft a personalized email to break the ice and craft a pitch that is customized to that specific journalist.
And then how long it takes to repeat that process 25-50 times.
We're talking hours of work.
With our new AI email engine that same process will take you just a couple of minutes. And journalists will never know you didn't personally do all of that work.
As you find journalists to reach out to, your AI assistant can read their articles and instantly craft an extremely personalized email that includes your pitch in a very natural way.
The email below was generated in 5 seconds using our new AI for PR pitch engine: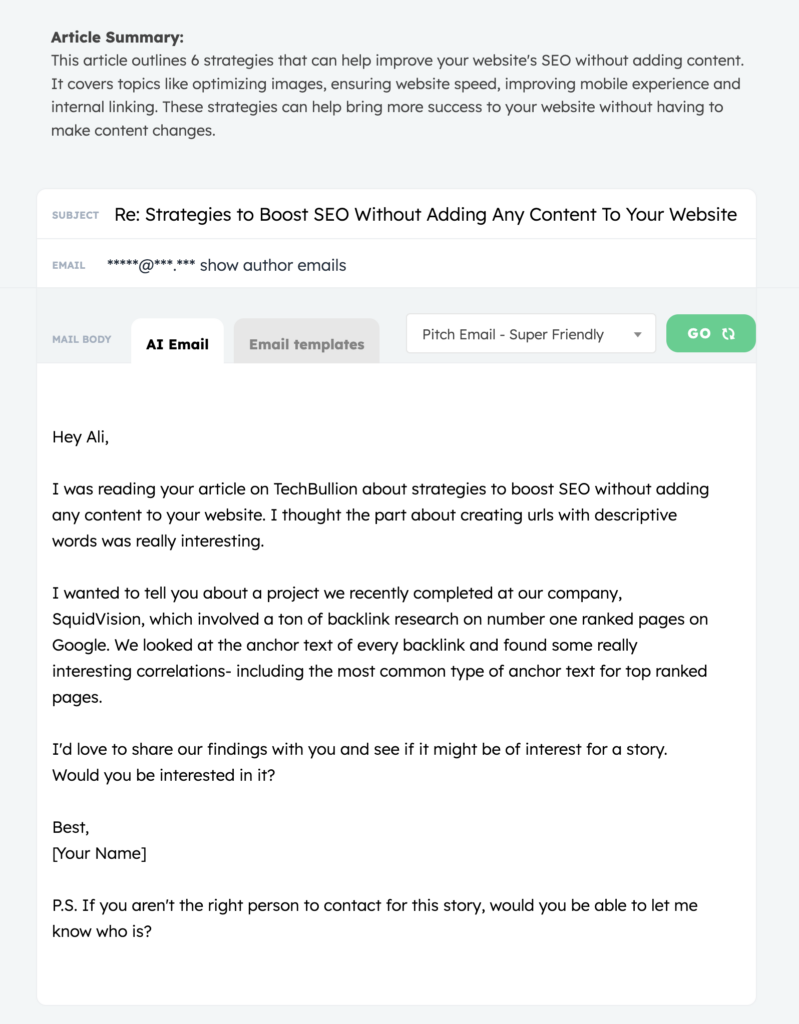 This new AI for PR integration is going to save you hours upon hours every month and allow you to build relationships with journalists at a much larger scale.
We are so excited to see how AI helps you become an even better PR specialist.
With the addition of this game-changing AI integration, we are announcing a long overdue pricing change to our subscription plans as well.
Here's Why
When we launched JustReachOut we made it our mission to bring professional level PR outreach tools to all PR specialists and PR managers at an affordable price.
Frankly, our subscription prices pale in comparison to those of our competitors and as our costs have risen we realized it was necessary to increase prices in order to continue to build out an amazing PR platform.
We understand that our low prices may have been one of the reasons you chose us over them.
As you have seen recently, JRO has been undergoing some heavy design changes and tool enhancements as we work tirelessly to make the software easier to use and to help you accomplish your goals for each client.
We are committed to building software that makes your life easier by saving you time, getting you better results and making you look like a PR genius.
With that commitment comes more overhead, more resources being used and more revenue required to run JustReachOut.
Moving Forward
So that we can continue to build the best PR software on the planet, we're announcing the following pricing changes:
Our Standard plan will now be $147/mo
Our Advanced plan will now be $247/mo
Our Ultimate plan will now be $497/mo
We have also added a plan for brands that only need to do outreach for a single brand. It's called the Single Brand plan and is $97/mo.
If you are on an annual plan, your new price will be the monthly price x 10 (ie $1470 for the basic plan).
If you don't want access to any of the new AI features you can request to put on our Lite plan for $79/mo which will give you access to all of the outreach tools and 200 email sends per month but you will lose access to AI integration and to our human email address verification service for any journalist email addresses that bounce.
I know that these price increases are significant. I also know that even with the new prices we are still by far the most affordable PR outreach software platform in the world.
And we're the first PR platform to integrate AI to make your outreach 100x more effective.
It truly will be life changing for your business.
Because of this, you'll be happy to know that we are also increasing the number of allowed monthly email sends inside of our platform with each plan.
We have always limited the number of emails you could send through our software so as to discourage spam email tactics.
But with AI built in and the ability to create personalized emails at scale, we felt it was necessary to increase send limits as well.
The Single Brand plan will allow up to 200 Email sends per month
The Standard plan will now allow up to 500 Email sends per month
The Advanced plan now allow up to 1000 Email sends per month
The Ultimate plan will now allow up to 2500 Email sends per month
Prices For Existing Customers Will Increase Apr 15, 2023
The new prices are live on our pricing page and in effect for new customers as of today.
For existing customers, the price increase will take place on Apr 15, 2023. Your first billing date after April 15 will reflect the new pricing.
Our Commitment To You
We know we need to add enough value to the product and service to justify the increase or you'll leave us and switch to a competitor–and rightfully so.
We welcome the challenge, and we truly believe we have added more than enough value, but we're not done yet.
Here are some of the upcoming enhancements to our product and service:
Product Improvements
More AI integrations to make your processes faster and more effective, including using AI to quickly find hundreds of journalists that are likely to respond to your pitch based on their story history.
Adding 2 more sources to journalist pitch requests – we have the best pool of journalist pitch requests anywhere and we're adding 2 more awesome sources for even more pitch opportunities.
We're doing a major update on our journalist database with more accurate contact information and social media handles to make it easier for you to reach out and build relationships.
…and much much more.
Service Improvements
Since we are a company with users dotting the globe we want to be able to provide the best customer service when you need it.
Bringing on a new customer success manager to help each of our customers get the most out of the software as we continue to grow.
Continue building onboarding improvements so that you get the maximum value out of all of our tools.
Want to see a demo of the new AI integration?
Watch the video below to see how the AI is going to save you hours upon hours of work:
Not A JustReachOut User Yet?
Click here to get started with JustReachOut
Have Questions? Get In Touch.
We're grateful to all past, present and future JustReachOut customers. And we're committed to creating the best outreach tools in the industry.
If you have any questions about these changes, please feel free to reach out.
Adam White
Co-founder at JustReachOut