According to research, the global public relations software market was worth $10.4 billion in 2022. It's not surprising at all. Such tools empower professionals to do their jobs with efficiency and precision. That's why most of them compare Prowly vs Muck Rack to choose a suitable solution.
Navigating the modern public relations landscape requires tools that improve media outreach and increase brand visibility. You need comprehensive PR tools that find the right journalists and track online mentions.
Prowly is great for storytelling and finding media contacts. It's more affordable than Muck Rack and has a free trial. Muck Rack, on the other hand, helps them monitor news and create reports.
Which one should you choose? We'll do a Muck Rack vs Prowly comparison to give you the answer.
Prowly vs Muck Rack: comprehensive reviews
We've compared the two tools based on these criteria:
Features

– Contact management, analytics, reports, campaign management are some of the features offered by these tools. However, both Prowly and Muck Rack cater to the different needs of PR professionals. Prowly stands out with its visual press releases and storytelling tools. Muck Rack is famous for its extensive media database. Choose the right software based on your priorities.
Pros

– We also looked at their strengths to help you decide.  As you'll see, both tools bring various benefits to the table.
Cons

– It's crucial that you're aware of certain drawbacks of these tools. They might influence your choice or encourage you to explore solutions like JustReachOut.
User ratings

– Existing customers give honest reviews about their experience using both tools. It's the best way to discover the benefits and limitations of Prowly and Muck Rack.
Price

– The cost of a solution is an essential aspect for all companies. We'll reflect on the prices to help you determine if any of the tools fit your budget.
Prowly review
Prowly is a public relations tool for PR professionals, agencies and organizations. It helps you manage PR campaigns, media relations and online mentions. Prowly streamlines various PR processes, including press release creation, distribution and contact management.
One of the platform's distinctive features is its focus on visual storytelling. It lets you create visual and interactive press releases with the drag-and-drop editor. You can add photos, videos or other multimedia to enhance the look of your campaigns.
Prowly facilitates the press release distribution to your target audience. Its media database has over one million contacts. The tool analyzes your press release and suggests to whom you should send it, increasing your visibility.
Features
The key features of Prowly are:
All-in-one campaign management solution

– From finding media contacts to getting your message out, Prowly ensures your campaigns reach the right audience and have eye-catching content.
Media database

– Prowly has a worldwide media contact database. You can create targeted lists to communicate to a specific group and personalize your message with the contact management feature.
Media pitching tool

– Journalists receive smart suggestions based on the press release contents. These suggestions identify the best contacts to message. The tool also offers advanced filters that find media outlets that cover stories similar to yours.
Press release creator

– Leverage the drag-and-drop press release builder to add photos, videos and buttons to your communications. You can then share the news via a link.
PR CRM

– The Prowly PR CRM updates your media lists, eliminating manual work and saving time. Within this CRM, your team can write notes, share emails and log phone calls. They can use threads, mentions or comments to discuss different topics.
Social media integration

– Connect your social media profiles with your newsroom. You can integrate up to five social media platforms and share a snippet of your press release there.
Reporting

– Check out metrics like estimated views and coverage pieces to determine the success of your press release. Prowly also collects coverage screenshots to help you create presentable reports.
Pros
Easy to navigate and user-friendly

Streamlines the process of PR distribution

Comprehensive database

Journalist-friendly newsrooms

Integration with Google Analytics

Library of press release templates

Media monitoring that lists the published articles and newsrooms

Excellent customer care
Cons
Limited filtering options

Contact search results are sometimes unrelated

Although the Prowly interface is user-friendly, its full range of capabilities has a steep learning curve

Some outdated journalist profiles
User ratings
G2 rated Prowly 4.2 out of 5 stars based on 101 reviews. Users praise its user-friendly dashboard and responsive customer service. However, they do report issues with the search results and want more filtering options.
Price
Prowly offers three pricing plans:
Essential Bundle

– $479 a month for occasional PR activities (up to 2 users)

Professional Bundle

– $649 a month for companies that have ongoing PR campaigns (up to 5 users)

Professional Plus Bundle

– $859 a month for companies that run multiple projects (up to 5 users)
Let's look closer at the other tool in our Prowly vs Muck Rack comparison.
Muck Rack review
Muck Rack is a comprehensive media and public relations software for PR professionals and agencies. It allows your organization to nurture relationships with media, track coverage and manage media relations.
The platform offers a search engine that helps you pitch PR campaigns to the right journalists. You can build your contacts and Muck Rack will auto-update media lists. That way, you don't waste time on old contact lists.
Muck Rack also follows online mentions. You receive alerts whenever journalists write or tweet about your:
Campaign

Company

Keywords

Competitors
Features
The software offers many campaign management features:
Contact management

– Muck Rack has an up-to-date media database. Use information on journalist profiles to create a targeted list and prepare a personalized pitch for the press.
Monitor news and social media

– Your employees can track news about a company or industry. The software sends alerts about new articles if you need some inspiration for a story.
Gmail and Outlook integration – Connect Muck Rack with your Gmail and Outlook accounts to track email engagement. You can also schedule follow-ups and get an overview of all interactions with the media.
Team collaboration

– Manage your team members by accessing their media lists, call logs, notes and pitches. You can learn which employee interacts with a specific journalist when you click on a profile.
Reports

– The software automates routine tasks like reporting. It analyzes press coverage and creates data-rich reports so your employees are on the same page.
Pros
Up-to-date and comprehensive media contact information, including social media profiles

Highly customized pitching tool

Outreach management

Intuitive and user-friendly interface

Media monitoring to track mentions
Cons
Higher pricing, making it unsuitable for smaller businesses and agencies

Sometimes outdated contacts appear, but its customer support updates the database after customers report that

Occasional glitches when a user searches for a person's name and they don't appear first on the list

Limited social monitoring functionality

No Google Analytics integration
User ratings
G2 rated Muck Rack 4.6 out of 5 stars based on 221 reviews. Users praise the ability to pitch straight from the platform and track if their emails have been read.
Price
We know that pricing is important when comparing Prowly vs Muck Rack. Although Muck Rack doesn't advertise its pricing, it is much more expensive than Prowly.
JustReachOut – The best alternative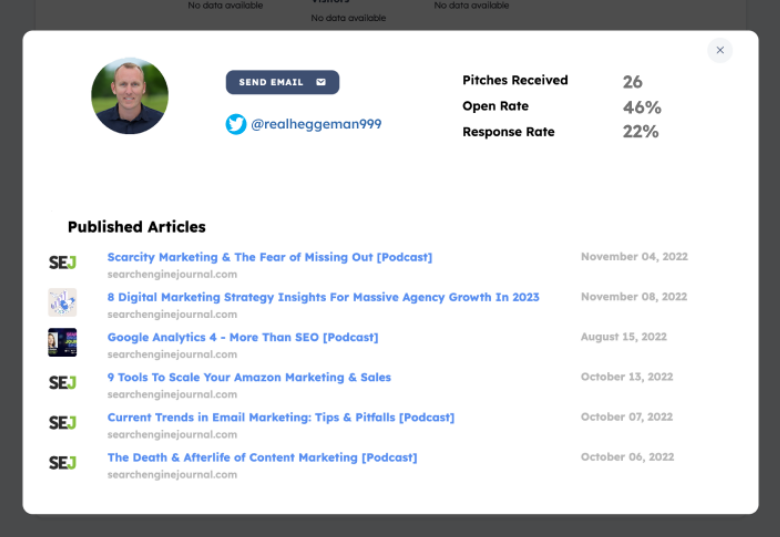 Muck Rack or Prowly won't do it for you? 
No worries – they aren't the only available options in the market. JustReachOut is a software tool worthy of your attention.
It's an AI-powered PR software that helps you write personalized pitch emails. All you need to do is find the journalists who cover your niche. Our tool then prepares the pitch email and sends it within minutes. You can schedule automatic follow-ups to ensure you get a response.
We update the media database regularly and give you info on hundreds of thousands of journalists. The entire campaign management process is available on one platform.
JustReachOut is a better solution than Muck Rack and Prowly because we offer various outreach tools:
Search for podcasts

– Find podcasts where you can appear as a guest.

Search for journalist requests – The software pulls requests from different sources, including HARO and #journorequests, allowing you to reach out to journalists looking for sources in your industry.
Find blogs accepting guest articles
Discover content with broken links to articles you've written on the same topic
Our software also offers manual email verification of journalists' emails, ensuring higher deliverability.
Book a demo now, and enjoy a 14-day free trial.
Prowly vs Muck Rack vs JustReachOut: comparison table
JustReachOut
Muck Rack
Prowly
Media contacts search

Yes

Yes

Yes

Craft
Pitches

Yes

Yes

Yes

Journalists email verification

Yes

No

No

AI
integration

Yes

Yes

No

Free Trial

Yes

No

Yes

Price

$147 per month

Available upon request (over $800 a month as per user reviews)

From $479 a month

Best for

PR professionals and agencies

Larger companies and journalists

PR professionals and agencies
Conclusion
Our Prowly vs Muck Rack comparison gave a detailed overview of the two tools. The choice is now yours, but remember what you can expect from both software platforms.
Unlike Muck Rack, Prowly offers visual press release creation tools. You can make interactive press releases with multimedia elements. That can increase engagement and message deliverability.
On the other hand, Muck Rack is a better solution for media monitoring. It allows you to monitor media coverage and track mentions in real time.
If you want to bridge the gap between Muck Rack and Prowly, look no further than JustReachOut. It provides a comprehensive PR solution for professionals looking to boost their outreach efforts.
Find media contacts who cover topics related to your business and send them personalized pitch emails. It's time you improve your PR campaigns with JustReachOut!
FAQs
What is the difference between Prowly and Muck Rack?
Prowly and Muck Rack are both powerful PR software tools, but they have features that set them apart.
Prowly's main focus is on visual storytelling and content creation. It offers a press release builder that supports multimedia elements like images and videos. If you want to tell your story in a creative way, Prowly is the perfect choice.
Muck Rack, however, emphasizes media relations. You get an extensive media database to connect with the right people. It's a great choice if you want to build and maintain media relationships.
How much does Prowly cost?
Prowly offers three pricing plans:
Essential Bundle

– $479 a month for occasional PR activities (up to 2 users)
Professional Bundle

– $649 a month for companies that have ongoing PR campaigns (up to 5 users)
Professional Plus Bundle

– $859 a month for companies that run multiple projects (up to 5 users)
Which is the best Prowly alternative?
One of the best alternatives to Prowly is JustReachOut. It's an AI-powered PR tool that helps with media outreach and campaign management. The software helps you find relevant media contacts and influencers for your PR campaign and ensures you write the perfect pitches.