Muck Rack is a well-known tool PR professionals use for PR outreach. Its robust database of contacts and intuitive dashboard help find relevant journalists and save time on manual research.
Nevertheless, certain aspects drive users to seek alternative solutions – the substantial cost associated with Muck Rack and its insistence on an annual contract could discourage those searching for affordable choices.
Additionally, concerns over outdated journalist information can pose a challenge to maintaining accurate and relevant outreach.
In this article, we will provide a comprehensive review of the six best Muck Rack competitors so that you can find your ideal tool for personalized PR outreach.
The best 6 Muck Rack competitors: comprehensive reviews
JustReachOut is an AI-powered tool for PR professionals who need to optimize their outreach strategies, enhance their pitch quality, and track engagement metrics.
For the best PR outreach results, you can search our regularly updated database of thousands of relevant media contacts by inserting a keyword or journalist name.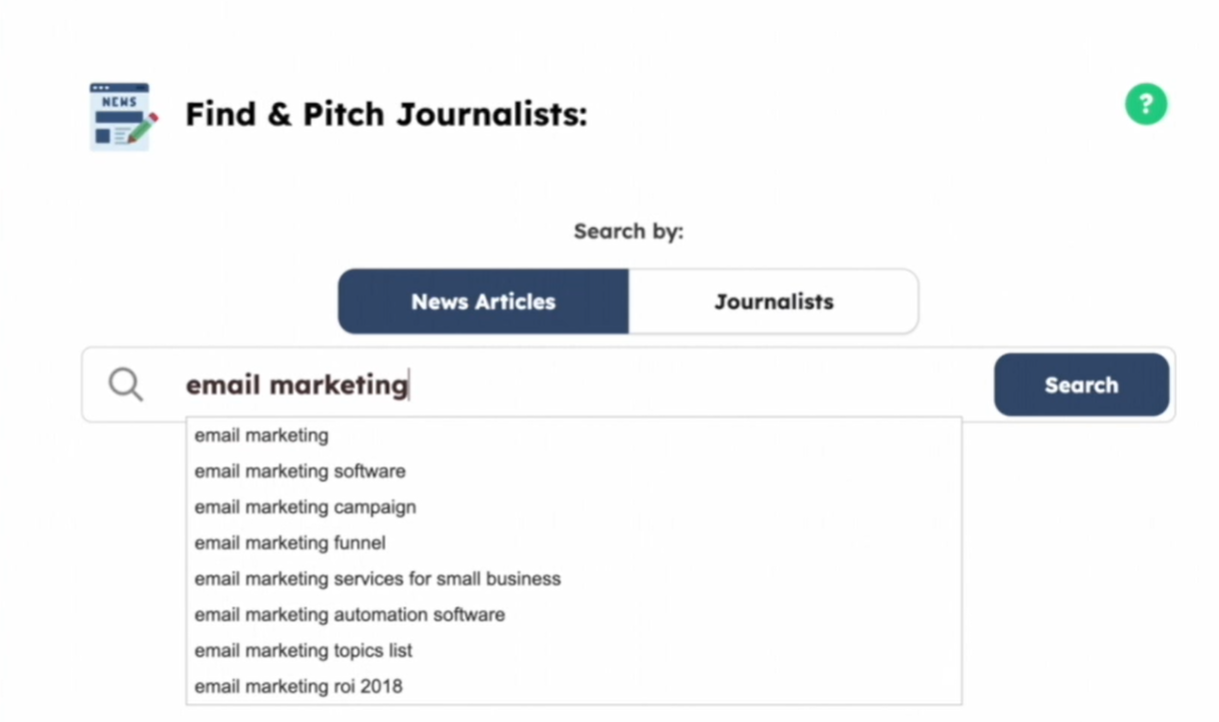 Once you've found the journalist, add them to your campaign or write an email pitch in the same dashboard.
A key feature we have is email verification that ensures the accuracy of your outreach and boosts your deliverability rate, a crucial aspect for small businesses looking to make a significant impact with their limited resources.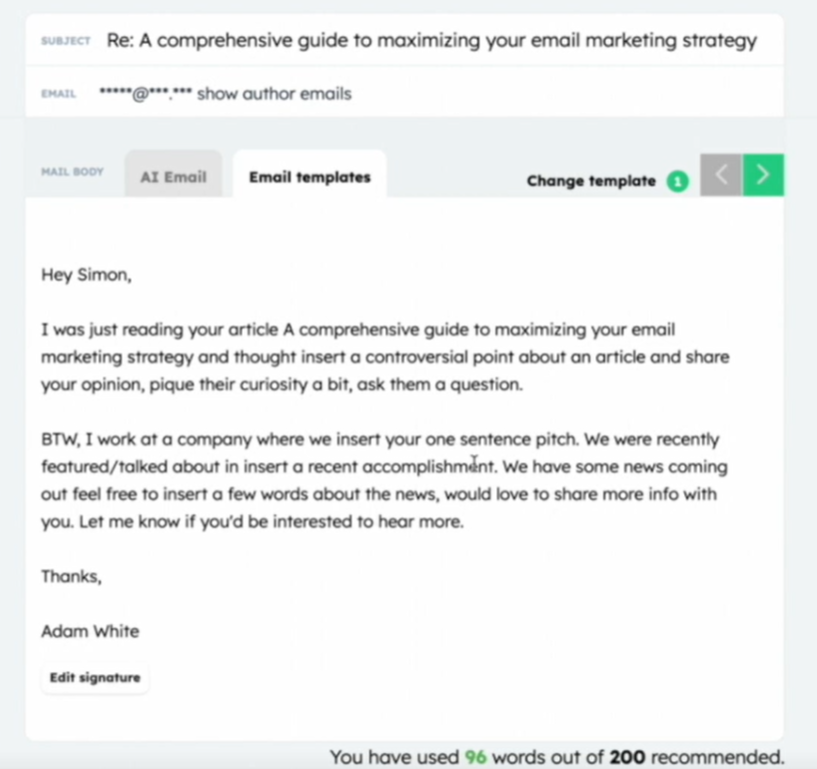 If you need help with crafting a perfect pitch — we have you covered here as well.
The AI integration helps with eye-catching, personalized pitches by seamlessly incorporating insights from journalists' prior work into your opening lines. Alternatively, you can access a library of email templates or engage in PR strategy calls to optimize your pitch under expert guidance.
Small businesses often require a user-friendly interface without the need for extensive training or time investment. JustReachOut excels in this aspect, providing an intuitive platform with a minimalistic design. This ease of use translates to swift campaign creation, optimization, and tracking, saving valuable time for small business owners.
With a comprehensive suite of five outreach tools, we help you navigate your online reputation management:
Start using JustReachOut with a 14-day free trial, and get results in the first week.
Key features
Five outreach tools to manage your PR efforts

AI integration to help you draft pitches

Press mentions and backlink tracker

Email engagement tracking tool

Pitch template library

PR strategy calls for users to improve their pitches
Pros
Regularly updated database of journalists

Pitch information from various data points

Lessons and guides for mastering pitches

Email verification feature

High deliverability rate

High open rate

User-friendly interface

No long-term contract
Cons
No social media monitoring tool
User ratings
JustReachOut has few reviews on the commonly used platforms; therefore, we cannot provide you with their customer satisfaction score. However, customers' testimonials say that JustReachOut brings them the desired results in the first week of using it.
Price
JustReachOut has a 14-day-free trial and three paid plans:
Starter Outreach – $147/month, two team members and 500 email sends

Advanced Outreach – $247/month, five team members and 1000 email sends

Ultimate Outreach – $497/month, ten team members and 2500 email sends 
2. Cision
Cision is a digital PR software for creating and distributing press releases, managing media lists, and monitoring coverage. One notable feature is the monitoring tool, which allows users to track mentions of their brand or specific topics across various channels.
Cision's extensive media database allows users to search and filter journalists based on criteria such as beat, location, and publication, enabling users to identify the most relevant journalists for their pitches. 
However, that's where its personalization capabilities end – users need to incorporate information and write their own pitches without the help of an AI assistant or templates.
While Cision offers robust features, users have trouble using them due to a poorly organized interface and an unresponsive customer support team.
The software also comes with a relatively higher price tag compared to some other PR tools, making it unsuitable for smaller businesses.
Key features
Media monitoring tool

Press release distribution

Media pitching tool

Social media management

Campaign reporting tool

Earned media analytics tool
Pros
Cons
High cost and limited reach

Customer service issues

Clunky interface 

Poor customer service
User ratings
The average customer satisfaction score is 3.8/5, based on reviews on Capterra and Software Advice.
Price
For pricing information, users must contact Cision's sales team. According to TrustRadius, they have four pricing plans:
Basic – $105, hosting on PRWeb.com, without press syndication

Standard – $220, press syndication without email distribution

Advanced – $325, press syndication and press distribution to one of their journalist lists

Premium – $435, press syndication and press distribution to two of their journalist lists
3. Meltwater
Meltwater offers a comprehensive media relations management and analysis tools suite tailored for PR, marketing, and communication professionals. One key feature is Custom Reports, where the software follows your selected metrics for analysis and curates reports to your specifications.
Meltwater has global media monitoring, enabling you to track news and social media worldwide, plus engaging with influencers, journalists, and bloggers, enhancing your outreach strategies. You can use the keyword search feature to identify contacts actively writing about topics related to your pitch.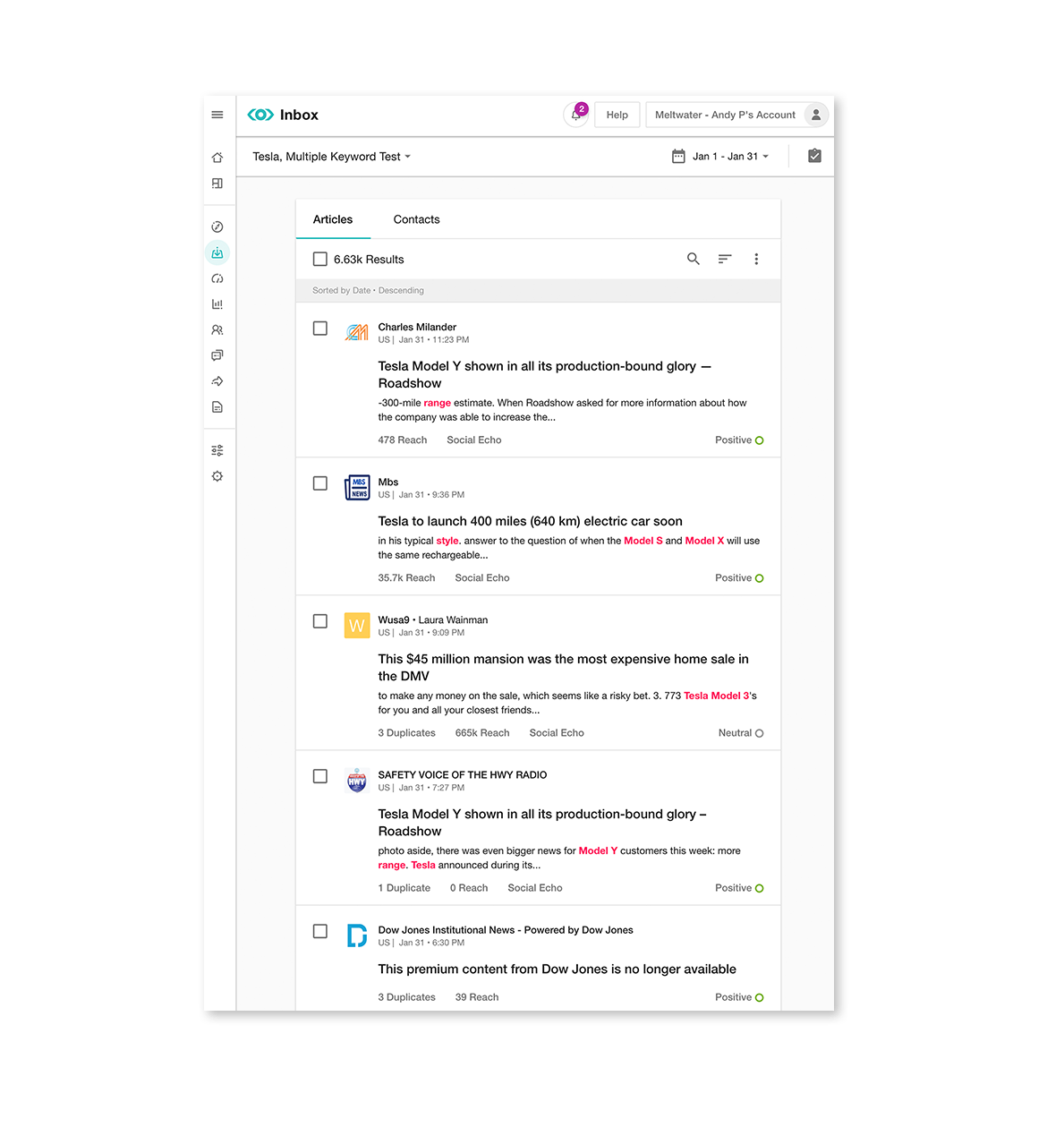 While Meltwater offers a comprehensive suite of tools, there are some areas where it may fall short. For instance, some users have mentioned that Meltwater's sentiment analysis may occasionally require manual verification to ensure accuracy.  
Additionally, the platform's reporting options, while impressive, might lack certain advanced customization features that some users desire.
As for the price, the pricing structure with add-on features may not be affordable for smaller businesses.
Key features
Custom reports 

Media monitoring

Consumer insights

Press releases distribution

Real-time alerting

Article author database
Pros
The monitoring tool collects data from various sources

Good onboarding process

Clean interface
Cons
The complexity of creating and customizing reports as well as the sharing options for these reports, can be challenging

Tricky pricing, rolling contracts, and challenges in canceling services 

Additional charges for add-on features

Limited accuracy in results
User ratings
The average customer satisfaction score is 3.8/5, based on reviews on Capterra, g2, and Trustpilot.
Price
Meltwater offers four pricing plans based on the features included: Essential, Advanced, Suite and Enterprise. However, customers need to request a quote to get pricing information.
4. Prowly
Prowly is a comprehensive media database software for PR professionals who want to send personalized pitches to journalists. In one dashboard, users can look for journalists, craft pitches and send them immediately.
The platform offers advanced filtering options, streamlining the process of narrowing your search for journalists by criteria such as topic, location, and keywords in articles.
Even though Prowly offers useful journalist information, such as parts of previous articles, you still need to manually check those articles and find relevant details for your pitch. Other tools, like JustReachOut, use AI to search and incorporate those details into your pitch to help you personalize your outreach in seconds.
With a centralized tool for creating, sending, and receiving emails in just a few clicks, Prowly offers insights into open and click rates, ensuring you stay informed about engagement levels. However, without live notifications and automated follow-ups, users must constantly monitor their dashboards to act on responses.
Key features
Media database

Press release creator

Media pitching tool

PR CRM

Online newsroom

Media monitoring tool

PR reports
Pros
Free trial

User-friendly interface

Large database

Robus analytics
Cons
Limited customization options

Outdated database

Occasional inaccurate matches

High price
User ratings
The average customer satisfaction score is 4.2/5, based on reviews on g2 and Capterra.
Price
Prowly offers a free trial and three pricing plans:

Essential Bundle – $479/month

Professional Bundle – $649/month

Professional Plus Bundle – $859/month
5. OnePitch
OnePitch is a platform that streamlines the process of pitching news stories to a tailored list of relevant journalists.
Users upload a pitch, and the software offers 30 relevant journalists they can contact via email. Thirty journalists is a solid start, but considering the tool doesn't have email verification, users can be unsure whether their pitches have landed in the right inboxes.
OnePitch aids in refining pitches by suggesting improvements to subject lines, company names, and the contextual connection between the subject line and pitch content.
However, these suggestions do little when it comes to personalizing pitches since OnePitch doesn't provide information from journalists' past articles – an important step for connecting and building media relationships.
Even though OnePitch helps users monitor their email engagement, it lacks valuable features such as real-time notifications for emails, automatic follow-ups and press mentions.
Key features
Journalist matches

Pitch analysis

Media lists

Email outreach and monitoring tool
Pros
AI for pitch analysis and suggestions

Intuitive dashboard

Good customer service

Digital asset management 
Cons
Limited reach, it lists only 30 journalists per pitch

No press mentions and backlink tracking features

No email verification feature

Small journalist database
User ratings
OnePitch doesn't have reviews on the commonly used platforms; therefore, we cannot provide you with their customer review ranking. However, customer testimonials say that their customer service is very responsive.
Price
OnePitch offers a free plan with one pitch in a text form, ten journalist matches and a paid plan with unlimited access to all tools for $50.
6. NinjaOutreach
NinjaOutreach is a tool that automates finding email addresses, social profiles, websites, SEO metrics, and engagement statistics through its influencer CRM function.
Users can filter search results and profiles by applying Smart Tags that categorize profiles as bloggers, influencers, or journalists. Still, there's been numerous complaints about the limited number of journalists on the platform.
NinjaOutreach's primary focus is on social media influencers, while tools like JustReachOut offer comprehensive PR outreach solutions with features like specific journalist databases, email engagement tracking, and press release distribution.
Key features
Template library

Media database

Contact/campaign management 

Newsroom

Template library

Media distribution

PR planner 

Media services

Reporting tool

Monitoring tool

Influencer marketing tool
Pros
Chrome extension

Search filters

Intuitive dashboard
Cons
Limited number of journalist contacts

No AI integration 

Lack of transparency

User comments surrounding billing issues
User ratings
The average customer satisfaction score is 2.5/5, based on reviews on g2 and Trustpilot.
Price
NinjaOutreach offers three pricing plans:
Flex – $389/month up to 500 influencers outreach per month, 1000 emails sent, and up to 5 campaigns.

Silver – $589/month, up to 1,000 influencers outreach per month, 10,000 emails sent, and supports up to 50 campaigns.

Silver Plus – $849/ month, up to 4,000 influencers outreach per month, 15,000 emails sent, and up to 100 campaigns
The best Muck Rack competitors: Comparison table
JustReachOut

Muck Rack

Cision

Meltwater

Prowly

OnePitch

NinjaOutreach

Media contacts search

✅

✅

✅

✅

✅

✅

✅

Craft




Pitches

✅

✅

✅

❌

✅

✅

✅

Journalists email verification

✅

❌

❌

❌

❌

❌

❌

AI




integration

✅

✅

❌

Partially

❌

Partially

❌

Free Trial

✅

❌

❌

❌

✅

✅

✅

Price/month

$147

$830*

$220

From $670*

$479

$50

$389

Best for

Small and medium-sized businesses that need an extensive and relevant database 

Large enterprises

Businesses that 

Large enterprises

Companies with big budgets and non-specific needs

Small businesses that don't need a large database

Businesses focusing on influencer outreach
*based on customer reviews and third-party data
Conclusion
Even though Muck Rack is a popular PR tool on the market, users are on the lookout for a more affordable alternative with a regularly updated media base.
There are numerous alternatives suitable for various companies depending on their size and PR needs. One such alternative that is great for small and mid-sized businesses is JustReachOut.
JustReachOut fits the budgets of smaller companies while offering a robust toolset for nurturing relationships with the media. With JustReachOut, you will have all your pitches in the right inboxes, fast and easy.
Book a demo today, and start pitching to your favorite journalists right away.


FAQs
Is Muck Rack worth it?
Much Rack is worth it if you are a PR professional at a large enterprise with a big budget and time to verify emails on your own. However, there are more affordable options with different features, such as JustReachout. You can check the full list of alternatives in our article.
What is the difference between Cision and Muck Rack?
Cision and Muck Rack are both PR tools, but Cision offers a broader suite of features, including media monitoring and social listening. Muck Rack focuses on media contacts and outreach, while Cision provides a more comprehensive PR and media management solution. Both come at a high price, so enterprises with larger budgets and various business needs can consider trying them, while smaller businesses can opt for a more affordable tool like JustReachOut.
Who uses Muck Rack?
Enterprises with larger budgets use Muck Rack for their PR outreach because it has an extensive database. However, enterprises can also consider a PR tool with different features like Cision, or a more affordable option, such as JustReachOut.
Is Muck Rack good for journalists?
Muck Rack is a good option for finding and pitching to journalists due to its extensive database. However, other Muck Rack alternatives have similar features and the same-sized database but with verified contact information, such as JustReachOut.
Related reading: Prowly vs Muck Rack