Prowly is a PR tool with a user-friendly interface and a tempting free 7-day trial, both of which are important for users who want to pay the tool's high price.
While Prowly's features undoubtedly save time on routine tasks, some users have voiced concerns over limited customization options that keep you away from building long-lasting collaboration with journalists during pitch distribution.
In addition, Prowly's database is reported to be outdated, because they don't do manual verification of emails.
As PR professionals need to make sure their pitches land in relevant inboxes, it becomes essential to explore Prowly's competitors.
In this article, we will present six budget-friendly Prowly alternatives. These alternatives offer the same feature-rich set as Prowly but with added customization options and a more relevant database.
Top 6 Prowly alternatives in 2023
JustReachOut is an AI-powered PR tool that simplifies reaching out to journalists for media coverage. With a regularly updated database containing hundreds of thousands of journalists, you can use our smart keyword or subject-based filters and immediately get journalists' contact information, write your pitch and send it – all within the same platform.
Besides the email, JustReachOut finds the topics and relevant articles the journalists wrote earlier, so you be 100% sure they are a perfect match.
JustReachOut is great for building and tracking campaigns because you can run multiple campaigns at the same time and schedule automatic follow-ups for your pitches.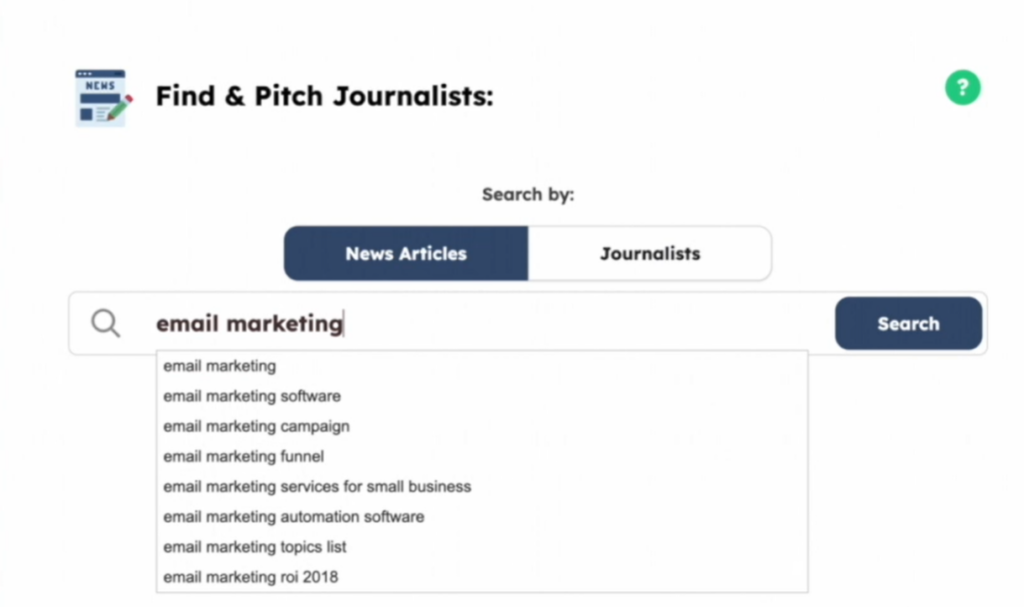 Another great feature is the AI tool that we have. It allows you to personalize your pitch, adding information based on the journalist's previous articles and incorporating it in the opening line.
If you opt for writing pitches on your own, we have email templates you can use, or PR strategy calls with our specialists for users to improve their pitches and successfully communicate with journalists.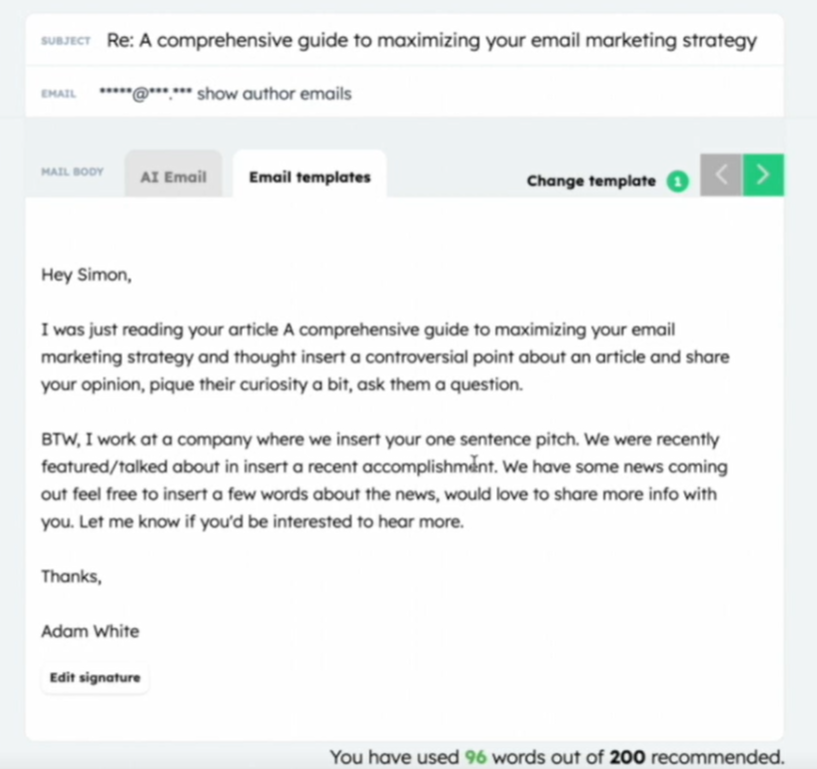 What's even more — with JustReachOut you will get a notification when journalists open or reply to your emails, so you can answer or follow up right away.
With JustReachOut you get access to five helpful outreach tools you can use to manage your online reputation:
Find and reach out to your ideal journalists today with a 14-day free trial.
Key features
Five outreach tools to manage your PR efforts

AI for faster and more effective outreach

Press mentions and backlink tracker

Email engagement tracking

PR strategy calls for users to improve their pitches
Pros
Regularly updated database of journalists

Email verification of journalists

High deliverability rate

High open rate

User-friendly interface

Lessons and guides for mastering pitches
User ratings
JustReachOut doesn't have many reviews on the commonly used platforms, therefore, we cannot provide you with their customer review ranking. However, the testimonials customers leave say that JustReachOut over-delivers and exceeds expectations.

Price
JustReachOut offers a 14-day-free trial and three pricing plans:
Starter Outreach – $147/month, two team members and 500 email sends

Advanced Outreach – $247/month, five team members and 1000 email sends

Ultimate Outreach – $497/month, ten team members and 2500 email sends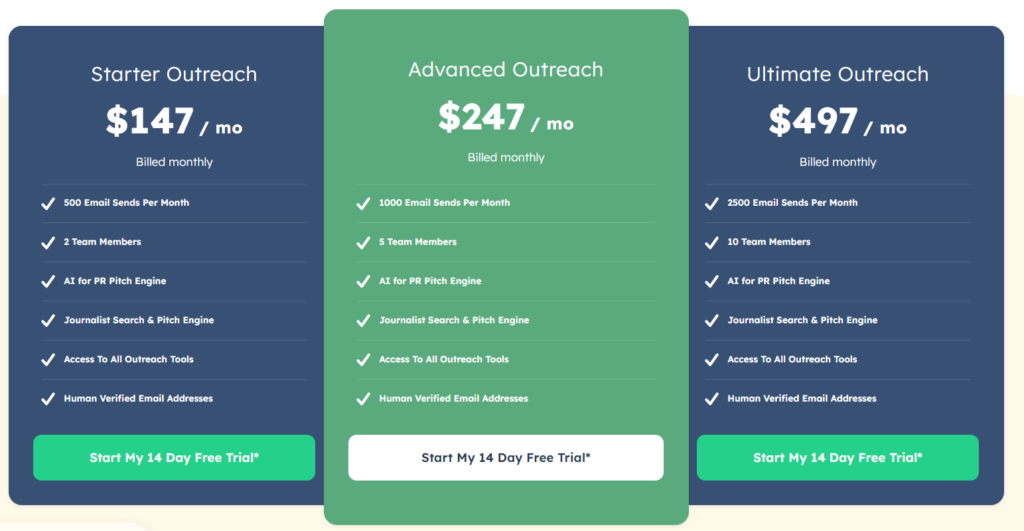 *The prices are for monthly subscriptions. For annual subscriptions, you will get 20% off.
2. Muck Rack
Muck Rack is a comprehensive media relations platform built to streamline and enhance the PR and media outreach process for businesses. With detailed journalist profiles and AI-powered keyword research, businesses can find journalists and send pitches in one dashboard.
Even though Muck Rack is one of the most popular PR software among journalists, PR professionals noticed occasional glitches and unverified contact information. Unverified contact information can lead to emails ending in an old inbox, a common problem among people who do outreach on their own.
If you have experienced anything similar — you might be interested in checking the Muck Rack alternatives.
Muck Rack has integrated PressPal.ai into their tool, but it's limited to keyword research and doesn't help personalize the pitch. You still need to find interesting pieces of information to turn into hooks on your own.
Muck Racks has many useful features, but they come at a price, and without a free trial, it's hard to decide if it's the right fit for your business.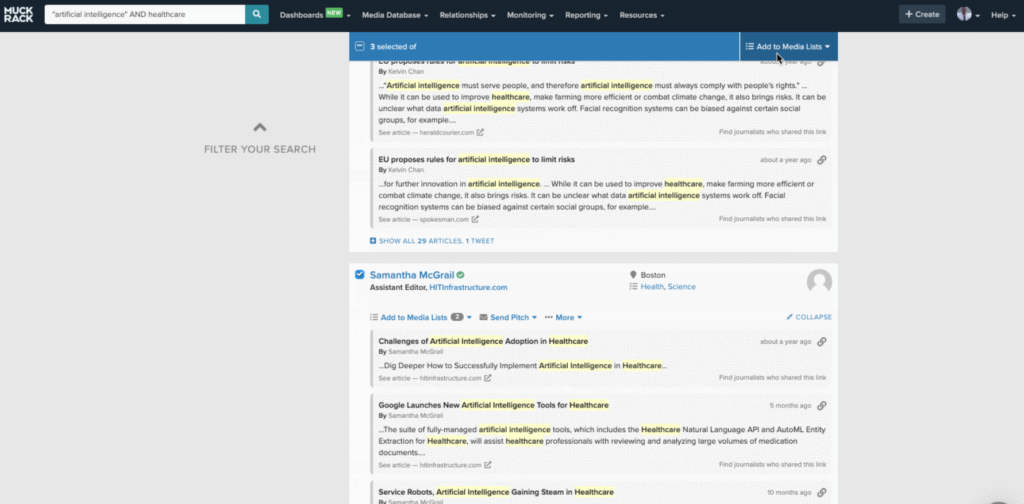 Source: G2
Key features
A media database for finding the right journalists, podcasters, and freelancers

Media monitoring for news, broadcast, and social media 

Email engagement tracking

Team collaboration with team media lists, reports, saved searches, and team alerts

PR campaign reporting 

AI for journalist search
Pros

Intuitive interface

Responsive customer service

Robus media database

Detailed journalist profiles
Cons
Might be expensive for small businesses

Limited social listening/monitoring tools

Occasional technical glitches

Occasional presence of unverified contacts

No additional tools

No free trial, only demo
User ratings
The average customer satisfaction score is 4.5/5, based on reviews on TrustRadius, g2 and Capterra.

Price
Muck Rack doesn't offer a free trial or disclose their pricing information without reaching out for a quote. Based on reviews, the price is around $10.000 per year.
2. Cision
Cision's PR platform aims to streamline the entire PR workflow, from identifying media opportunities and building public relations to monitoring media coverage.
While Cision offers all the features that PR professionals need, its interface is poorly organized, making it hard for customers to find what they need.
Despite having a large media database, users have to pay additionally for "Guarantee Paid Placement" to ensure their press release is published, thus emphasizing paid instead of organic outreach.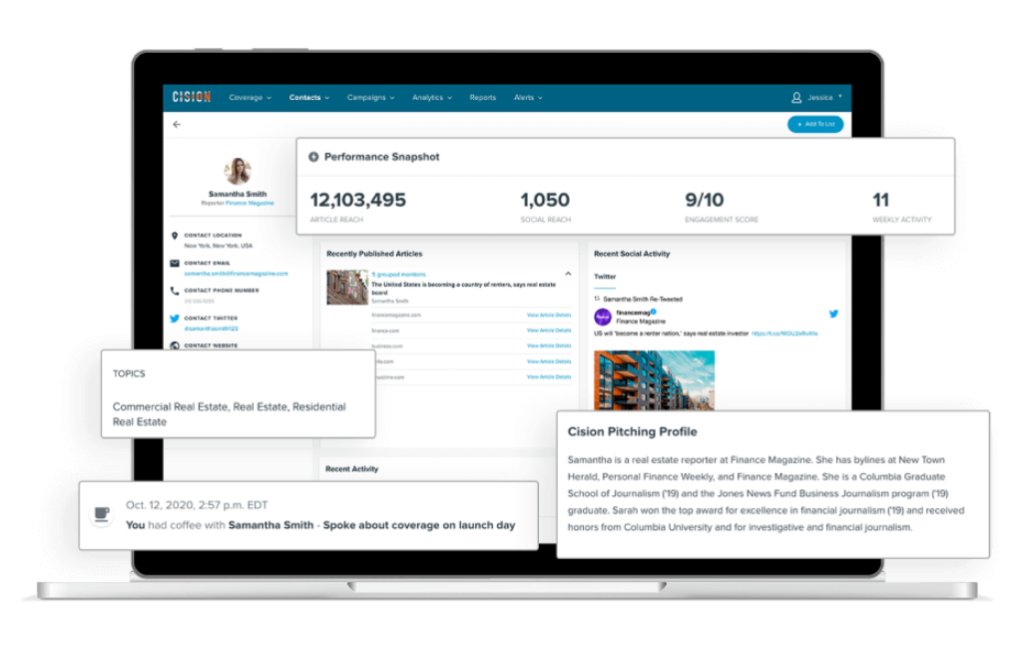 Source: Softwareadvice.com
Features
Media monitoring 

Press release distribution

Media pitching

Social media management

Campaign reporting and analytics
Pros
Robust media database

Easy image integration for press releases
Cons
High cost and limited reach

Customer service issues

Clunky interface 

Bad customer service
User ratings
The average customer satisfaction score is 3.8 /5, based on reviews on Capterra and Softwareadvice.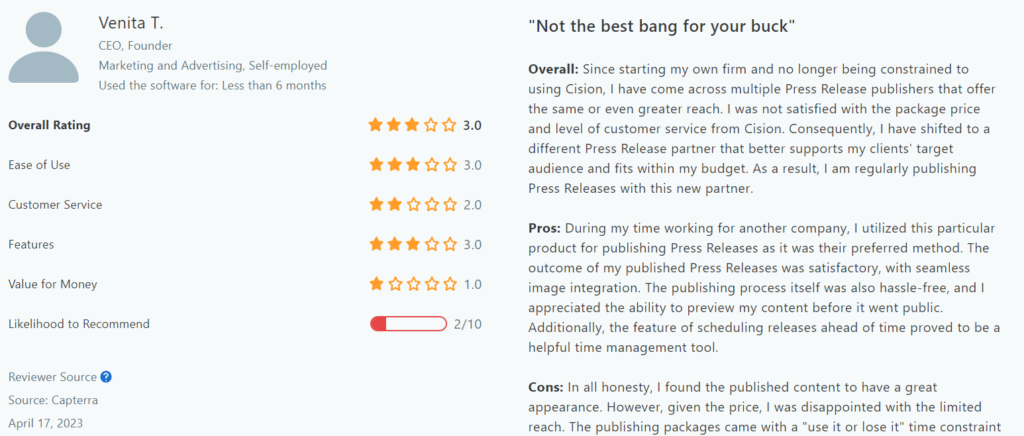 Source: Captera
Price
Cision doesn't disclose its price publicly, you have to reach out for a quote. According to TrustRadius, they have 4 pricing plans:
Basic – $105, hosting on PRWeb.com, without press syndication

Standard – $220, press syndication without email distribution

Advanced – $325, press syndication and press distribution to one of their journalist lists

Premium – $435, press syndication and press distribution to two of their journalist lists
4. Prezly
Prezly is a PR tool businesses use to publish and share news and content with their audience in one dashboard. PR professionals can build their own newsrooms and share them with their contacts through email.
One of the most popular Prezly features is its media tags functionality. This allows users to segment their contact lists based on specific criteria, such as journalists' interests. By creating tags, PR professionals can send targeted and relevant content to journalists for their pr campaigns.
Unlike many popular PR tools, Prezly lacks a media database, limiting your contacts to only those available in your personal database. Maintaining an up-to-date database of journalists requires lots of manual work or additional software.
Still, Prezly does help with upgrading from classic email outreach because you can segment your email list, track campaigns and add large-sized videos and tweets.
Prezly advertises its analytics for media campaigns as a useful tool for measuring deliverability. However, they don't help you craft your pitch to stand out in the journalists' inbox.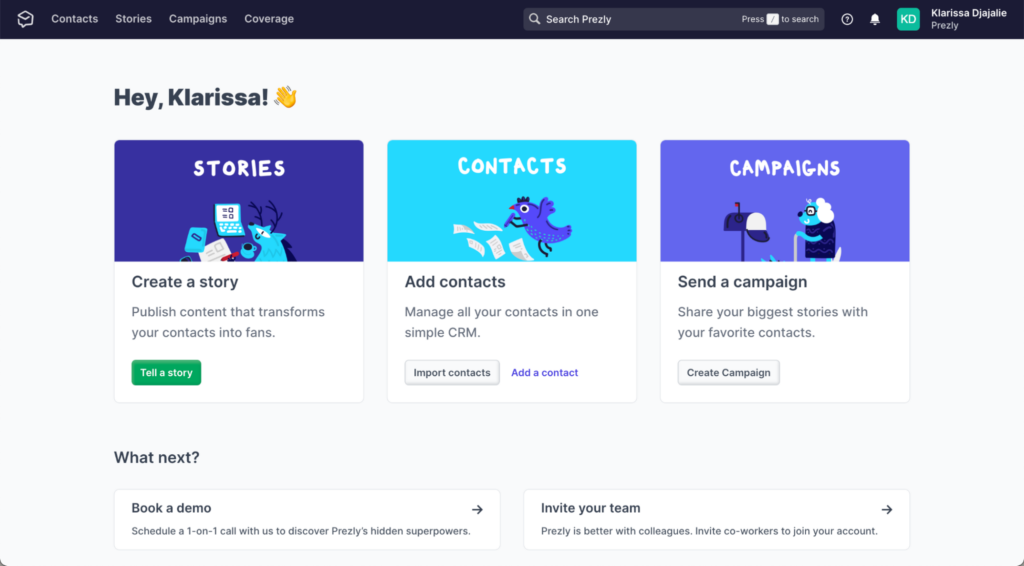 Source: Prezly.com
Features
Analytics for media campaigns

Direct mail management

Customizable newsrooms

List management

Flagging out-of-date emails
Pros
Clear, intuitive interface

Responsive and helpful customer service

The ability to import and export Excel files

Customizable tags for storing contacts

Free trial
Cons
No media database

No email verification of journalists

No help with pitches

Slow updates
User ratings
The average customer satisfaction score is 4.45/5, based on reviews on g2 and Capterra.

Price
Prezly offers a free 14-day trial, three pricing plans for comms teams and one for agencies.
Starter – $60, 2.000 contacts and unlimited pitches

Core – $110, 10.000 contacts and unlimited pitches

Premium – $170, 20.000 contacts and unlimited pitches

Agency – $300, 3 users and everything in premium
5. Agility PR Solution 
Agility PR Solutions is a comprehensive PR and media relations software with a global database of over 1,000,000 media contacts and outlets.
Agility supports AI-enabled workflows and advanced search filters, enabling users to search by keyword, beat, media type, location and more, making it easier to find journalists for outreach.
With Agility PR Solutions, users can quickly compile lists of media contacts and send email pitches directly within the platform. However, Agility doesn't help out with writing personalized email pitches, so they can't guarantee a high open rate.
Even though Agility has a large database of journalists, users have found it difficult to find contacts for more niche journalists.
Users can post press releases in Agility's newsroom and opt-in for Agility Boost to gain long-term visibility, but that doesn't help businesses who want to form long-term relationships with journalists.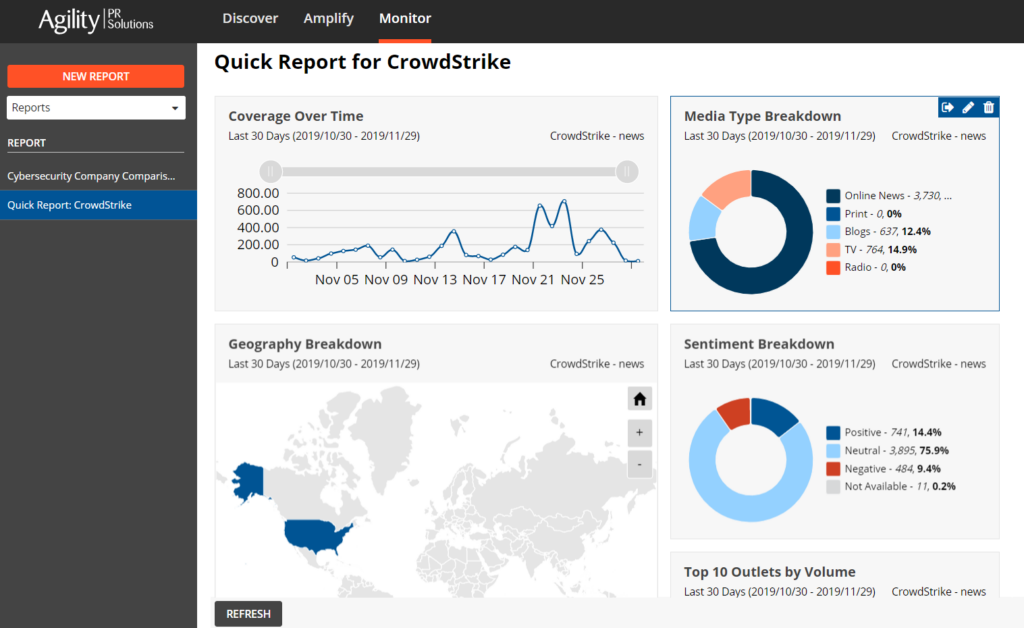 Source: Swordandthescript.com
Features
Contact management

Campaign management

Direct mail management

Email Distribution

Article Author Database

Auto-Updated Media Lists

Newsroom
Pros
Well-designed and intuitive user interface

Responsive customer service

A global media list

Their own newsroom

AI assistant for news releases
Cons
Press monitoring functionality picks up irrelevant stories despite keyword filters

High price

Few contacts for niche topics
User ratings
The average customer satisfaction score is 3.8/5, based on reviews on g2 and Capterra.

Source G2
Price
Agility doesn't offer a free trial, and users must reach out for pricing information. They have three plans available, depending on the primary purpose of using the platform: Agility Outreach, Agility Monitoring, and Agility Enterprise. 
According to a review on Sword and the Script, the "Agility Plus" plan, which provides access to the media monitoring module, costs approximately $7,800 annually.
6. BrandPush
BrandPush is a company that offers press release writing and distribution through its major media outlets and connections with social media influencers.
BrandPush helps deliver stories within 7-days due to their cooperation with over 200 journalists. Unlike using software where you have full control of the conversation with the journalists, with BrandPush, you outsource it to an agency.
Customers can opt in for distribution services for a lower price and writing services for an additional price. For businesses that don't want to write their own press releases and personalize their pitches, BrandPush can be a good option. 
However, without media contacts and long-lasting relationships, every press release will be costly. Plus, nobody knows your brand better than you; therefore, the personal aspect will be missing.
Source :Brandpush website
Features
Press distribution services

Press release writing services

Reporting with live links

Influencer marketing
Pros
Money-back guarantee

Cooperates with major media outlets such as NBC, CBS and Fox

Writing services come with a Plus or Pro plan

Bulk discounts

Good customer support via email, live chat or phone
Cons
No media contact database

High costs

No online newsrooms

No media monitoring tools

No targeted pitch distribution

Don't accept all niches
User ratings
The average customer satisfaction score is 4.7/5, based on reviews on TrustPilot.

Source: TrustPilot
Price
BrandPush doesn't offer a free trial but offers three pricing plans:
Starter – $195, press distribution without writing services

Plus – 229, press distribution with writing press releases up to 350 words

Pro – 259, press distribution with writing press releases up to 500 words
Comparison table
Media contacts search

Craft




Pitches

Journalists email verification

AI




integration

Free Trial

Price/month

JustReachOut

✅

✅

✅

✅

✅

$147

Prowly

✅

✅

❌

❌

✅

$479

Muck Rack

✅

✅

❌

✅

❌

*$830

Cision

✅

✅

❌

Not yet

❌

$220

Prezly

❌

✅

Partially

❌

✅

$300

Agility

✅

✅

❌

For news release

❌

/

BrandPush

❌

✅

❌

For search filters

❌

$195
*based on customer reviews
Conclusion
An ideal Prowly alternative should keep all the features Prowly users love and fill in the gaps with the features Prowly lacks. The best solution has an intuitive interface, modern design, a robust feature set, and a large media database and incorporates AI for faster and more personal pitching.
JustReachOut offers just that – a perfect mix of tools and AI with your own brand voice, so you can make an impression on the journalists and have long-lasting contact with them.

Book a demo today, and start pitching to your favorite journalists right away.
FAQs
What's the best Prowly alternative?
The best Prowly alternative is JustReachOut because it has a similar user-friendly interface, useful features and a large media database but at a more affordable price. In addition, Prowly offers more PR outreach tools, email verification and AI integration in every plan.
How much is Muckrack?
Muck Rack doesn't offer a free trial and doesn't publicly disclose the pricing information. Based on reviews about their pricing, there is an estimate of $10.000 per year. If the information is up-to-date, it means it's one of the most expensive press release builders and distributor on the market. More budget-friendly options include JustReachOut for $147.
What is Prowly used for?
Prowly is a PR and media relations software platform used by PR professionals and communication teams to streamline media outreach, distribute press releases, manage content in online newsrooms, send personalized email campaigns, monitor media coverage, and access analytics to measure the impact of PR efforts. Even though Prowly is used by many PR professionals as a tool for digital asset managementit lacks an up-to-date database, and email verification feature which some of the best alternatives have.
Related reading: Prowly vs Muck Rack