Let's start with a few questions:
Feel stressed and overwhelmed just by the thought of how to get more quality backlinks?
Tired of draining your marketing budget on backlinks? 
Have other expenses such as PPC ads and subscription fees nearly bled you dry?
If so, you should know there are plenty of ways to obtain quality backlinks for free.
You read that right; you can get backlinks without spending a dime out of your marketing budget. That said, it will take some of your time.
Backlinks will provide a much-needed boost to your SEO strategy. Not only that, but as you start to track your rankings and see more traffic from Google, you'll need to rely less and less on paid advertising channels.
Whether you are building backlinks yourself or have an SEO Strategist to help, consistently adding them is a gift that keeps on giving. If you do it right, you'll enjoy its lasting effects (ranking and traffic) for years to come. 'Doing it right' certainly includes building a robust quality backlink profile. Read on to discover 9 crafty ways to acquire backlinks without touching your wallet.

There are 9 proven ways that we have used to get backlinks for free and frankly we built some pretty amazing tools to help you with 6 of these techniques. So without further ado:
1. Journalist Pitch Requests
Journalists are a goldmine for backlinks if you know how to reach them. You see, there are plenty of journalists out there that need quotes from experts. Online tools such as HARO (Help-A-Reporter-Out) will help you find such journalists.
In exchange for a relevant quote for their story, you often get a high-authority backlink.
The best part is that you didn't have to spend a dime to get it, either. Not only that, but this is a strategy that you can come back to time and time again. Journalists are always writing stories, and they always need field experts to quote.
I have used HARO to get links from some pretty awesome high DR news sites. It only takes a few minutes to pitch and if you do it right the conversion rate will be extremely high.
But HARO is just the tip of the iceberg. At JustReachOut we built our own journalist pitch request tool that pulls in all pitch opportunities from 6 sources and sorts them by keyword so you don't have to skim emails hoping to find a quote request that is relevant to you.  
You simply enter a relevant keyword and our tool will return all of the pitch opportunities related to that keyword.
2. Podcast Outreach
I remember sitting in a marketing conference one time listening to a SaaS founder talk about her marketing strategy to get to 1000 paid subscribers to her business. When she talked about their SEO strategy she said that the only link building they did to promote their website was to do podcast interviews.
Based on the success they had had, I was shocked to learn that they focused only on this one aspect of building backlinks. She said they chose that approach because getting interviewed on podcasts also is free advertising for your brand and perpetually brings in new customers as people listen to your episode, and you get a backlink out of it as well.
Needless to say I was convinced that pitching yourself for podcast interviews was an extremely valuable growth strategy. 
So needless to say, podcasts are another great way to get backlinks for free. The chances are high that your niche has a myriad of podcasts online. These podcasts are always looking for new guests to interview – which is where you come into the picture.
With some clever email outreach, you can let each show know that you're interested in making an appearance.
I recommend creating an email template for podcasts. That way, you have a framework to build from each time you write to a new show. Remember to compliment their show and let them know specifically why you'd be a great fit for their next episode. 
Tailoring your pitch is key to success here!
But don't worry, at JustReachOut, we have built a podcast outreach tool that searches all of the podcast in your niche and makes it super easy to reach out and pitch yourself for an interview. 
We have templates that have been proven to work really well that you can edit and make your own and you can email the podcast owner right from our software and automatically follow up if they don't respond.
If you hit it off – you may even become a regular guest. That's excellent news, as you can collect one backlink per appearance. So if you keep showing up on a podcast, you'll receive lots of backlinks.
Beyond free links, appearing on podcasts is highly beneficial to building brand awareness.
Now customers have a way to hear your voice and identify with what you say. If you aren't already browsing the podcast landscape for interviews – you should start ASAP. It's a fantastic method for acquiring backlinks and raising awareness for your company.
3. Broken Link Building
There are broken backlinks all over the web. Beyond being inconvenient for users, it's an opportunity for you. You can use a broken link checker tool to discover broken backlinks in your niche.
As a best practice you should focus looking for broken backlinks on sites that are in your niche (not just high authority).
That way, you know that you're obtaining a relevant backlink that will boost your profile. After browsing websites with broken links, you'll need to vet each one to ensure it's appropriate and a quality one worth having.
After that, ensure that you have a content article that would work as an acceptable substitute. The page topic should be similar and hopefully better in some way than the one you are suggesting to replace. That will heighten your chances of using your URL as a replacement.
Here's a brief example:
You discover a tech blog with a post with a broken backlink talking about ways to boost conversion rates. It's perfect, as you have a page that would work as a substitute (a blog about conversions and how they work.)
Make sense?
The goal is to find pages online with broken backlinks that you can easily replace. Send an outreach email to the website owner to point out that they have a broken backlink.
Also, don't forget to mention that you have a URL that would work as a perfect substitute. It's crucial to be as diplomatic here – as you don't want to seem as if you're calling them out on their negligence. 
Instead, quickly and politely move past that point to bring up your replacement link as an easy way to resolve the issue. 
Our broken backlink tool in JustReachOut is my favorite of all of our link building tools. It searches Google results by keyword and finds all of the broken links for you. Then you can look through them and find the ones that are the best match for you to pitch a link replacement.
Again you can reach out to the blog owners right from the JustReachOut software and follow up automatically if they don't respond.
One last tip about broken link building: It's important to do some research to figure out exactly which topic would yield most broken links out there. Here is how to do the research:
4. PR Outreach
While our #1 tip was all about using HARO for press links and mentions, this strategy is about building long-term relationships.
If you master the world of public relations, you can acquire really high-authority backlinks quite easily and for free. 
I will give a brief overview of the strategy here but quite frankly, I developed an entire PR masterclass that has helped thousands of people learn how to do amazing PR outreach without having to hire a PR firm. You get access to the masterclass for free when you sign up for JustReachOut.
Our journalist outreach tool helps you find journalists instantly with contact information that are looking for stories in your niche. And our outreach tools inside the software make it so easy to build and maintain a relationship with them.
But if you want to do it on your own here are some pointers:
Compile a list of journalists and influencers needing stories from your niche.
That way, you'll have reliable outreach sources to search for more backlinks.
It could be a journalist or influencer that writes about your industry/topic. Either way, you'll receive a marketing boost for your business as well as some backlinks.
It's crucial to leverage your social media profiles for backlinks, too. Just keep in mind that social links are usually "nofollow" links which means they don't carry as much weight as other "dofollow" links. So don't spend too much time on these relative to your other efforts.
The good news is that social media backlinks are an easy win for your SEO. You should link to your landing pages from your main profiles if you haven't already. That's a quick, easy, and free way to capitalize on that online real estate.
So head over to your Facebook, Instagram, and Twitter accounts to add links to your website. These links may even help you capture new leads, so it's always a good idea to post them there.
Another way to score some easy backlinks is to include links to your website in your posts. It's a free way to achieve a backlink while promoting your business simultaneously.
Don't stop there, though – there are more ways to acquire free backlinks from social media.
One of my favorite ways to acquire links is through partnerships with other link builders who have access to other websites and blogs which you do not, you can often meet other link builders on link building Slack channels or other private Facebook forums. 
While it's a bit out of your control – you can still ask your colleagues and friends to share links to your website on their profiles. It's best to stick with profiles relevant to your niche – as they'll stand the best chance of converting and finding new customers for you.
If you aren't on social media or are only using one network, you should expand. Here's a list of the top social media networks you should have a presence on:
While YouTube isn't often thought of as a social media platform, it has massive potential for your business. Videos are a fantastic way to promote your business and gain new customers. If you have the capability to create videos, you should start a YouTube channel for your company. Of course, you can include backlinks to your website on each video you post.
5. Guest Post Outreach
If you want a free backlink and a traffic boost, you should write guest posts on other blogs. A guest post will score you a desirable backlink as long as you pick a quality site.
Remember to check out the domain authority and SEO traffic history for each blog before submitting a guest post.
Do some research to find the blogs with the highest authority in your niche.
How do you do that?
There are a few ways, but I recommend using Ahrefs' Website Authority Checker. It's a user-friendly tool that will show you the strength of any given URL. All you have to do is copy and paste the URL into the search bar, and you're all set.
Look for blogs that have a domain authority of 30 or higher. That means they're good enough to boost your authority with a backlink.
When it comes to link building, focus on quality over quantity. If you include many backlinks from low-authority websites, you'll actually hurt your SEO.
That's why it's worth taking the time to discover sites with the highest domain authority.
Their high authority will rub off on you, which can lead to higher rankings.
You'll need to send targeted, polite, and personalized outreach emails for guest posts. Instead of using an automated template, take a personal approach to each one. Let the blog owner know that you're a credible professional from their niche and would like to make a guest post.
Your subject line is one of the most critical aspects of doing email outreach. You want something that will stick out (for the right reasons) so that the blog owner will click on it.
Something like "guest post-proposal" is a little too vague. Instead, personalize it and include something of value. 
Here's a better subject line, "Jeff, Want 2k Word Guest Post on XYZ Topic?" Do your best to find the blog owner's name to add an extra personal touch.
Also, you'll have an easier time if you target sites that have already mentioned you or your brand. That way, you know for sure that they know who you are. 
As you have probably already guessed, JustReachOut does have a guest post outreach tool in our suite of PR tools. We find the blogs you can reach out to. All you have to do is do the outreach.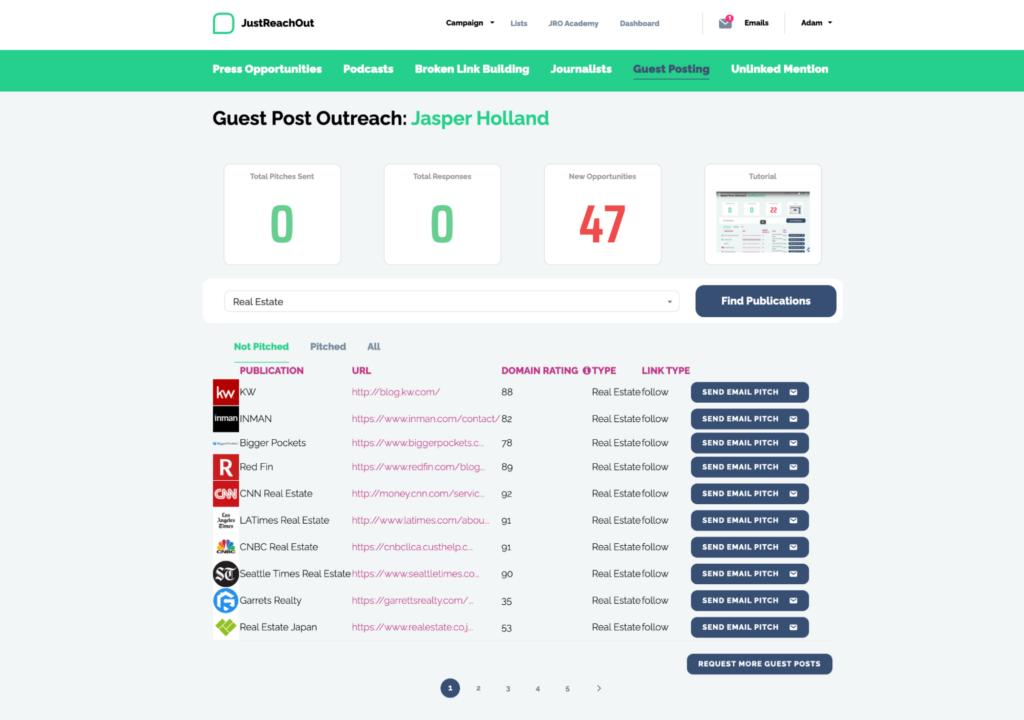 It's NOT a good sign if the blog publishes other guest posts or advertises them; you don't want to get caught up in something Google might deem shady down the road. They tend to frown on scaled approaches like this.  
Try JustReachOut Free for 14 Days
6. Unlinked Brand Mentions
If your brand has been around for a while, the chances are high that people are talking about you online. Maybe they're reviewing your products, or they mention you as an example. Either way, brand mentions are opportunities to acquire free backlinks.
First, you'll need a reliable way to identify when websites mention your brand. I recommend coming up with a list of relevant 'brand keywords' that users may use when mentioning you.
Keyword ideas include your brand, products, and the names of your founders/directors.
From there, input your list of keywords into Google Alerts. In doing so, you'll have the option to set a frequency for your alerts. It's a good idea to start off with daily alerts to see who's mentioning you. If you find that you get too many responses, you can change the frequency.
Once that's done, you'll simply need to check your alerts. With each name drop that you find, you'll need to determine if it's a desirable backlink or not.
Don't forget to read the article first. The last thing you want is to request a backlink from a website that gave your brand a negative review.
Also, run their URL through the Website Authority Checker from Ahrefs. The ideal backlink has a high authority and says nice things about your brand. You'll have the greatest chance of success by pursuing these types of links.
After you've identified your ideal brand mentions, it's time to do some outreach. Explain in a polite way that you came about their site and saw your brand mentioned. Then, ask them to create a link to your website. If they have a favorable view of your brand, some will take you up on it, and you'll score another free backlink.
7. Skyscraper Outreach
Not only is this method free, but it's one of the most well known link-building strategies. This also means it is the one that is practiced the most and quite frankly has been done to death. Of all of the link building strategies I would spend the least amount of time on this one but people love to learn about it so here goes:
The skyscraper method involves finding high-ranking pages in your niche with excellent backlink profiles.
It gets its name from the fact that you're after the 'tallest building' in your niche. The pages ranking on page 1 are 'skyscrapers,' and you're after all of them on page 1.
The idea is to acquire some of the backlinks from these pages for yourself.
How do you do that?
You do so by outdoing the content from the 'skyscraper' pages. Since they're in your niche, their content is relevant to what you do. That means you can create a similar page to theirs – but one that's far more powerful.
You can go into more detail on the topic, provide new insights, add videos, and so much more. Take a close look at the existing content to develop ideas to outdo it. Are there no videos? If so, then creating one will make your content more powerful.
Once your content is ready, it's time for the outreach. You'll need to email the website owners with backlinks to the top 10 competing articles.
Let them know that you've created something even better and that you'd like them to link to your new page instead.
Once they see that you have more substantial content, they're more likely to add a link to your page. The goal here isn't to get tons of links but just a handful of quality ones.
That's why it's crucial to keep up with the skyscraper technique to see the best results. Set a goal for how many articles you'll outdo and how many outreach emails you'll send each month. 
8. Internal Links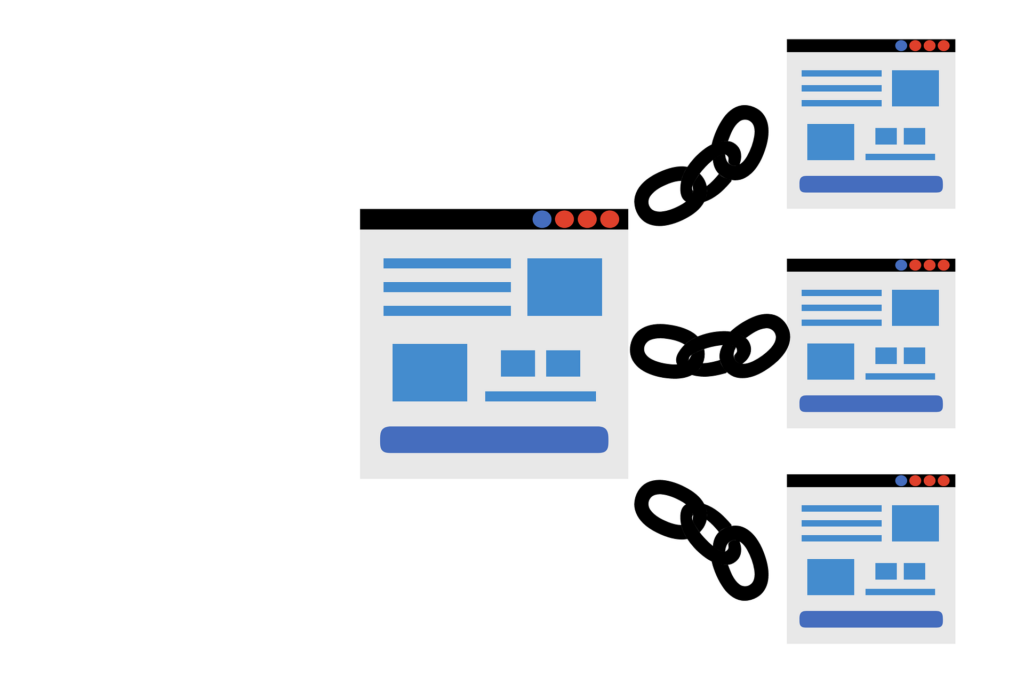 When going after free backlinks, you can't forget the most obvious source, your website. Internal links play a huge role in your backlink profile, which is excellent news since adding them doesn't cost a dime.
Internal linking creates a web of interlinked pages on your website.
Bear in mind – there's a method to the madness here. While you could randomly link to pages using breadcrumbs, there are more strategic ways to do this. In addition to that scaled approach, add internal links relevant to the other page's content.
An example would be linking to your blog on conversion rates in a piece about e-commerce.
Conversion rates play a big part in e-commerce, so it makes perfect sense to link to that article. Not only will this help your SEO, but it will encourage readers to check out other pages on your site. That will give you a traffic boost while also potentially converting a lead.
If you're curious about your authority, enter your URL into a website authority tool. It will let you know your website's authority score. It's a good idea to keep an eye on this while rolling out new backlink strategies. It'll take time to show, but eventually, you'll start seeing results that you can measure.
9. Scholarship (.edu)
Education sites (.edu) have notoriously high domain authority in the eyes of Google. They're seen as very credible, which you can use to your advantage with backlinks.
A clever (and free) tactic is to create a scholarship relevant to your niche or business. If you're focused on digital marketing, create a scholarship that your business can sponsor and a page on your website that talks about the scholarship. 
You can then reach out to many of the big universities and let them know about the scholarship and they will link to your scholarship page so that students can find your scholarship and apply.
The goal is to acquire an official backlink from the school or university on your website.
The university benefits because you're supporting one of their scholarships. You benefit because you get a high-authority backlink to include in your profile.
There are companies out there that can help you with this method if it seems too daunting. So if you don't have the time or staff to dedicate to it, you're best to outsource it someone who can help you accomplish your goals.
Proven, Effective Link-Building Strategies That Scale
By now, it should be clear what it takes to acquire free quality backlinks. It'll take some time and effort, but building a backlink profile without going broke is possible. If you do it right, you won't have to dip into your marketing budget at all.
I have been working in the SEO industry for over 20 years. In that time I have seen the value of link building done the right way and the positive effect it can have on small businesses.
JustReachOut.io was built on the foundation that quality PR and link building outreach should be available to everyone. You shouldn't have to pay a PR firm $5k-$10k a month just to get average results.
It's time to start taking control of your own link building outreach. Give JustReachOut a try for free today.
Try JustReachOut for Free