How To Choose The Right Keywords For Your PR Campaign
So you have a list of targeted publications, you've done your homework and have a handful of journalists who have waxed poetic on your topic, and you think you're ready to pitch your incredible scoop!
But wait.
Remember what your colleague mentioned earlier that the targeted list of publications and the shortlist of journalists who've written on your topic are actually interested in a different topic, not exactly the one you're looking to cover?
You may need to reexamine the keywords you're using to do your initial PR research.
Keywords matter.
Keywords for PR strategy's sake, not SEO keywords. Having a short list of terms you can use to get your PR campaign's research started will help align your topic with the existing body of relevant journalists, articles, and publications.
Generally speaking, there are two different categories of keywords: 1) those related to your offering or business; and 2) those that are related to the current piece of content that you're pitching. You'll ultimately want to have a few keywords for both types of keywords.
To determine your keywords, follow these steps:
1. Consider your audience.
What word(s) would your ideal customer use to describe what you do (or what your product does)?
How can you find what words your target audience or influencers use?
You'll want to first study different articles, blogs, and forums like Quora or Reddit on your topic to see the exact terms used to describe the pain point you are trying to resolve with your product or service and the phrases others are using to describe your product.
Think like your audience. From their perspective, which terms are they using to talk about their problems, concerns, and ideas around the topic? This will help you find the keywords that you can use to describe your product or service as you craft your email pitches and ultimately create content. Using the correct buzzwords will resonate with influencers to whom you reach, not to mention your audience.
For example, before launching JustReachOut, Dmitry searched the web and read articles and blog posts written by and for his audience – people experiencing the problem he was trying to address with his tool – how to reach influencers and how to get press.
He paid special attention to how they spoke about the problem.
Here are two examples of the kind of posts Dmitry would look at for landing on the keywords to address the problem JustReachOut would solve: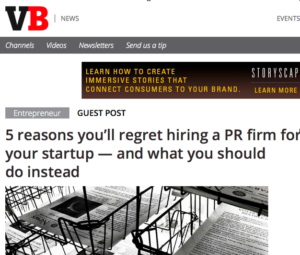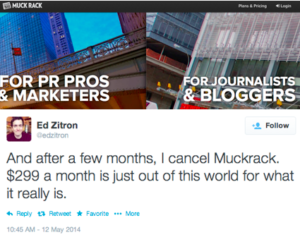 Understanding customer reactions to different descriptions and positioning helped him decide which direction he wanted to go. He first positioned the tool as this:
JustReachOut is a tool for anyone to quickly email tons of journalists.
Then he changed the tone and focused on relationships – an essential part of outreach that is often overlooked:
JustReachOut is a tool for startups to build relationships with journalists.
Considering the types of leads and customers who came in at each point helped Dmitry refine his messaging and land on keywords that were most relevant to his audience.
2. Start broad, then narrow down.
It's the easiest way to pinpoint the popularity of your term.
The JustReachOut search engine allows you to judge the popularity of a term based on how many people have written about it, the number of Quora and Reddit discussions, and how many press opportunities exist.
But you don't have to rely only on JustReachOut's software to measure the popularity of a keyword.
You can get valuable insights from looking through discussions on Quora and Reddit directly.
For example, let's say you're trying to promote a booking platform for local food and tasting experiences and you want to understand the popularity of the keyword – Foodie Travelers.
You go on Reddit and this is what you see: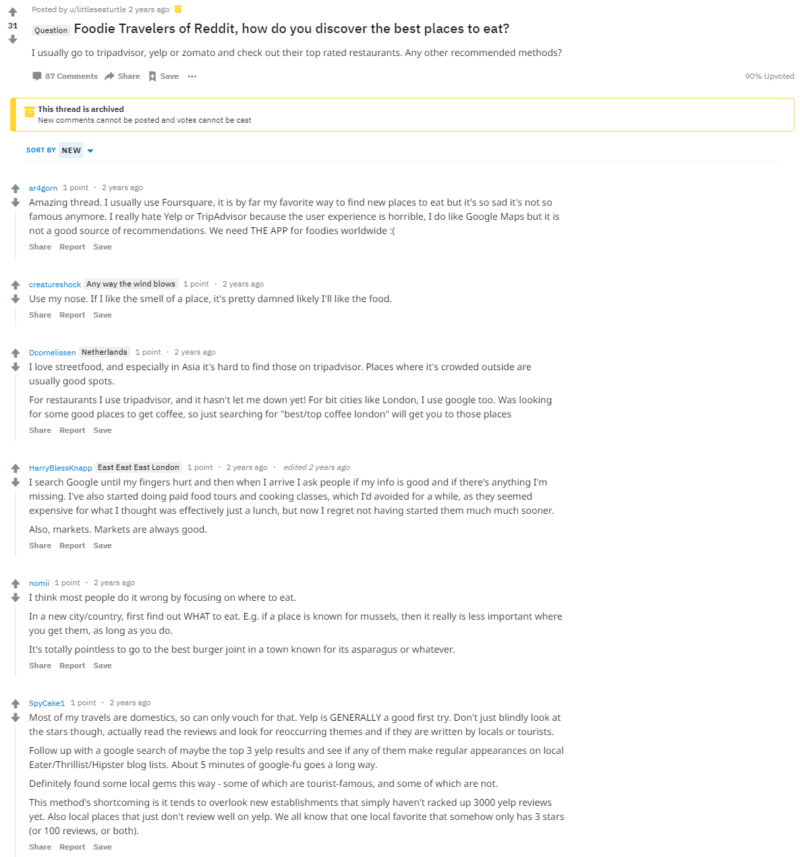 Here are a few insights that can be gathered from this simple Reddit search:
There's a clear desire for people wanting street food experiences while traveling.
People don't like using Yelp or TripAdvisor because the user experience is poor.
People don't like Google Maps because it doesn't help with recommendations. There's clearly a need for what you're offering – a platform geared towards local food experiences.
One of the main issues people face is missing out on local establishments that are under the radar.
People like looking at several options before deciding on a place – they like looking across several platforms featuring reviews plus cross-checking with trusted food blogs to confirm this is the experience they're looking for.
Apart from giving you an opportunity to look at your crystal ball and read the minds of your potential customers,  this exercise is the direct route for determining which keywords will make sense for your audience.
You now have a much better idea of what people want and the words they're using to describe this. How do you stack up against your competition?
3. Who is your competition?
Make a list of the biggest players in your industry. What types of stories have they been mentioned or featured in? You may want to mirror their work or take a totally different direction.
For example, let's continue with the local food experiences platform.
If you type the keyword 'food experiences booking platform' into Google, this is the list of competitors that pop up: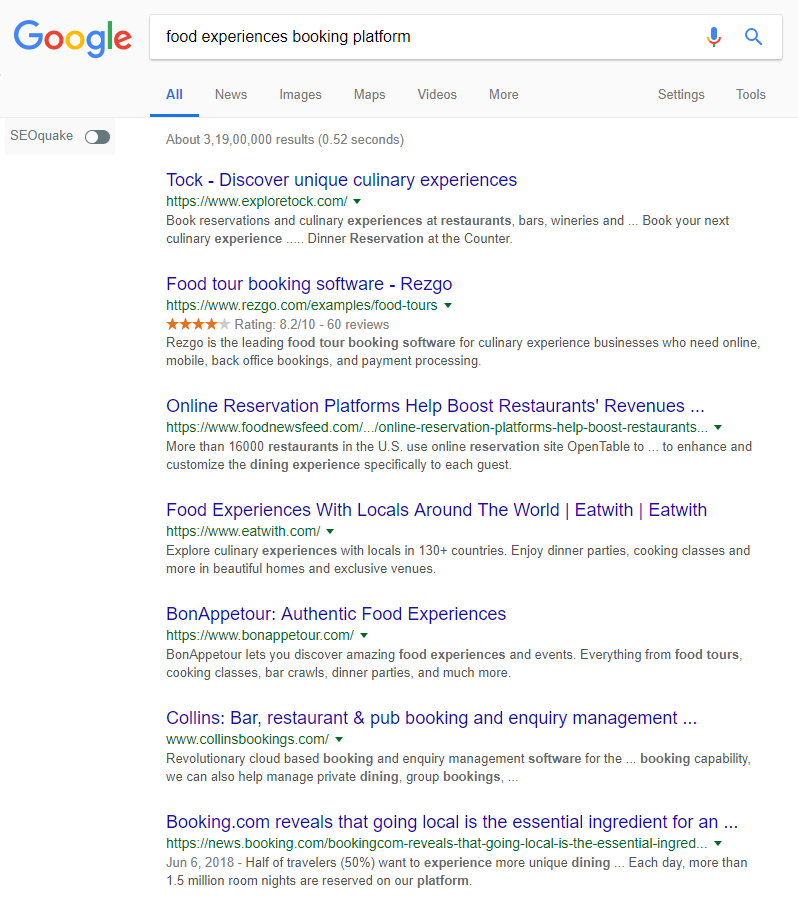 Study how each of them defines themselves.
For example, here's what EatWith has to say about itself:
Separately, you can research each competitor to see their press and how the media has defined them and your niche.
That's not all:
Instead of modeling your keywords based on your competitors, you can also use entirely different terms to describe your product.
While this may be a more complex and challenging strategy, and may not be suitable for all businesses, you're still studying your competition to find which keywords may or may not work in your niche.
4. Research related terms and influencers in your space.
Consider influencers, branding, popular keywords, and the people who have covered them. Look at their insights to help you better define yours.
Quick tip: When looking up influencers, look for their Instagram and Twitter posts – they're bound to have relevant hashtags that are in essence, keywords.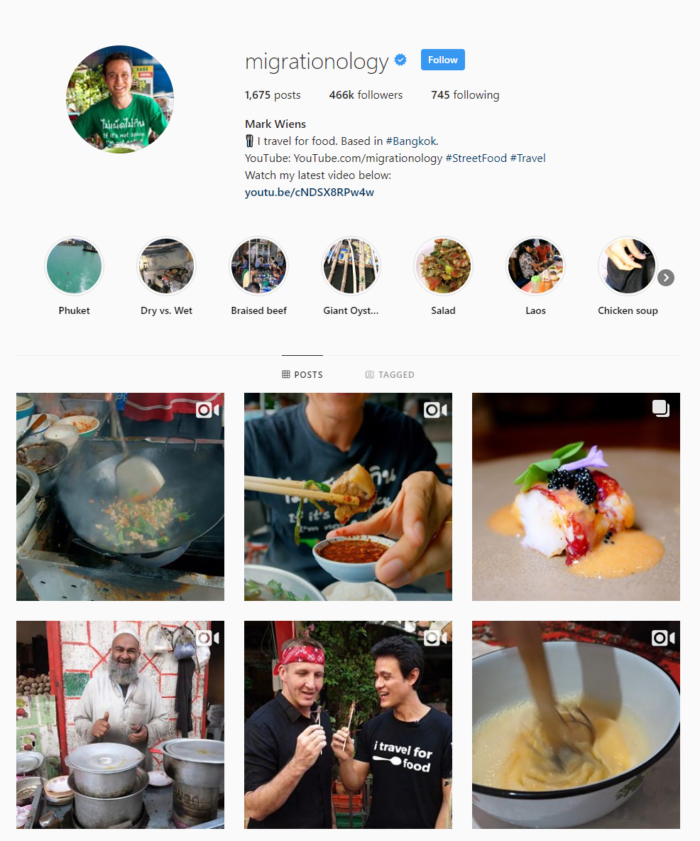 You could also look up big publications that are leaders in your niche and check out which terms they are using to talk to your audience.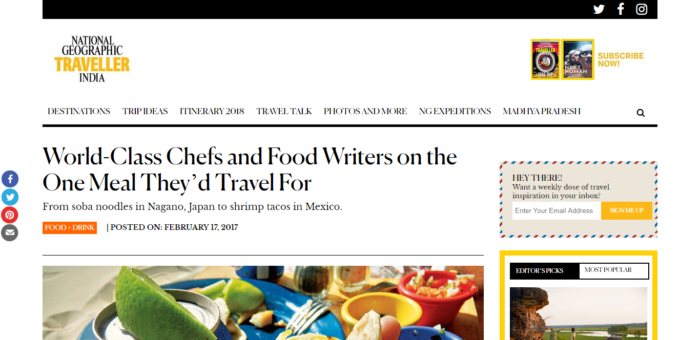 Following influencers and big publications in your niche is a good way to stay on top of all the trending topics and new development.
It's a great way to build a list of keywords and ideas that are relevant.
However, looking out for influencers and publications isn't your only option when it comes to finding relevant keywords.
Here's another simple method:
Make a list of relevant keywords for your niche.
Now, type each of them in Google and see what pops up.
For example, if you want to pitch a story around 'Foodie Honeymoon,' typing that keyword into Google shows this: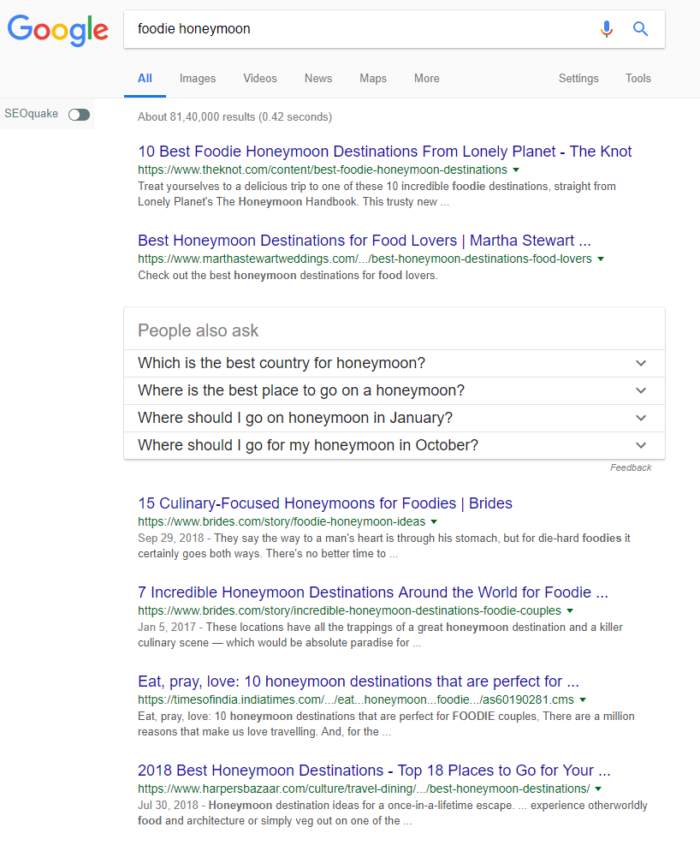 Browse through these results to find related and relevant keywords for your own press outreach.
Also, remember to check out Google's 'Searches related to' section at the bottom of the page, it shows you related topics that other people are searching:

These will give you a broader idea of related terms that you could use when kickstarting your PR campaign.
Additional thoughts on selecting your PR keywords
Be sure to consider the main challenges in your industry, the impact on a market, specific group of people, or society as a whole. Search for the main pain points, influencers in the field, and trending topics of discussion. This will help you bring more color to your keywords.
You should select more than one keyword. More than one but less than five is a good place to start. Be sure to do this research before you determine your targeted publications and journalists.
Sometimes you're coining a new term. In this case, choose the closest equivalent.
If you're still struggling with the appropriate terms to describe your story and research it's potential market, just reach out to us at hi@justreachout.io!