PR. Alongside marketing, business development, getting press just seems to be something that companies need to do at some point.
If you're ready to take your first big step toward getting press, you're probably researching some PR tools and/or services. But what the heck should you expect PR tools to offer you? What should you expect PR services offer you? Making sure you use the right PR tool or service for your user acquisition and growth goals (not to mention budget!) is key to getting results. And not doing something just because you're 'supposed to'.
First off, let's clarify what goals you should expect to achieve with press coverage first (hint: it's not just about adding press logos to your landing page):
Getting featured in authoritative publications gives you credibility and makes it more likely users, customers and investors will trust you
Getting links from authoritative publications boosts your ranking on search engines, helping more people discover it
It cultivates a public image of what your company stands for, the benefit it offers to customers and the problem it solves
PR tool must-have feature #1: find journalists most likely to write about your company
Getting featured in the press often requires you to put your company in front of journalists, instead of hoping and waiting for them to find you. And the most efficient and effective way to do that these days? By email. In fact most journalists prefer it.
But are you going to blast every journalist whose email you can get a hold of? Hopefully not! Which is where a PR tool steps in.
The journalists most likely to write about you are ones who have written about similar companies in the past. After all, a fashion journalist probably isn't going to cover your B2B software. An investigative journalist probably won't care too much you created a subscription box for kids.
A good PR tool should pull up recent stories related to keywords that describe your company (examples: peer-to-peer, crowdfunding, artificial intelligence) and provide the contact information of the journalists who wrote them: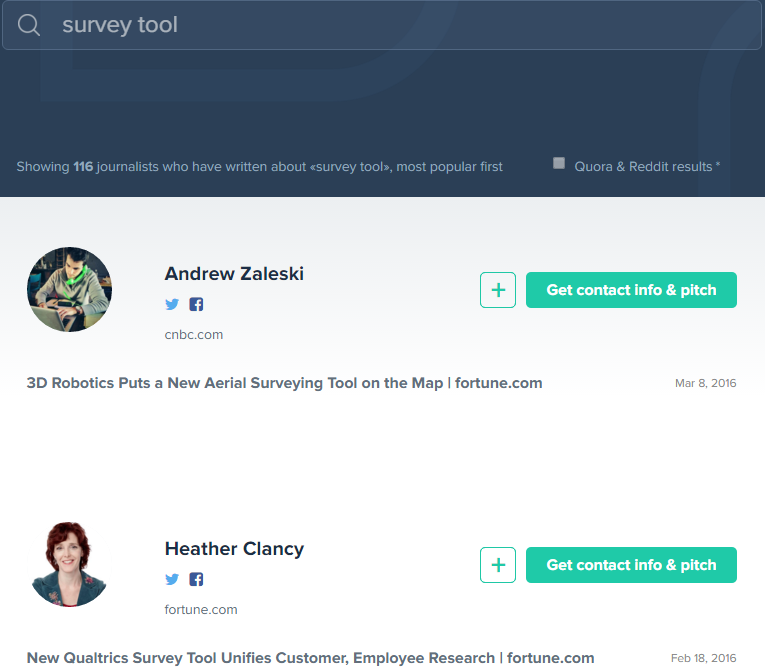 Here's how the journalist search results look like on JustReachOut.
A PR tool should also let you build and save a list of these relevant journalists, so you can focus on pitching them later.
Purpose and goals of this feature:
Lets you focus on pitching journalists who are most likely to cover your company
By providing you with similar stories journalists have recently written, you can use that as a conversation opener for your pitch so the journalist is more likely to respond
PR tool must-have feature #1b: finds and verifies journalists' contact information
Journalists tend to bounce from publication to publication often so beyond finding their contact information, a good PR tool should also help you verify it is still working. Otherwise, you'll be getting a lot of responses from journalists, but of the "this email doesn't exist" type.
Eliza Medley who is a content marketer at Ivory Research and has done PR outreach for years knows that identifying the right journalist to email a pitch to as well as the story to pitch and their contact info is the biggest pain point for her:
Finding the journalists I want to pitch is hard enough, but figuring out how I want to pitch them and verifying their email address is a HUGE pain for me. It seems that some software solutions have solved some of these aspects but not all of them.
At JustReachOut, we take a crowdsourced approach to email validation. If one of our users find a journalist email no longers works, they can report it to our team and we will find the journalist's new working email within 24 hours.
Purpose and goals of this feature:
Saves your time by finding journalists' working contact information for you
PR tool must-have feature #2: helps you craft the right angle to pitch
You have a list of relevant journalists to pitch. Now what?
If you're planning to write a pitch talking about your company in the way mothers talk about their children, don't expect too many journalists writing back begging to learn more.
Open up most articles featuring a company and you'll notice the journalist rarely talks only about a company and what they do. They tend to talk a company's product or work by placing it in the context of a social, political or economic issue it's related to or they start off the article with a few stories related to the company.
When I start doing PR for a brand that has not been featured in press before I like to focus on personal blogs because bloggers are easier to get a hold of vs. reporters in most cases. I use an SEO tool such as Moz or SEMRush to dig around and find a popular articles which a specific blogger has written.
For example, in the article below, the Business Insider journalist doesn't focus on Chris Sacca's startup Silk and what it does. The main focus of the article is Chris' personal story and how hustling opens many work and business opportunities for you: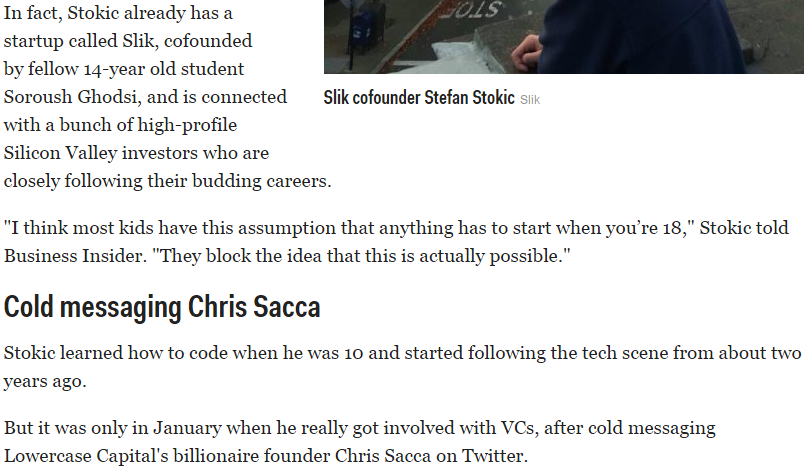 At JustReachOut, we provide you with many different pitch templates, each of which is based on a compelling angle including:
Your personal story
A bigger issue your product is related to What inspired you to create your company
How your company compares with (or disrupts) existing competitors
We can also help craft the pitch for you.
Be cautious of PR tools who only offer one pitch template as a reference point or encourage you send the same pitch to dozens of journalists.
Journalists receive thousands of pitches. If your generic pitch lands in their inbox with no personalization (personalization can include mentioning one of their past articles or relating to one of the journalist's personal interests), it'll be obvious you blasted the same pitch to several other journalists. That's an email that's getting skipped, ignored or worse, getting reported as spam.
PR tool bonus feature: help you find journalists actively seeking contributions
Beyond pitching journalists to get featured in a future story, it helps to be able to find journalists who are actively seeking stories and sources for articles they are working on right now. At JustReachOut, we add journalist requests from Twitter and HARO to our search database (HARO is a service that sends out daily emails of journalist requests).
This means that in addition to finding journalists who are most likely to be interested in your story based on what they've written about in the past, you can also connect with journalists who are actively writing a story. This gives you a better chance of getting featured since the journalist is the one actively seeking contributions.
Here's an example of a HARO journalist request: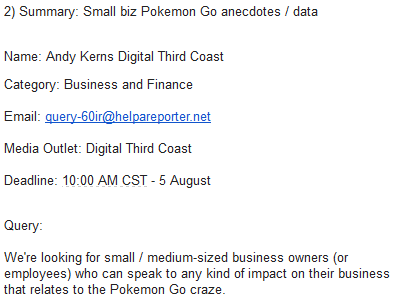 PR service – what they should be able to do for you #1: have connections with many journalists
One of the biggest advantages a PR firm can offer you is the relationships and connections to journalists their people have built from years of working in the business. While you can definitely land press features by pitching journalists yourself (many of our users have done it!), working with someone who has relationships with those journalists improves the chances their pitch would be read and considered.
To gauge the number of connections a PR firm has, see what type of publications they've helped clients get featured in and who wrote it. The more diverse and authoritative (think the New York Times, BBC, CNN, etc.) the publications are, the better.
PR service – what they should be able to do for you #2: craft and send pitches for you
It also goes without saying that PR firms, since they offer a service, should craft and send pitches for you. At the same time, you should provide your PR firm with a list of talking points and answers to commonly asked questions about how your company works. This ensures that they pitch your story and company in a way that doesn't leave any unanswered questions.
For example, imagine you were AirBNB first starting out. You would want to make sure your PR firm has your answers to questions about safety and insurance and offer that to journalists they pitch for you. This way, you avoid journalists wondering how hosts are protected in case guests cause property damage in their article, making your company look untrustworthy.
PR service – what they should be able to do for you #3: create relevant content and/or assets to earn your company link credits and mentions
If you're hiring a PR service who's doing the work for you, then they should not only help you find relevant press opportunities but also create them for you. How?
Since the rise of the Internet, news outlets fiercely compete with blogs and other types of sites for attention. They need to keep publishing new content to keep their audience coming back. This means in addition to getting journalists to write about your company, you can continually get mentioned or credited in different articles by providing them with quality content and/or assets.
Content and assets publications often feature often include:
Infographics
Original research
High quality content
Thought leadership guest posts (where you share your expertise and experience on topic and earn a link to your company)
Examples
Time republished content created by The Muse with a link back to their company:


PR service – what they should be able to do for you #4: if you have a bigger budget, they can organize publicity events and stunts for you
Remember when Uber delivered ice cream and puppies? They didn't do it just for the "awww" reactions. It was a publicity stunt intended to land press coverage. If you have the budget for it, you can do the same by doing something interesting or outrageous either using your product or related to it.
If you decide to go that route, a good PR firm should help you come with up:
Interesting event or stunt ideas
Organize the logistics
Pitch relevant journalists ahead of the stunt about covering it
Hire photographers and videographers to document the event
PR service – what they should be able to do for you #5: have press opportunities lined up for you for each newsworthy event or milestone
You can get featured multiple times in the same publication if you do something newsworthy or hit an important milestone. That's why, if you hire a PR service, it's important to keep sending them company updates so they can pitch the newsworthy ones to their journalist contacts.
Newsworthy developments can include:
Added new feature
Raised a new investment round
Reached X number of users or customers
Starting a campaign with some social impact
The bottom line
A PR tool should help you effectively pitch journalists on your own by finding journalists most likely to be interested in your story and company. They should also provide you with templates to use as reference s for crafting effective pitches .
A PR service should help you land regular press coverage by pitching journalists for you and by creating compelling content and events.
Here's a list of questions you can ask to decide "Is this PR tool" worth it?
Do they help me find journalists most likely to write stories about me?
Do they help me find their contact information?
Do they provide me with pitch templates I can reference to improve my chances of getting a response?
Do they help me find journalists who are actively writing a story I can contribute to?
Here's a list of questions you can ask to decide "Is this PR service" worth the money?
Are their fees contingent upon getting press coverage for me?
How many press relationships do they have?
How creative are their campaign and content ideas to create press opportunities (guage based on their past work)?
What type of companies do they typically work with (it's a good sign if they work with some companies from the same field so they have a greater understanding of how to pitch you)?